Don't panic, but Mother's Day is on the 2nd Sunday in May. These days, in addition to your own mother, that can mean buying gifts for your mother-in-law, daughter-in-law, grandma and favorite niece who just gave birth. Yes, you can take the procrastinator's easy way out and send an email gift certificate. But with just a tiny bit of effort, you can think outside the chocolate box and give creative, personal and memorable gift to every mom on your list. Use these ideas to get your gift giving creative juices flowing.
Some rights reserved by Laura Thykeson
A gift card to mom's favorite store is never a bad idea, but how about a membership to a local museum or tickets to a concert, a play or a Major League Baseball game? Buy two and maybe she'll invite you along.
Does mom love candy? Step up your game. M&Ms lets you design a custom mix that can include a picture of you and message on your choice of colors, or choose from their pre-mixed blends. Or check out the amazing assortment of retro candies from Candy Crate, including several Mother's Day assortments like this cute watering can filled with vintage treats.
With this monthly subscription service, you can give a busy working mom a menu planning service from Relish. It includes menus, recipes, grocery lists, a mobile app, specialty menus, weekly feature and more to help her plan and prepare healthy, delicious can-do entrees, side dishes and desserts.
Flowers never fail to say "I love you." But why confine the message to one day? Calyx Flowers will deliver different fresh bouquets the first or third week of each month. Choose from two sizes and 3, 6 or 12-month programs.
Got a new mom or grandmother on your list. Give her a one-of-a-kind piece of jewelry with a reproduction of a child's handprints or footprints on a sterling silver disc. from Uncommon Goods . (Also available as a pet's nose print for dog moms.)
Take those precious works of art off the refrigerator door and give them their props with the help of Shutterfly. Just send in your child's masterpiece and their artists will capture, celebrate and preserve the creation on canvas. Guaranteed heart melter.
Fresh strawberries dipped in chocolate. What else is there to say? These are from Shari's Berries.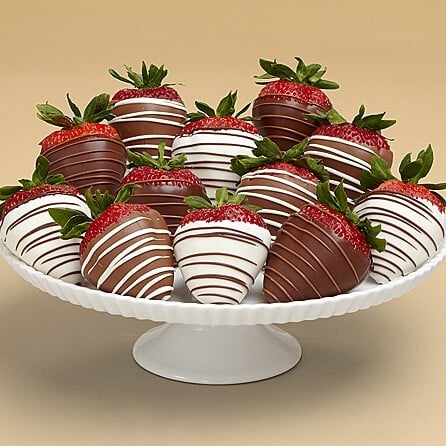 Have you ever had your absolute favorite lipstick shade discontinued? So has some mom on your list. Three Custom will recreate that cherished shade from scratch and keep the formula on file for easy reordering. The service is also available for blush and eye shadow. (Hint, hint – I want this. Almay Truly Lasting Almond.)
Homemade Gifts from Kids
Moms have a soft spot for anything made by hand. She Knows has 20 sweet and useful projects including some even a young child can help assemble. They include candles, trail mix, personalized stationery, breakfast in bed, bath salts, tote bags and drawer sachets.
The Very Best Gift of All
If you have an aging mother or grandmother, the absolute best thing you can give her is time. She already has all the knickknacks she can use. Just sit and visit.
What's the best Mother's Day gift you ever gave or got? Please Share!