Your Guide to a Fabulous Girls' Weekend – Part 2
Want to plan a long weekend with just the girls? If you live in a Taylor Morrison community, you're in luck because it's a great location with lots to do. In Part 2 of the Girls' Weekend Guide we look at four exciting locales in Illinois, Texas and Georgia. If you live in Chicago, own a new home in Austin or Houston, call Atlanta home or just want to travel to these areas, here are some ideas to get you started.
ILLINOIS
Friday: Explore the city on a bike. Take a bike tour or rent a bike and ride lakeside on Lakeshore Trail. For dinner, be sure to reserve your table in advance at Top Chef Stephanie Izard's Girl & The Goat restaurant. Then, it's time for an evening of drinks and spectacular city views at a rooftop bar.
Saturday: Stroll the Museum Campus and visit the museum, aquarium, planetarium and more. Alternatively, shop along the 13 blocks of the Magnificent Mile. Afterwards you can savor tapas and Sangria at Emilio's Tapas. End the evening with laughs at the famous Second City late night comedy show.
Sunday: Experience a unique Sunday brunch at the delicious House of Blues Gospel Brunch.
TEXAS
Friday: A visit to Uncommon Objects with its fun and unusual collection of antique pieces of all kinds is a must. Relax with some blissfully unhurried moments at the award winning Lake Austin Spa Resort. You might be able to get special pricing if your group is six or more. If you don't opt for healthy dining at the resort, Serious Eats offers a delicious guide for where to eat, from fancy to fun. Then enjoy a taste of the Austin nightlife with choices like bowling, beering, miniature golfing or laughing at comedy acts.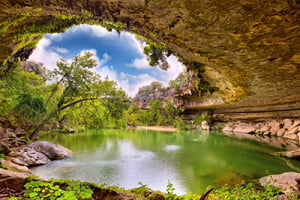 Saturday: Savor the morning sights and sounds at the Sustainable Food Center's farmer's market downtown, where you can book a cooking class if you like. While you're downtown, grab lunch at one of the many popular restaurants. In the afternoon, experience the scenic and historic swimming hole, Hamilton Pool Preserve. Spend the evening exploring, dining and people watching at the historic 6th Street entertainment district.
Sunday: For that Sunday cup or two of caffiene at not just any coffee shop, choose one of Austin's Top Ten Coffee Shops with their heavenly coffee friendly baristas.
Friday: Whether you prefer a limo, party bus or luxury car, go wine tasting in style with Houston Wine Tours. Taste, learn and have fun. Then, on to dinner at one of Houston's finest restaurants. There's something for every food preference, both casual or elegant. For drinks, what could be cooler than an underground hotspot? There are a number of sign-less secret bars to discover
Saturday: After a boutique-shopping Saturday at the famous shopping mecca, The Galleria you're sure to be ready to be refreshed. If you own a home in Houston, you probably already know what respite awaits at upscale ZaSpa. The impressive experience menu includes everything from custom massages to luxurious skin care treatments to private oxygen dens. For dinner, will it be quirky, Cajun-Vietnamese fusion, Tex-Mex or seafood? Houston offers whatever dining you're in the mood for. Then trip the light fantastic at a dance club.
Sunday: The brunch at Bistro Zelko is a perfect girls' Sunday. Award-winning Zelko is recognized for sustainable fare and comfort food.
GEORGIA
Friday: For a rejuvenating spa day, you'll find just what you're looking for at The Spa at Mandarin Oriental Atlanta, winner of Best of Atlanta 2014. You and the gang may want to make the hotel here home base for the weekend. While in Georgia, everyone should experience Southern dining at popular Home Grown, where a flavorsome meal "delights your taste buds without clogging your arteries." End the evening at the incomparable Blind Willie's Blues club, which offers "Blues, Booze and Cajun food."
Saturday: Go on a food tour and savor a small group walk featuring undiscovered chefs, food vendors and neighborhoods. Spend the evening at the Shakespeare Tavern, where you'll marvel at the live music, hand-sewn period costumes, passionate entertainment, great food, and ales and first-class beers. Then move the party to one of Atlanta's outstanding nightclubs.
For more ideas for a no-boys-allowed girls' weekend, be sure to check out part 1 and part 3 of this guide.