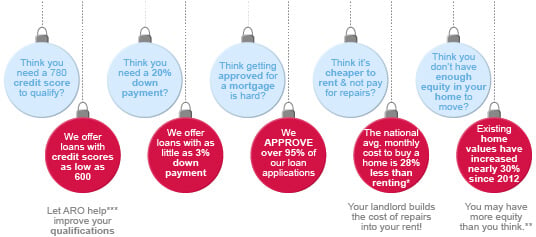 Think you need a 780 credit score to qualify?
We offer loans with credit scores as low as 600. Let ARO help*** improve your qualifications.
Think you need a 20% down payment?
We offer loans with as little as 3% down payment.
Think getting approved for a mortgage is hard?
We APPROVE over 95% of our loan applications.
Think it's cheaper to rent & not pay for repairs?
The national average monthly cost to buy a home is 28% less than renting.* Your landlord builds the cost of repairs into your rent!
Think you don't have enough equity in your home to move?
Existing home values have increased nearly 30% since 2012. You may have more equity than you think.**
Ready to start your new home search?
Start Your Pre-Application & Contact a Loan Consultant
*Source: Trulia.com/rent_vs_buy. **Source: National Association of REALTORS® 3Q2015 Quarterly Report. Taylor Morrison Home Funding, LLC ("TMHF" or "Approved Lender") (NMLS #149227) is currently licensed in the following states: AZ: #BK 0916681; CA: #4131114 licensed under the Department of Business Oversight (DBO) under the CA Residential Mortgage Lending Act (RMLA), CO Mortgage Company Registration, FL: #MLD72; GA: # 45542; IL: Illinois Residential Mortgage License MB.6761135; TX SML Mortgage Banker Registration. Rates, terms and conditions offered are subject to change without notice. All loans are subject to underwriting and loan qualification of the lender. TMHF is an affiliate of the respective Taylor Morrison selling entities in each such jurisdiction in which TMHF is licensed to offer services. Services not available in all states. Buyer is not required to finance through TMHF to purchase a home; however, Buyer must elect to utilize the services of TMHF to receive certain promoted incentives as outlined in Buyer's specific Purchase Agreement, which may differ by time, home selected, community and jurisdiction or contain other qualifying criteria. ***Please see an ARO Consultant for the ARO Brochure/disclaimer and ARO Enrollment Form for complete details. Program subject to change, additional restrictions and qualifications apply and no guarantee is made as to loan approval. Complimentary enrollment to TMHF's ARO Program does not require Buyer to enter into a purchase agreement; however, Buyer's cooperation is required for continued eligibility. For more information about TMHF, its licensing, the ARO Program and other financing information, please visit www.taylormorrison.com/finance. Offer is void where prohibited or otherwise restricted by law © December 2015, Taylor Morrison Home Funding, LLC. All rights reserved.