Ed Mercado was on a different career path until his wife led him into the world of customer service and sales. He credits her for driving him to take the first step into the industry. A step which has led him to become a top-ranking Taylor Morrison Senior Sales Associate.
"My wife was working for a developer at the time and didn't think the industry I was studying to be in would work well with my personality type," Mercado said. "She believed I should be in a more customer service and social based industry, so in 2003 I jumped into real estate."
As Mercado dove into the industry, he discovered a natural talent for working in real estate. His commitment to being his client's and colleagues' "go-to person" started from the beginning. This trait, among many others, is why his talents are recognized by Taylor Morrison executives, his teammates and the homebuyers he works with and supports every day.
He's even known to his clients as their "New home Google," meaning he knows everything not only about Taylor Morrison homes, but about the entire Houston housing market.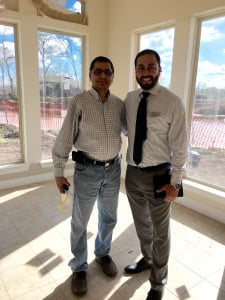 "I want to be the approachable expert," Mercado said. "I've done a lot of work with Taylor Morrison and exceptional service for our clients is a priority."
Hard work and a deep-rooted passion for caring about others is instilled in Mercado. Born in Mexico, he and his family immigrated to the United States with a focus on achieving the American dream any way they could.
Now, as a father of five children, ranging from ages 9 to 21, Mercado says he understands where his compassion for helping others developed.
"When I was young, my father went through a foreclosure," Mercado said. "We moved and rented and moved again. I carried that with me throughout my life and when I started working in this industry, my heart went out to others who were working to buy their first home or working towards creating a better life for their families. I wanted to take care of them and help them achieve that dream."
Today, his dedication to others and Taylor Morrison speaks volumes. He believes his success and Taylor Morrison's culture go hand-in-hand.
"I think the key to our success starts with helping people out," Mercado said. "I enjoy training people and watching them grow in their positions. I'm willing to help others enter the industry and show new employees the ropes. It's an important piece of what I do."
Mercado has no plans of slowing down. Selling entry-level homes at first, he graduated to selling high-end homes in the $775,000 to $800,000 price range.
But, yet he reiterates that his gratitude for his customers is never-ending.
"I appreciate each one of my customers and I love the product and the experience we represent," Mercado concluded. "My Taylor Morrison team has always supported me and in return, I'm able to support my customers."