Round Rock new home builder Taylor Morrison is raising the bar when it comes to marketing one of the newest additions to their Austin inventory, the stunning Traditions at Vizcaya community. Prospective buyers are now able to preview a selection of the most popular floor plans from the comfort of home to better prepare for their physical visit to the development.
The home buying process just got a whole lot easier.
And if you're in the market for a new Austin home, it's time to get excited.
Why Take a Virtual Tour of New Construction at Traditions at Vizcaya?
One of the biggest challenges with the traditional home shopping methodology is that buyers can quickly go into "new home overload" after visiting a half dozen or more models in the same day.
It makes sense. People are busy and so agents want to rush clients through as many properties as possible to make good use of everyone's time.
But too much of a good thing can leave buyers confused once back at home. "Which model had the walk-in closets?" "Which one had the bedroom layout we liked the best?"
With virtual tours there's no rush. Sit back. Relax. Explore the models at your own pace on your own time.
Questions are answered with the slide of the mouse and a click of a button – not with a drive back to the new homes in Round Rock, TX sales center.
And hey, taking a virtual tour is fun, exciting and the next best thing to visiting in person!
Which Homes for Sale in Round Rock, TX Can I See?
At present, 4 of the most popular floor plan designs are available for virtual tours at Traditions at Vizcaya.
Let's take a sneak peek:
Pinehurst
Featuring an expansive family room, modern open plan kitchen, extravagant master suite and two additional bedrooms, the Pinehurst feels a whole lot bigger than its 2,074 SQ FT. Options galore make personalization a breeze.
Take customization to the next level by adding stairs to a second level game room, media center or private guest suite.
Take the Pinehurst Virtual Tour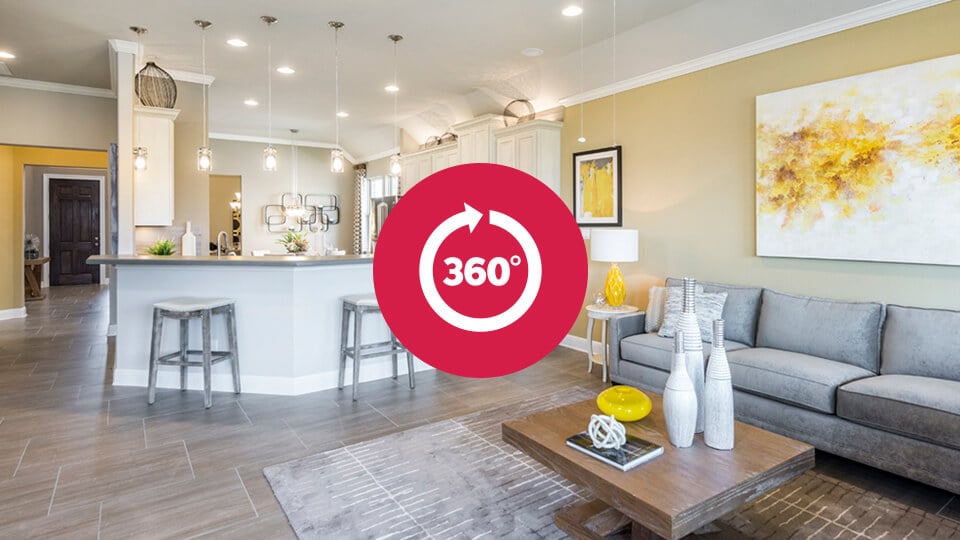 Benito
Designed to be spacious and flexible, this 4-bedroom plan is perfect for any homeowner who loves to entertain. Check out the glorious gourmet kitchen and generous pantry. Benito features formal dining, breakfast nook and stunning covered outdoor patio so you and your guests can enjoy meals both inside and out.
Upstairs you'll find something truly unique – a dual attic for extra storage.
A large recreational space provides the perfect place for relaxing and having fun.
Wentworth
Elegant is the word to describe the general vibe of the Wentworth plan. French doors open from the luxurious owner's suite into the sumptuous master bath and optional bedroom configurations make it easy to add a private visitor's retreat.
Choose from six different stylish elevations and select from a vast selection of the latest flooring, tile treatments, finishes and household tech at the Design Studio.
Take the Wentworth Virtual Tour
Bevington
Immense, grandiose, luxurious. Words simply don't do the Bevington justice. You'll have to see it for yourself.
Everything about this property is deluxe.
Take the Bevington Virtual Tour
A World of Options
It's important to note that not all of the 22 plans on offer at the community are currently available for virtual tours. While these select models are some of the most popular with Austin area homeowners, you may find that another plan better suits your wants and needs.
Visit the Vizcaya Community Floor Plan Page to browse the full list of options.