Wondering if the grass is greener on the other side? Itching for a fresh start in an exciting new part of the country? Check out U.S. News' 100 Best Places to Live in the USA here. The magazine meticulously studied job markets, cost of living and quality of life to give you a world of house hunting inspiration.
Always ahead of the game, Taylor Morrison builds homes in 8 of the top 25 best cities listed!
What Makes These Cites the "Best Places to Live?"
U.S. News & World Report's methodology differs slightly from similar lists. Instead of giving equal ranking to the five indices that make a place great to live, categories are weighted. This way, the study more accurately reflects what truly matters to Americans most.
Here are the five qualities tracked in the report:
Job Market Index – Average salaries, unemployment rates and earning potential.
Value Index – Cost of living.
Quality of Life Index – Crime, healthcare, education and general daily well-being.
Desirability Index – Metro areas highly sought after by Americans.
Net Migration – Are people moving in, or out of the area?
Let's peek at the 8 Taylor Morrison destinations that cracked the top of the charts. What makes each community so desirable?
New Homes in Austin are #1
It's no surprise to see Austin, Texas pop in at the top of the list. There's always fun to be had in the "Live Music Capital of the World."
With gorgeous outdoor spaces and plenty of cultural institutions, it's no wonder 50 people move to Austin every day. And the value for money when buying real estate is second to none.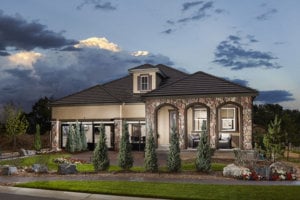 Denver Real Estate Chimes in at Number Two
A mountain paradise for outdoor enthusiasts, Denver offers a top relocation destination for nature lovers.
Low unemployment, healthy median salaries and reasonable home prices are keeping the train chugging to the Mile-High City.
Innovative San Jose – #3
300 sunny days per year, wine country, easy mountain & ocean access – what's not to love about San Jose? Find your new home in the capital of the Silicon Valley.
Coming in at #7, Raleigh & Durham, North Carolina
Craft beers, delicious barbecue and a young, driven, educated populace are making Raleigh a household name when it comes to hot real estate markets.
U.S. News notes the area's strong job growth and high quality of life as prime contributing factors to the high ranking.
#14 – Charlotte Real Estate is Booming
Per the study, "Charlotte is a region that's equal parts old-fashioned southern charm and high-energy cosmopolitan bustle." The report also notes plentiful housing, plenty of free family events and a lively restaurant scene that doesn't cost an arm and a leg to enjoy.
Another Texan Jewel, Dallas Rolls in at 15th
Taylor Morrison may be new to the Dallas market but we're no strangers to the city's broad appeal.
Metropolitan pizazz and tranquil suburban living, Dallas offers the best of both worlds. While you'll still find plenty of cowboys in the Lone Star State, the city is becoming trendier by the day. It's a great place to settle down with your family or launch a burgeoning career.
Houston, Texas – 20th Best Place to Live in the United States
The fastest growing metro in the country, Houston is quickly becoming a melting pot unrecognizable from its oil-centric roots. With 11,000 restaurants it's a foodie's dream!
And talk about bang for your buck. Houston homes carry small town price tags despite being in a metro hub.
Florida Fun – Sarasota Ranks 21st
Fabulous weather, fabulous art scene, fabulous beaches. Life in Sarasota is fabulous.
Imagine living year-round in a red-hot tourist destination. Talk about incredible dining & shopping opportunities.
Buy a Sarasota home and purchase your own little slice of paradise.
Soak Up the Sun in San Diego, CA – #22
Successful professionals are flocking to the prestigious Carmel Valley. Known for designer homes and rising stars in the high-tech/biotech industries. Luxury living is par for the course. Elms community puts you right in the heart of a family friendly enclave while keeping the best of San Diego metro right at your doorstep.
Up and down the shoreline folks are latching on to the So Cal experience. Nearby communities Oceanside, Carlsbad and Rancho Santa Fe rank high for livability. Each seaside haunt offers a unique coastal vibe.
We'd Love to Hear from You
Share your favorite places to live in the comments section below.