Love is in the air this spring in So Cal! Let Taylor Morrison help you arrange a starry-eyed weekend with your special someone.
Make plans to stroll hand-in-hand across gorgeous Cherry blossom orchards. Or meander through 50-acres of extraordinary California color at The Flower Fields at Carlsbad Ranch.
Prepare a romantic seafood dinner for two after learning to roll your own sushi! Don't forget to buy a bottle of tasty local wine from the Family Winemakers Annual Wine Tasting in Rancho Santa Fe.
Find these fantastic happenings and more in our March Events Guide.
ORANGE COUNTY
Dog-a-Palooza has been rescheduled for March 11th from 10am-2pm. Bring your people-friendly pooch for the dog parade or arrive ready to adopt! Food trucks, music, pet products & more.
Get the ladies together for a Girls Day Out Cooking Class at Tanaka Farms on March 3rd. A "Farm to Fork" event, all ingredients are picked farm fresh. Tickets include a box of healthy ingredients to recreate the dishes at home.
Enchant your sweetheart with the longest-running musical in the world, "The Fantasticks." A fanciful tale following young lovers and meddling fathers chronicles the tender journey we endure to learn how to love. See show times at the Costa Mesa Playhouse.
Enjoy captivating Japanese music & culture at the 4th Annual Huntington Beach Cherry Blossom Festival. Free admission, Sunday, March 19th from 11am-5pm. Games, exhibits, crafts & delicious food.
>> Discover Superior Pointe
>> Learn More – Lighthouse
Lace up your runners and help out local schools at the 34th Annual Newport Mesa Spirit Run. Race takes place on Sunday, March 12th on Fashion Island.
Join the Sage Hill School Multicultural Fair and celebrate the wonderful diversity of Orange County. Shop the Ethnic Bazaar, munch on delicious international foods and enjoy dazzling entertainment on March 18th.
>> Discover Echo 56 in Newport Beach
Get down and dirty at the Irvine Lake Mud Run. Register to race the muddy gauntlet at Oak Canyon Park and hit the muck on Saturday, March 25th at 9am.
Broaden your horizons at the family friendly Babychella art & music fest. The spring festival at Mason Regional Park is free to the public. March 12, 2017 from 12-4pm.
>> Explore Capella
>> Discover Saviero
>> Welton at Beacon Park
Learning to roll your own sushi at home is easier than you'd think! Expand your cooking repertoire at Casa Romantica's Sushi Making Class.  March 29th, 7pm, $35 includes ingredients.
Celebrate the giants of the sea at the 46th Annual Dana Point Festival of Whales. Event runs two weekends, March 4-5 & 11-12. Whale watching, sand sculpting, classic cars, art, music, the rubber ducky derby and much, much more.
>> Visit Sea Summit in San Clemente
March 22nd marks the start of the Swallows Day Parade Festival Season. Get the party rolling at Fiesta Grande at the Swallows Inn from 6-9pm. Come dressed in your best Wild West duds and join in fun contests such as the best mustache, hairiest man and best outlaw.
Attend the 59th Annual Swallows Day Parade & Mercado Street Fair on Saturday the 25th. This spectacular event is one of America's largest non-motorized parades. Arrive early as streets close by 10am and parade begins at 11am.
SAN DIEGO COUNTY
A Taste of Art: Georgia O'Keefe arrives to the Oceanside Art Museum March 9th. Enjoy a short presentation, appetizers and drinks from 6-8pm.
Try something different this month and check out the Antique Gas & Steam Engine Museum's annual Civil War Reenactment. Authentic battles daily at 12pm and 3pm, March 4th & 5th. Join weaving, artillery and blacksmith demonstrations and purchase souvenirs & food.
>> Explore Cottages at St. Cloud
The 37th Annual St. Patrick's Day Parade & and Irish Festival returns to San Diego Saturday, March 11th. Parade kicks off at 10:30am and festival runs until 6pm. Dance to authentic Irish music and swill a pint of Guinness in the beer garden with good friends.
Take a self-guided tour of the Triage Center at the Project Wildlife Baby Shower, Saturday, March 4th from 10am-2pm. Help the center prepare for the busy spring baby season!
Tip-toe through a sea of color at The Flower Fields at Carlsbad Ranch. Open to the public from March 1st through May 14th. 50 acres of vibrant blooms overlooking the Pacific Ocean.
Savor a delicious lunch from Tip Top Meats at the Leprechaun Dash & Bash, March 11th at Agua Hedionda Lagoon. Race ticket includes t-shirt & swag bag.
Taste a bevy of local wines at the Family Winemakers Del Mar Wine Tasting on March 5th at the fairgrounds. Sample 500+ wines from 125 family owned wineries and celebrate California's love for wine!
Tennis lovers won't want to miss out on the 128th Annual Pacific Coast Men's Doubles Championship at the La Jolla Beach & Tennis Club. Tournament runs March 2-5.
>> Discover Estancia at Cielo.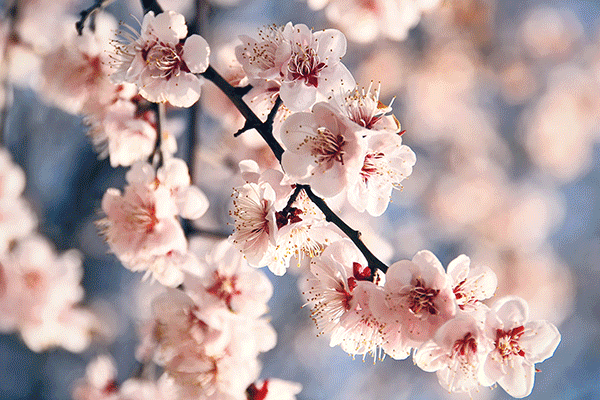 LA COUNTY
Relish in the beauty of cherry blossoms and Japanese culture at South Hills Plaza. The 2017 Cherry Blossom Festival takes place Saturday, March 18th from noon to 6pm. Appreciate traditional dancing, taiko drumming, martial arts, Japanese food & crafts and more. Free admission.
Celebrate, support & create awareness at the 90th Foothill Family 5K Walk & Festival. Food, music, face painting, pet adoption and children's activities. Check in and day-of registration begins at 7am, walk commences at 8am with events to follow.
Take part in Mardi Gras at the Miyako Hybrid Hotel and benefit the Pediatric Therapy Network. Purchase tickets in advance as this event sells out. March 2nd from 5:30-8:30pm. New Orleans style cocktails and cuisine.
Shop unique gifts and handmade goodies at the Torrance Craftsmen's Guild's Spring Arts & Crafts Faire.
Join Larry Fukuhara Sunday, March 19th for a fascinating slide presentation about the Pacific gray whale. Then, head out to sea on a local whale watching vessel!