The word gadget entered the English language in the late 1800's, derived from a French word for tool. But the concept of an ingenious, labor-saving device is as old as the wheel. Gadgets run the gamut from goofy as-seen-of-TV stuff to life-altering inventions like the smartphone. Some are designed to do just one thing. Others, like the Swiss Army knife, are amazing multi-taskers. Our favorite gadgets are the ones that save time, make light work of an odious task or just make us say "wow, why didn't I think of that!" This blog post is about those kinds of gadgets. They're clever, elegant, creative problem-solvers no modern home or homeowner should be without. And, like Taylor Morrison homes, the best gadgets are very often inspired by you.
Glammed-Up Kitchen Gadgets
Uncork like a sommelier. Give every bottle the 5-star treatment with this nifty (and reasonably priced) cordless electric wine opener. Even the most stubborn cork is no match. You'll be sipping in seconds with the simple push-button operation. We say 'cheers' to that!
So you forgot to take something out of the freezer for dinner. No worries. Here's a gadget that can safely thaw out frozen food right on your countertop in half the time it would normally take. No batteries or electric outlets required for this easy-to-store thawing tray. Nope, it isn't magic. It's science, and here's how and why it works.
Season in style with this selection of electric salt shakers and pepper grinders. Just the right gift for a cook who has almost everything, especially if you include some gourmet salts and peppers.
Your hands are covered with goop or loaded with garbage. Motion-sensor trashcan to the rescue!  Choose from a variety of touchless models in sleek stainless, copper, even colors to coordinate with your kitchen décor. Just don't let your clever kitty see how it works!
Bright Ideas for Bathrooms
Outdoor Gadgetry
The FrogLog helps prevent frogs, snakes, mice, birds and other small wildlife from drowning in your swimming pool. It requires no installation so it's easy to reposition or remove. It's a simple, humane solution.
Eleven million packages are stolen from doorsteps every year. Protect your home deliveries from porch pirates with BoxLock. The sleek tamper-proof lock is compatible with USPS, FedEx, Amazon and UPS delivery systems and it notifies you when a package arrives. Pair BoxLock with one of these deck boxes or storage benches.
The Bunch O Balloons Filler Soaker fills 100 water balloons in 60 seconds, taking your wet wars to a whole new level. And it blasts water up to 30 feet. You know you want one.
Indoor Inspirations
Grow fresh herbs and veggies inside without the fuss, bugs and vagaries of weather in a Smart Garden planter.
Pamper your furry friends with a warm spot to sleep. Microwavable, electric orself-warming pet heating pads provide soothing comfort for cats and dogs. Especially nice for older animals with achy joints.
Tech Wonders
The Future of Smart Homes is Here
Head over to the CNET Smart Home to see a room by room interactive guide to see all the smart home technology available right now.
Give Your Gadgets a Good Home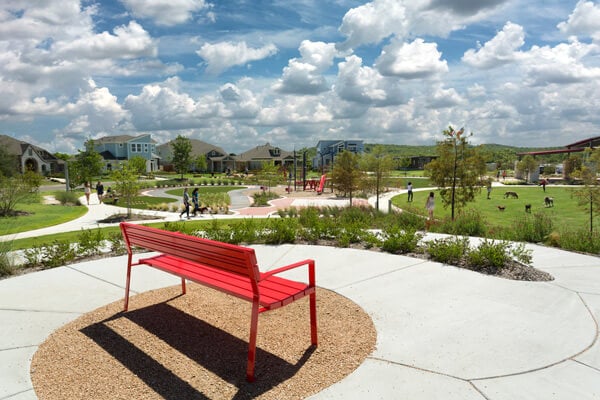 We like to stay on the cutting edge of smart home technology, time-saving devices and just plain cool stuff at Taylor Morrison. The latest innovations in convenience, style and creature comforts will be front and center in new communities like these that are coming soon in cities across America.
Easton Park. Our new homes in Austin, Texas are just 12 miles from downtown Austin, Easton Park was inspired by some of the world's most famous parks. It will offer homeowners lifestyle that connects them to the community, nature, and state-of-the-art resort-style amenities.
Whitfield Preserve. Part of the 2,400-acre Starkey Ranch master plan, these new homes in Odessa, Florida will offer just 157 homes and an incomparable, amenity-rich Florida lifestyle close to top schools, jobs, beaches and Tampa Bay.
Dakota at Folsom Ranch. This brand-new Sacramento-area enclave of 98 single-family homes is within the Folsom Ranch master plan. Residents will have access to open spaces, public parks, a bustling town center, great schools and a planned internal bus system.
What's Your Dream Gadget?
If you could wave a magic wand, what amazing time-saving gadget would you wish for in a new Taylor Morrison home? You never know what's possible until you dream it.