Time sure flies, especially when you're passionate about a project. It's been over a year since our Somewhat Simple blogger Stephanie and her family moved into their new Phoenix home and began transforming it. We thought it was time to catch-up on her progress since the move-in.
Of course, you're always welcome to follow Stephanie throughout out the coming year for inspiration to begin your own home transformation journey. You can do that at SomewhatSimple.com and across leading social media channels including Facebook, Instagram, Twitter, Google+, Pinterest and YouTube. Just use #SomewhatSimpleHome and #SSBuildswithTM.
Taking the First Steps

Stephanie and her family opted for a to-be-built Taylor Morrison plan offered in one of our new Phoenix communities. If you don't need a ready-right-now home (we have those, too), it's a great way to go. To-be-built homes let you take advantage of customizing structural options and layout configurations that vary by plan and community. In Stephanie's case, it gave her a very impressive foundation to begin the transformation process. Like all new Taylor Morrison homes, hers was built with the latest energy-saving techniques and materials and an array of included features that are a compelling part of the Taylor Morrison difference.
Moving Forward
Another big difference Stephanie discovered was the Design Studio, and she took full advantage. Available to all our new homebuyers, it's an opportunity to add your signature touches by choosing personalizing options and upgrades from an amazing selection. Now, we know that not everyone is a whiz at making those kinds of choices. That's why there's a professional design consultant on hand to help. You can also do a little prep work before your Design Studio visit. Get some practical tips about getting ready for your design center visit and good advice from our designers about how to go about personalizing your home.
The Big Reveal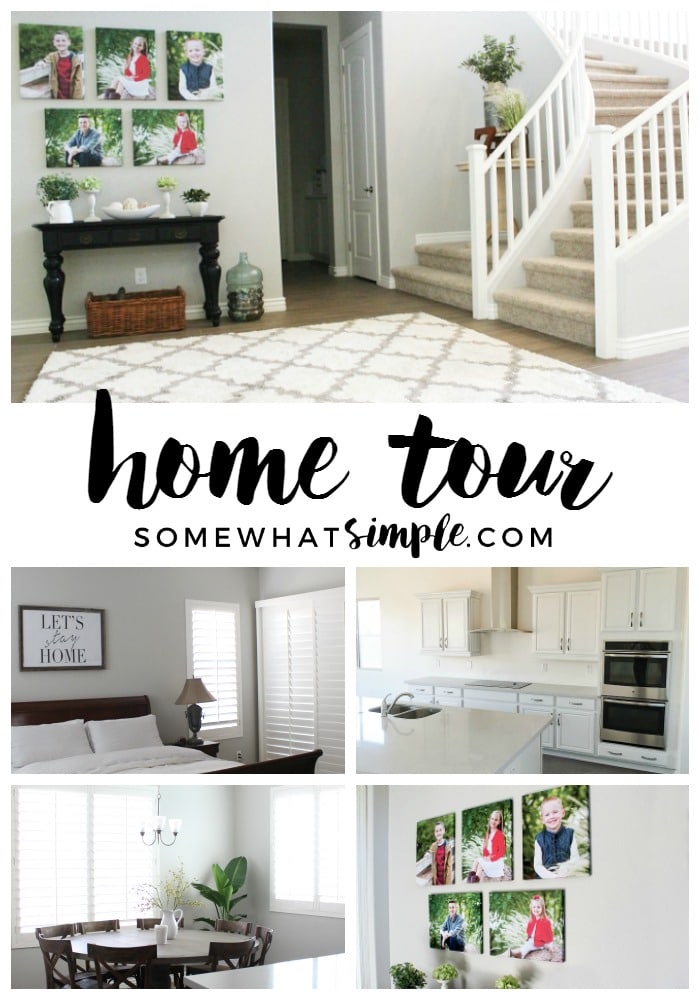 We love it when a plan comes together! Stephanie's vision and design flair, the good "bones" of her Taylor Morrison home and the Design Center options did so spectacularly. You're invited to come on in and explore Stephanie's Somewhat Simple Beautiful Home Tour.
Your Blank Canvas
Every home is a blank canvas waiting for you to turn it into a work of art. It's also a never-ending process that adapts to your evolving sense of style and taste, design trends and family needs. The great thing is that inspiration is all around you. Here are just two little pushes to get you on the road from Okay to Fabulous.
Borrow from the Best. Our model homes are staged by experts in the latest interior design trends, furnishing, accessories and finishes. Visit them with an open mind and a camera. If something catches your eye, snap it and save it to your "Dream Home" file. Read more about getting the most from your model home tour.
The More You Know, The Better. For instance, did you know that manufacturers of everything from major appliances to throw pillows plan their offerings around predicted color trends? Knowing what's hot will come in handy when you're coordinating your interior design. Find out what color paint Sherwin-Williams says is the color for 2018, what complements it and even how they arrived at the prediction.
Living & Loving Your Home
Just in time for Valentine's Day, a reminder that love can turn any home into the most beautiful home on the block. It doesn't cost a thing to create a place where family and friends feel warm, safe and welcomed. Three SomewhatSimple blogs can inspire you to reach that goal.
Warm Winter Night. Spring will be here soon enough. In the meantime, revel in the opportunity to snuggle up and warm your heart. This will get you thinking about how to do that.
Fun Food. Maybe the Big Game is over, but don't let that keep you from tailgating at a neighborhood softball game or your child's soccer match. Or, hey, just sit on the patio or front porch and enjoy these easy tailgating recipes.
Spring, Coming Soon to Your Backyard. Ignore the groundhog's prediction and get yourself in the mood. Think positive thoughts and plan now for to be the first folks on the block to host a backyard party.
Kiss Winter Goodbye. Move to Phoenix!
Copper Sky Capstone, Scottsdale Arizona
We could bend your ear forever about all the wonderful reasons to relocate to the Phoenix area: great year-round climate, recreation, jobs, and good schools. But instead, we'll just entice you by showing off all the move-in-ready new Phoenix homes. That's ready, as in start packing and change your address labels. And you can browse the selection from the comfort of your chair. Check out the detailed floor plans. Learn about the communities, schools and services where the homes are located. See what amenities are available. Schedule a personal tour. All that with a few keyboard strokes!
Need more information and some human interaction? No problem. Once again, we give you lots of ways to that:
Need a Nudge?
Yes, buying a new home is a huge decision, even bigger if it involves relocating to a new city or state. It can also be a major life change, but it can be wonderfully fun and remarkably hassle-free when you work with the folks at Taylor Morrison. So how do you know if you're ready to make the move? Read this.