Taylor Morrison is in the business of building communities. And with more than a century of experience in the trade, we've come to learn that there's more to a community than asphalt, bricks, lumber and countertops.
A community is forged by individuals and strengthened with relationships. It's a support system. A family. It's people helping people.
Which is why we work hard to give back to the communities where our new home developments live. To take an active role in ensuring every Taylor Morrison customer feels part of a neighborhood when moving into their new home.
We'd like to share a pair of heartwarming projects recently undertaken by our Sacramento Division.
Taking pride in civic duty, it's what being America's Most Trusted Home Builder® is all about.
Partnering with HomeAid & Volunteers of America to House Veterans
Nobody gives more to protect our way of life than our brave soldiers and the families that support them. Sadly, many veterans struggle in their return to civilian life, ending up homeless with nowhere to go and little hope of getting back on their feet.
HomeAid Sacramento and Volunteers of America have teamed up on a quest to provide temporary housing for homeless veterans in need. A safe place to pick up the pieces and put their lives together.
Taylor Morrison Sacramento is happy to pitch in and do our part!
2 Apartment Buildings & 6 Units
Working together with their valued trade partners, the Sacramento division redeveloped two apartment buildings in the Arden-Arcade area of Sacramento. Everything is brand new – framing, drywall, paint and décor. There are a total of eight one and two-bedroom units, and six will be available to homeless veterans and their families, including furry members as well.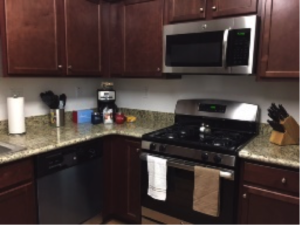 New countertops, appliances and cabinetry.

A cozy bedroom decked out with new bedding and décor to come home to!
Rolling Up Our Sleeves to Pitch In
On January 25, over twenty Taylor Morrison employees showed up to help move in furnishings and stage the apartments to be ready for new residents in two of the units. The team then came back out on February 22 to install the furniture and décor in the remaining four units.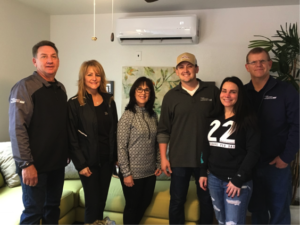 The units were made to feel like home using furniture donated by KB Home. The modern furnishings are cozy and bright, and as you can see, our volunteer interior decorators did a fantastic job!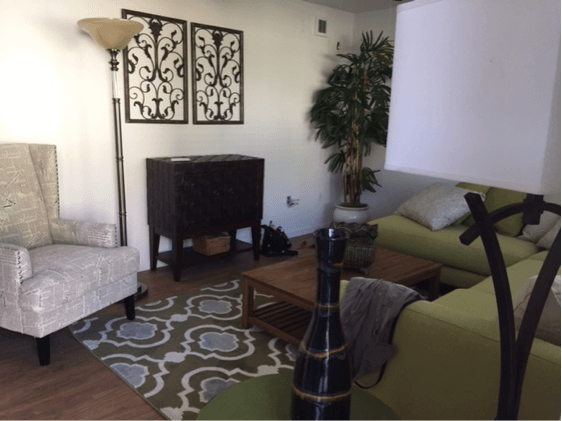 More Donations! Stocking the Homes
To ensure our vets didn't open the door to empty apartments, Taylor Morrison employees donated all the essentials needed to turn a house into a home:
Bath towels, blankets and pillows.
Toiletries and cleaning supplies.
Small appliances, pots & pans, utensils, bakeware and flatware.
You name it.
We even filled the cupboards with non-perishable food items.
Woof! Woof! What's Your Tradebark®?
Finding forever homes for shelter pets in need is a great way to get tails wagging across the community. That's why we're continuing our partnership with the Sacramento SPCA for the second year to do just that.
While continuing to promote our successful signature Tradebark® campaign, we also worked together with the SPCA on the annual Home for the Holidays adoption drive as well asa summer 'Yappy Hours' in 2017. These events created greater awareness for shelter pets in search of a loving family.
This March, we'll be teaming up with the Sac SPCA once again for a senior pet adoption sponsorship week. Taylor Morrison will be paying the adoption fees for senior pets, which include dogs 5 and up and cats 1+ years old.
Swing by the Sac SPCA's Florin Road location the week of 3/19 and adopt a furry friend for your family!
We will also be sponsoring the "Adoption Village" at the Sac SPCA's Doggy Dash held on April 28th. Adoptions will be taking place during the event, and many Taylor Morrison team members will be in attendance with their own families to support this great cause. Money collected at the Doggy Dash provides low-cost vaccinations, medical care to sick or injured animals, spay/neuter services and education/training programs. Please visit the Sacramento SPCA to learn more about these events, or click here to find a Sacramento area community near you.