Talk about kids turned loose in a candy store! The International Builders' Show (IBS) is one sweet treat filled with all things innovative, inspiring and downright jaw-dropping. This is where everybody in the building trades comes to learn about and show off the latest in home building materials, products, design and tech. The three-day long show, held this past January in Orlando, featured hundreds of exhibits. We've pulled together the hottest highlights. Expect to see many of these new home trends, techniques and materials in the months ahead in new Taylor Morrison homes and at our regional Design Studios across the country.
Top Four Trends
1) The Internet of Things
Tech and the Internet of Things turns an average home into one with an Einstein-size IQ. It's all about connectivity that enables your whole home to do your bidding via Bluetooth, voice control, touch and proprietary devices. In many instances, personal assistants like Amazon's Alexa make it duh-simple to issue commands to smart products for your home whether you're upstairs, in the yard or miles away. There are wireless, remote home security systems that check to see if your doors and windows are locked. There are in-home climate and air quality control devices including one that absorbs airborne formaldehyde for up to 75 years!
Ever wonder where the cat takes off to? Well, now you can keep tabs on Fluffy or Fido with GPS tracking collars. Keep mosquitos at bay with motorized porch screens. Get gadgets that help you manage your fitness regime, your home plumbing or your bed temperature (sorry, it won't make the bed). Of course, there's tech that lets you turn on or off every conceivable home appliance from just about anywhere in the world. There's even a wearable onesie that monitors your infant's sleep patterns (no, it won't change diapers). Brave new world, indeed!
Related:
2) Less is More
Minimalism is major, especially as it applies to new home construction. Clean, sleek and contemporary are the marching orders. Easy-care, single-story open concept layouts like Taylor Morrison's Ibis floor plan available at Lucaya in Fort Myers, Florida, fit the trend. The move to modernism is reflected in finishes and appointments to complement the elevations and floor plans. For example, low-profile and floating cabinets create the illusion of space without sacrificing storage.
Ibis Floor Plan Kitchen | Lucaya in Fort Myers, Florida
3) Color Comeback
Color is making a come-back and trending palettes cover the rainbow from bold and bright to soft pastels to dark and moody. Pink is a grown-up color again in every imaginable shade. Make a "look at me" statement wall with magenta or fuchsia or surround yourself in a whole room painted pale pink, a color that is fabulously flattering to every skin tone by the way. Create drama with deep shades of navy, charcoal, dark chocolate or, for the very brave, black. Just be advised you may want to leave your ceilings white to avoid that "help, I'm trapped in a cave" vibe. And for folks who like neutrals, warm taupe-grays are finding favor. You can see how good that looks on the virtual tour of the Eldora floor plan available at Terrain at Castle Rock, Colorado.
Eldora Floor Plan Family Room |  Terrain at Castle Rock, Colorado
Color isn't just showing up on walls, either. While white is still totally on trend for cabinetry, pale blues are strong contenders. Before you go all the way, you might want to do a trial run on an island or pantry door. Appliances are getting kissed with vibrant color again, too. Red, yellow and green are popular choices, but many appliances at IBS featured innovative patterns and even mural-style art. Matte black is also making friends, showing up on kitchen and bathroom fixtures, interior and exterior window and door trim, hardware, countertops and tile.
4) Engineered Products
IBS put a big spotlight on innovative building materials. Engineered products like decking, millwork and stone get better every year at imitating the real thing. They often cost about the same or even less than their natural counterparts with the added advantages of being eco-friendly and easier to maintain.
Accent Trends
Texture and pattern are timeless ways to add visual and tactile interest to interiors. A little bit can go a long way toward keeping a minimalist environment from feeling cold and sterile. Some of the interesting trends on display at IBS this year included basket fixtures for shades on lamps and pendant lighting, glass panels infused with patterns, and bathroom sinks with embossed patterns or decoupage-style floral finishes.
Statement walls are still on trend, but statement floors with bold stencil-like patterns are coming on strong. And if you really want to go out on an avant-garde design limb, consider a steampunk kitchen or bath. This highly tactile style balances industrial elements like exposed pipes with Arts and Craft hammered metals (copper is huge) and hand-hewn wood.
Making the utilitarian attractive or at least invisible is another trend. A good example is the Hide-a-Gate, a pet barrier (but it would work equally well for containing toddlers) that tilts up and into a door frame space when not in use.
Pure Pleasure Indoors and Out
Sanctuary spaces got lots of attention at IBS, too. The blah bathroom is pretty much passé. Today's homeowners want all the luxury of a spa-style retreat. Walk-in showers with built-in benches continue to be popular, especially if they also feature multiple spray heads. Soaking tubs, the deeper the better, are in demand. Add in some subdued lighting and soothing music (remotely controlled, of course), a little aromatherapy and a serene color palette in the blue/green family and you've got a five-star resort experience.
Extending living space to outdoor areas, whether it's a deck, a balcony or a patio, is another way to create a private retreat. Fire pits and fireplaces set the mood. Cushy furniture, indoor/outdoor floor coverings and lighting complete the perfect outdoor sanctuary. Enhance your privacy with modern fencing featuring low-maintenance sustainable hardwood screens that offers easy modular installation and a variety of geometric and nature-inspired patterns. Get inspired by the patio with built-in fireplace offered in the Rochester floor plan available at Waterside at the Catawba in Fort Mill, South Carolina.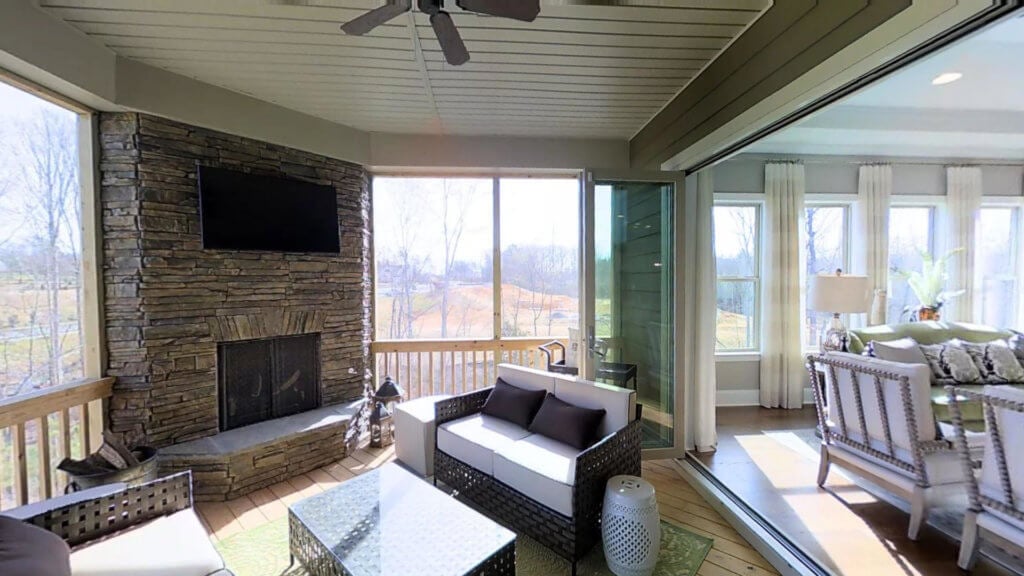 Rochester Floor Plan Patio | Waterside at the Catawba in Fort Mill, South Carolina
Inspiring Reads
Grab a fresh mug of coffee or a cup of herbal tea and spend a few minutes getting for more inspiration on to create your perfect, personal place.