Houston Division Announces New Floor Plan
Something that sets Taylor Morrison apart from other home builders is that when ask our customers for feedback on our homes, we listen. No lip service. We truly care what you have to say and work hard to implement your ideas, wants and needs into future plans.
When we say our homes are inspired by you, it's not just a catchphrase. We really do sit down with Taylor Morrison home buyers to find out what they like, what they don't like and where they see an opportunity to improve.
Sure, we hire a talented team of architects and designers to craft our new build Houston homes, too – but at the end of the day, the people who will be physically living in the homes matter most.
You spoke. We listened. And in 2018 we're launching an exciting selection of brand new floor plans for Houston.
Stay tuned as we release information about each new plan through our blog. For now, we'd like to introduce you to Juneberry. We hope you're as excited as we are to have fresh options for inspired living.
Take the Virtual Tour
If a picture is worth 1,000 words, there's no better way to show off the Juneberry than to provide a virtual tour. Take a few minutes to explore each room in the house and experience the plan.
Take note of the 9' ceilings, the open spaces and how well the natural lighting illuminates the home. We received a lot of feedback related to removing columns and clutter in the open-concept rooms. To achieve this, stacked walls were aligned and interior barring walls were kept at the same height. Don't worry about the technical explanation though, just take the tour and feel the difference.
Juneberry by the Numbers
1,794 Sq. Ft. | 3 Bed | 2 Bath | Flex Room | 2 Garage | 1 Story
Optimizing the square footage in a new Houston home is a balancing act. Getting it just right means that private spaces will be comfortable while saving enough room for an expansive great room and gourmet kitchen area.
It's also nice to work in a bonus room, to be used as a den, home office, craft space, play room or home gym. Flex space is great, particularly at a time when a formal dining room has mostly gone out of fashion in your average sized home.
Taking storage into consideration is important, too. Home buyers are always asking for more storage and you can see in the floor plan below that additional storage space in the garage comes standard with the Juneberry. We've also made a garage extension available to the side for buyers who need even more storage but don't want to take square footage away from the living space.
Here's how the main components of the Juneberry plan break down dimensionally:
Family – 18' x 12'
Master – 15' x 14'
Bedroom 2 – 11' x 10'
Bedroom 3 – 11' x 10'
Flex Room – 10' x 13'
Personalize Your New Houston Home – Choosing Options & Upgrades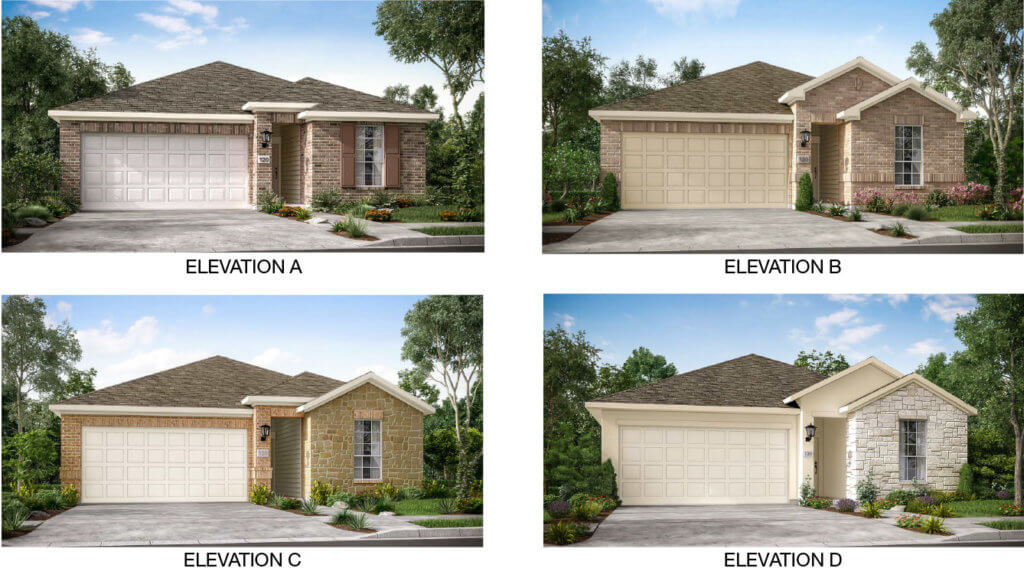 The flexibility of purchasing a to-be-built home means you'll have plenty of opportunity to tweak your plan and make it uniquely yours.
Piecing together your own personal dream home puzzle begins with selecting an elevation. Juneberry comes in four distinct styles using brick, brick/stone or stucco/stone. Each elevation offers a slightly different type of curb appeal.
Moving on to options & upgrades, there's so much you can do with this plan:
Extend the owner's suite with a gorgeous bay window and sitting area.
Take advantage of indoor/outdoor living by adding a standard or extended covered lanai off the gathering room.
Up the ambiance with a cozy fireplace.
Expand the master bathroom to include a soaking tub, shower seat or oversized walk-in shower. NEW to the Juneberry plan, bathroom layout options are available in the secondary bathroom, too.
Choose between two unique gourmet kitchen arrangements.
The new floor plans will include more personalization options than ever before. Rounded corners or eyebrow arches can be added to the Juneberry plan and new built-in options create pleasant transitions between rooms.
Add benches or cabinets in the space between the garage entrance and the foyer.
Take advantage of addition storage or a place to relax with benches or cabinets right outside the master bedroom.
As with any of our new construction homes in Houston, you will be guided through the Design Center to add your signature touches. From paint colors to flooring, countertops, tile, cabinetry and appliances, making your new home truly yours is a breeze. And our design consultants are there every step of the way to offer suggestions and advice.
Go Green with an Energy Efficient Houston Area Home
Purchasing an environmentally friendly home is a great way to save money on utility bills and do your part for future generations. Learn more about the Houston Division's commitment to Taylor Morrison's Elem3nts™ program.
Every Juneberry plan we build will come standard with a tankless water heater. Lower energy consumption and unlimited hot water on demand, it's a win-win combination.
The LED lighting package is another example of how modern technology can improve your quality of life and cut your power bill at the same time.
Where to Tour the Juneberry Model in Person
To get an even better feel for how the Juneberry could be a great fit for your family, make plans to visit Grand Vista in Richmond, TX. The plan is also available to-be-built at the Alder Trails new home community in Cypress, TX but to tour the home, you'll need to visit the model park at Grand Vista.
The Sales Center at Grand Vista is open from 10am-6pm daily (noon-6pm on Sunday & Wednesday) and our new home consultants are happy to answer any questions you have at 832-941-5470.
Sales Center
8314 Magnolia Bay Ct., Richmond, TX 77407
Looking in the Austin area? The Juneberry floor plan is also available at Traditions at Vizcaya in Round Rock, TX.
We look forward to meeting you and showing you all the exciting features mentioned in this post.