Humans have been playing some form of tennis since the Middle Ages and the game has been a hit ever since. The rules are relatively simple. The equipment needed is minimal and, while you can spend a small fortune on the best racquet and shoes, you can also get into the game without taking out a second mortgage. In fact, the biggest challenge you're likely to encounter is finding an open court. Unless, of course, you live in a Taylor Morrison community with tennis facilities. This blog post gives you an overview of several of our communities that include tennis courts as a residential amenity. But first, let's warm up by looking at all the great reasons to get your game on.
It's Good for You
Lots of things are "good for you" but tennis has the added advantage of being fun at the same time. According to Health Benefits of Tennis: Why Play Tennis? by Jack L. Groppel, Ph.D. tennis is one of the best sports you can play. A 20-year study of more than 10,000 people found that those who played 3 hours per week at a moderately vigorous intensity cut their risk of death from any cause in half. Played competitively, tennis burns more calories than aerobics, inline skating or cycling. But you don't have to play like Roger Federer or Serena Williams. You can benefit from any level of play at any age.
Tennis Builds Strong, Healthy Bodies
You can't beat tennis for its aerobic benefits.
You use plenty of muscles playing tennis including the all-important one, your heart.
It can help control cholesterol and blood sugar levels.
It's improves your coordination, balance, flexibility and agility.
It exposes you to natural Vitamin D from the sun, which helps your body regulate calcium absorption and protect you from osteoporosis. Just remember to wear your sunscreen!
You can benefit from any level of play at any age.
Tennis Has Brain Benefits
Tennis, like most work outs, helps to increase serotonin, a feel-good neurotransmitter in your brain. It's a safe, natural way to elevate your mood.
It helps you manage stress.
Tennis Builds Life Skills
Healthy competition teaches you to win and lose gracefully.
It's a great way for to learn teamwork and good sportsmanship.
It's a social activity–the real kind where you interact with real people in the real world.
Find a Community. Find a Court.
Top-notch recreational amenities are sought-after perks that come with many new Taylor Morrison homes. We're highlighting our tennis-friendly communities in Florida, Texas, Georgia and North Carolina. Or check out all of our communities and start your new home search here.
Perfect Your Forehand in Florida
People wait all year to vacation here. Why not call Florida home and enjoy a year-long holiday that includes plenty of tennis in the Florida sun? We have eight Southwest Florida communities that boast exceptional tennis facilities.
Grand Slam It in Georgia
If tennis is your passion, you can indulge it daily. Choose from three beautiful new Georgia communities with resort-inspired amenities and close-to-everything locations.
The Springs at Rockhouse
Enjoy affordable luxury in the popular Atlanta suburb of Lawrenceville and get the added benefit of resort-style amenities. Pool, tennis courts and more, bring neighbors together and turn them into friends.
Highlands at Sawnee Mountain
Come home to a peaceful Cumming, GA enclave. When you aren't boating on nearby Lake Lanier you can experience the pleasures of resort-style amenities that include swimming pool, cabana and tennis courts
Sterling on the Lake
Find new Georgia homes in picturesque Flowery Branch and an active lifestyle, too.  Community recreational amenities include basketball and tennis courts.
Find Your North Carolina Sweet Spot
Doubles or singles? Either way, we've got the new North Carolina homes you're looking for in choice Charlotte and Raleigh locations.
Townes at Woodcreek
Live at the top of your game in a vacation-inspired community in the Raleigh suburb of Apex. Active lifestyle amenities for all ages include basketball and tennis courts.
Chapel Cove The Reserve
Discover this suburban retreat in Charlotte not far from the shores of Lake Wylie and find a life filled with fun. Tennis courts, pool and a network of trails that connect you to friends and a community clubhouse are a few of the action-packed amenities.
Take It to the Net in Texas
Live Texas your way in a new Taylor Morrison home in Austin, Dallas or Houston. These new communities have something for every lifestyle and tennis, too!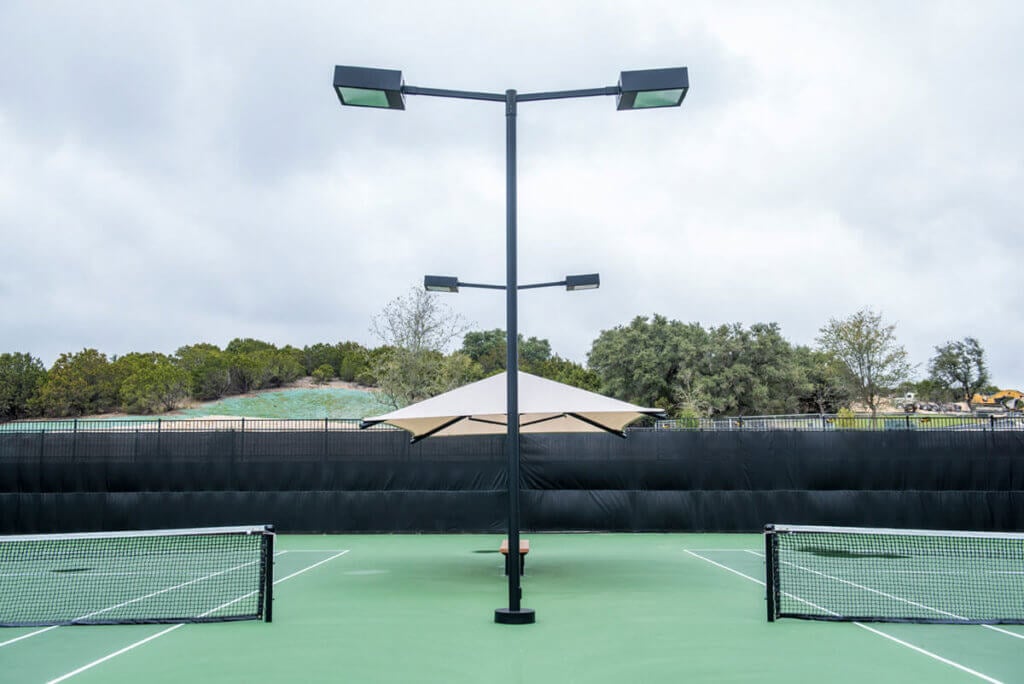 Get Outside & Play
Are you inspired to grab you racquet and hit the court? Good for you! Even if you're never seeded, you'll still reap the rewards of fresh air and fun with friends. And what's not to LOVE about that?