Southern California, and especially Orange County, has long been epicenters of land planning innovation. The latest grand project to join the impressive pantheon that includes The Irvine Ranch is Orange County Great Park (OCGP). The master plan was approved by Orange County voters in  2002 and development of Phase One began in 2013. In 2017, the 1,300-acre Great Park, built on the site of the old USMC El Toro Air Station, ranked among the nation's top 20 best-selling master-planned communities. If you haven't taken a closer look at the community marked by that big orange balloon visible from I-5, you're in for some big, pleasant surprises. In addition to plenty of much-needed new residential housing like Taylor Morrison's Muse in Cadence Park, new schools and new retail, there are a whole bunch of enticing attractions for active recreation and leisure-time fun.
OCGP Past Construction Highlights
Let's assume you don't know what's been happening since 2013. Here's a quick recap of OCGP's major public space developments that are up and running:
South Lawn Sports + Fitness Complex – a 30-acre complex with soccer field, basketball courts and mile-long health and fitness path.
Palm Court Arts Complex  – a gallery and artist studios plus a shady outdoor performance plaza.
Farm + Food Lab – a 2-acre urban agriculture demo garden maintained by UC Cooperative Extension Master Gardeners of Orange County.
Walkable Historical Timeline – 2,604 feet long including 162 significant events, the timeline connect the GP balloon and reflecting ponds and viewing pier.
Kids Rock Playground – a safe, fun engaging space that lets kids learn while they play.
Festival Site – a 14 paved surface for special events
What's New & Now at OCGP
Good times and easier ways to enjoy them–that pretty much sums up what's new and happening at OCGP.
The Irvine Boulevard Pedestrian Bridge – it's 282 feet long, 11 feet wide and fully ADA-compliant. The streamlined steel span allows pedestrians and bicyclists to safely cross busy Irvine Boulevard, connecting Beacon Park and Pavilion Park neighborhoods with schools, recreational facilities and open spaces. It will be a big comfort for parents whose children attend Beacon Park K-8 and Portola High. Notable safety features include 4.5-foot protective barriers and lighting strategically located to illuminate the vertical gateways and guide walkers, runners and bicyclists along the path. We should also mention that it's really gorgeous, too. The structural support is hidden within the walkway railings, giving the bridge a sleek look that appears to hover over the roadway.
Five Point Amphitheatre – this new 12,000-seat venue began hosting events late last summer and is offering an exciting line-up of events and musical performances this concert season. A few of the scheduled acts include Jason Aldean, Jason Mraz, Pentatonix, Lady Antebellum and Godsmack to name a few. Check out the video then check out the line-up.
Great Park Sports Complex – an all-new facility with 48 acres of amenities for tennis, volleyball, soccer and more is now open. This is in addition to the 53 acres that opened last summer and there's something for everyone.  Little ones will love the new playground, a safe place to climb, swing, slide and make friends. If tennis is your game, you'll have 25 spanking new lighted courts to choose from. Love to spike the ball? Try out your moves on one of the new sand volley ball courts. Full-sized basketball courts make pick-up games a slam dunk. And there are 12 soccer fields, six lighted grass fields (each 120 x 75 yard) with benches for coaches and players, spectator seating and 20-foot safety nets behind each goal. Six additional fields are available for soccer or lacrosse. See, you really can play all day and all night at OCGP!
Championship Soccer Stadium – a truly spectacular facility with seating for 2,500 spectators, locker rooms and training facilities, a box office, concession areas, upper-level viewing deck, berm seating areas and, of course, a big, beautiful green regulation soccer field. Heads up!
What's Coming Next?
The future of OCGP looks like a lot more fun is in the works. Plans call for:
A 270,000-square-foot community ice skating complex
 A 188-acre golf course
More trails and a wildlife corridor
Ready to Move to OCGP?
Don't blame you. Let us steer you to a great opportunity in Great Park. Cadence Park, the newest of OCGP's neighborhoods, is coming very soon and Taylor Morrison is there! Our Muse at Cadence Park is already pre-selling and, while the public grand opening isn't until August, you don't need to wait. Just call 949-341-1221 to schedule your visit to view the models. Of course we'd love to invite you to the Grand Opening, so we encourage you to join the VIP Interest List. You'll get community updates and an invitation. You can learn more about Muse at Cadence Park, view the floor plans and see homes that will be ready for move-in as early as October. Three-story homes range from 1,867 to 2,017 square feet, with 3 to 4 bedrooms and 2-car garages, priced from the high $700,000s. It's close to top-rated Irvine Unified School District campuses, major area employers, shopping, dining, doctors, services–all the things and places that matter to you.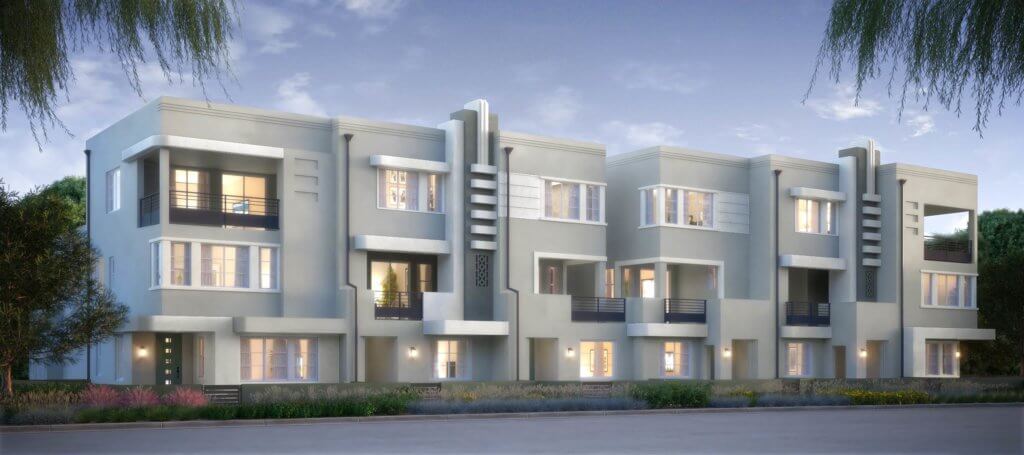 Want to Look for Other So Cal New Homes?
Start your SoCal new house hunt at TaylorMorrison.com. Or call our Southern California Internet Home Consultant at 949.341.1206 for help finding exactly what you're looking for.