Updated December 9, 2019
A big part of building a new home inspired by you is finding a floor plan that matches every aspect of your lifestyle and adding the signature touches to make it yours.
For some it's a gorgeous gourmet kitchen to try out fantastic new recipes. For others? Plenty of outdoor living to set up the ultimate barbecue zone. For others still? It's the perfect space to enjoy their hobby!
In this post, we'll look at imaginative ways to integrate hobbies into your house design using real examples from real homes. Creating a space that works for you and your loved ones, it's all part of Taylor Morrison's commitment to quality!
Relieve Stress and Promote Happiness
Before we dive into the photos and the fun, let's quickly touch on some of the reasons why you should consider picking up a new hobby in 2019:
Lower Tension: On the surface, adding something new to your schedule sounds like a headache. In reality, spending some time each week doing something you enjoy has been proven to relieve stress.
Improve Focus: Hobbies are great for your mind. Challenging your brain in a good way can be relaxing.
Boost Your Confidence: Trying something new is a great way to prove that you can teach an old dog new tricks!
New Social Connections: Hobbies are a fantastic outlet for making new friends. Better yet, new friends with a shared interest.
From arts & crafts to games, sports or even building a wine collection, finding time for you is a gift that keeps on giving all year long.
Florida
Go Horse Crazy in the Bedroom
Orlando | Steeple Chase | Treviso
Some hobbies aren't appropriate for inside the house! At this new home in Orlando, a horse-themed bedroom lets everyone know that there's a cowgirl on the premises. All the way down to boots on the dresser.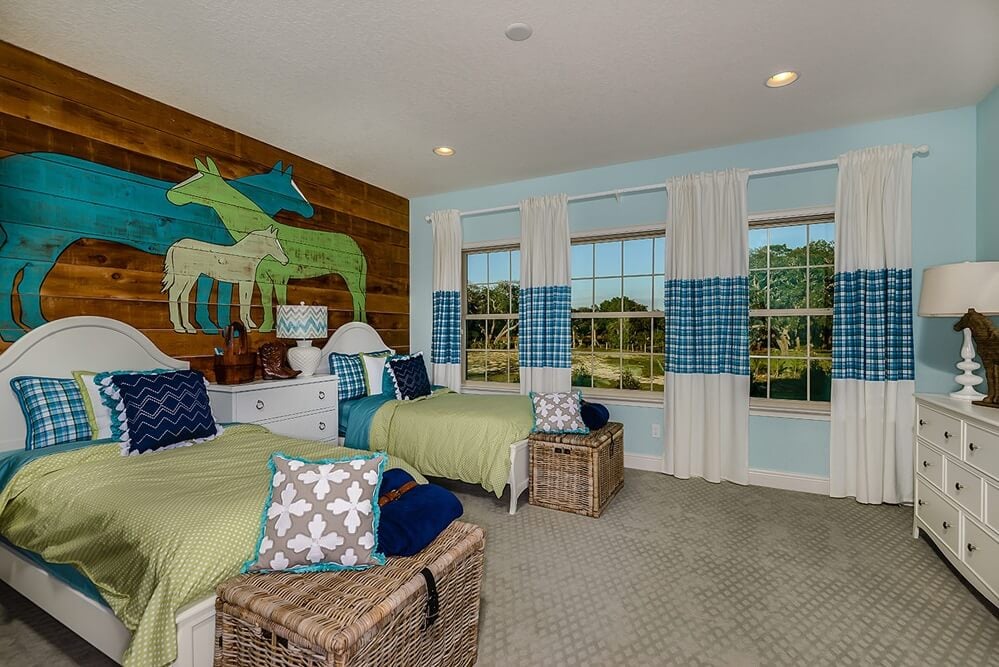 Get Your Stretch On
Jacksonville | The Grove at Bannon Lakes | Olivia
Thinking of finally giving yoga a spin? The Oliva floor plan provides plenty of room under the covered patio to bring your yoga mat and convert the space into your private at-home yoga studio. Florida sunshine and healthy exercise – it's a winning combination.
An Evening at the Movies
Tampa | Watergrass | Abaco
Movie buffs just love new Tampa homes designed with a dedicated media center. Throw a classic into the BluRay player or stream something new from your favorite genre. Once the credits roll, pull a board game off the shelf for fun with the family.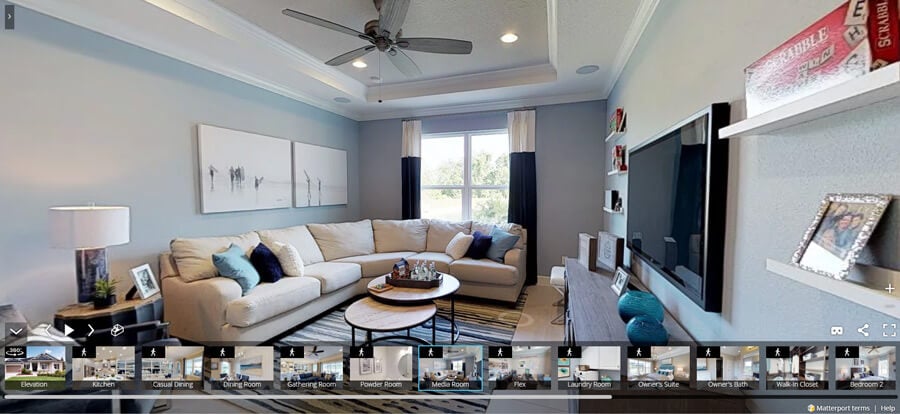 Want to see more of the Abaco plan? Take this fun 360-degree virtual tour.
Deal in another Hand
Fort Myers | Estero Pointe | Trevi
Whether you're into Texas Hold 'em or regular old 5-Card Draw, having your own poker room is a surefire good bet to anteing up a good time at your place. Add the wet bar for additional fun on the rocks!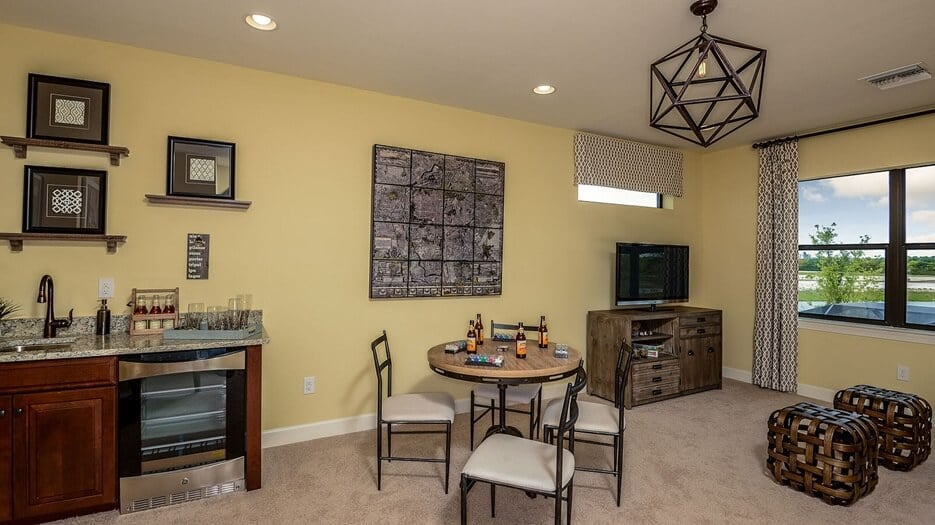 Here's another fantastic idea for anyone whose hobby involves a swimsuit. Imagine diving in for a pool party at this incredible outdoor living space in the Farnese plan.
Georgia
Get Fit and Stay Calm
Atlanta | Post Oak Glen | Burton
Wondering what to do with the unfinished storage space in your new Cumming, GA home? Create an at-home gym slash reading room to get your heartrate up before sitting down to a good book. Use the adjacent bathroom to freshen up after your workout.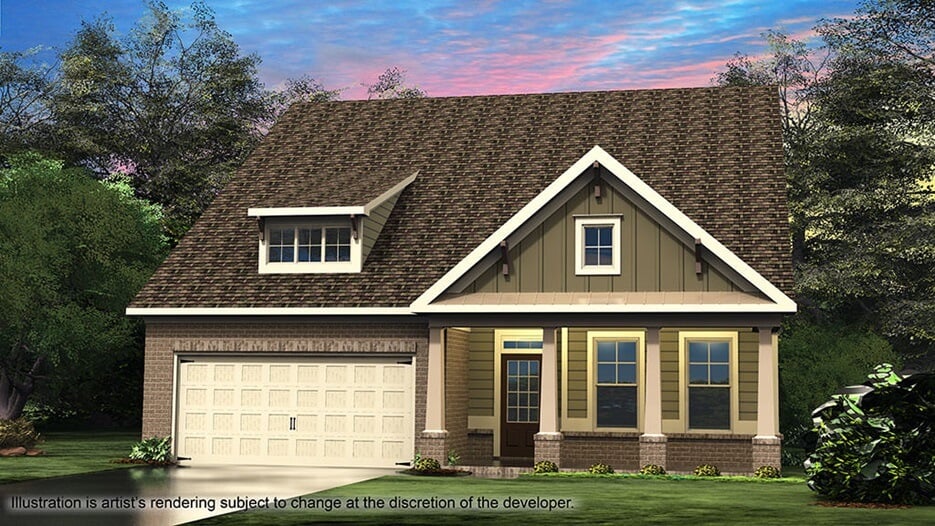 Carolinas
Lodge-Style Retreat at Home
Charlotte | Waterside at the Catawaba | Model Home
Get in touch with your sportsman's side with a charming entertainment space by combining modern amenity with classic detail. Show off the ones that didn't get away and rack 'em up for a game of billiards.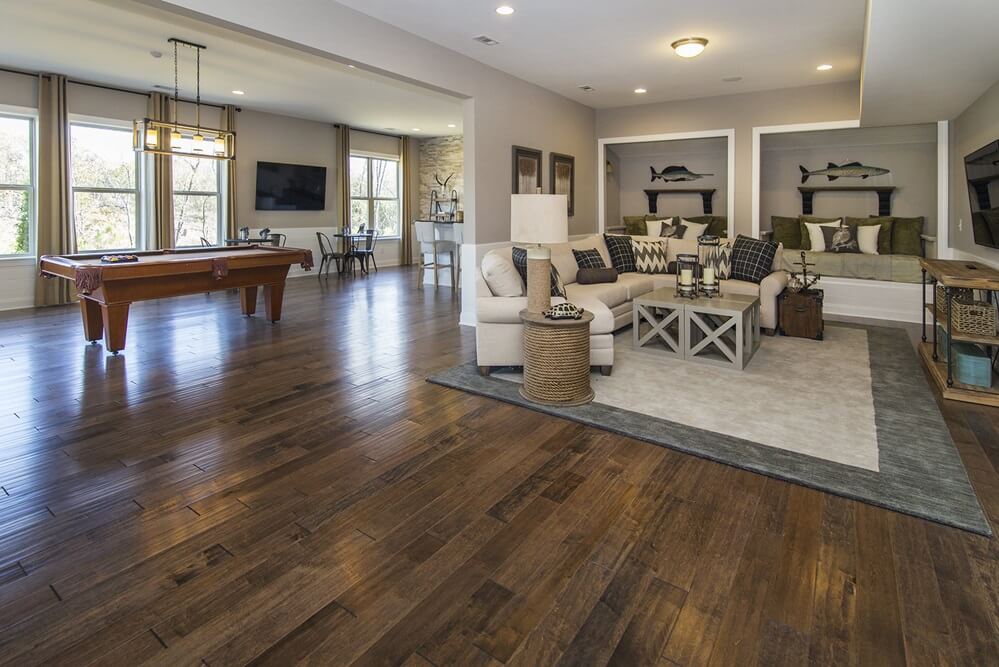 Complete the ensemble with a stylish corner wet bar. The perfect spot to pour a glass of your preferred whiskey or bourbon.
Salute to Your Heroes
This futuristic inspired media room is a safe haven for all with a vivid imagination. And a perfect place to escape on an adventure with your favorite movie or video game.
Illinois
To the Land of Fantasy and Beyond
Chicago | Tallgrass | Kingston
If your hobby involves axe wielding warriors and medieval storytelling, it's hard to imagine a better equipped home cinema arrangement for inviting the kingdom over to watch Game of Thrones!
After the show, take a load off with an ice-cold beverage at the bar. Bottom's up!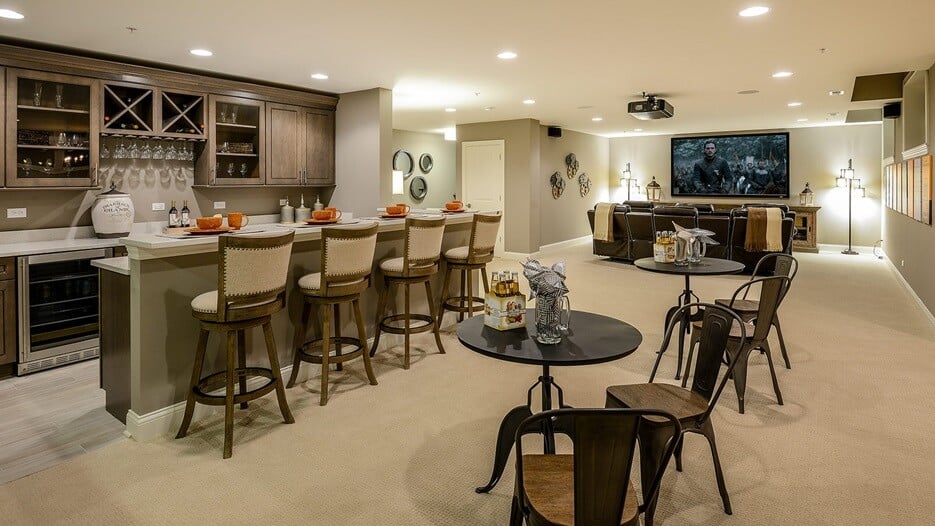 Texas
Elegance & Sophistication in the Game Room
Houston | Bridgeland Parkland Village 80s Regency Collection
Who says the media room can't be a classy affair? From the trim to the coved ceiling, and art selection, it's easy to see how this chic space could become your favorite room in the house.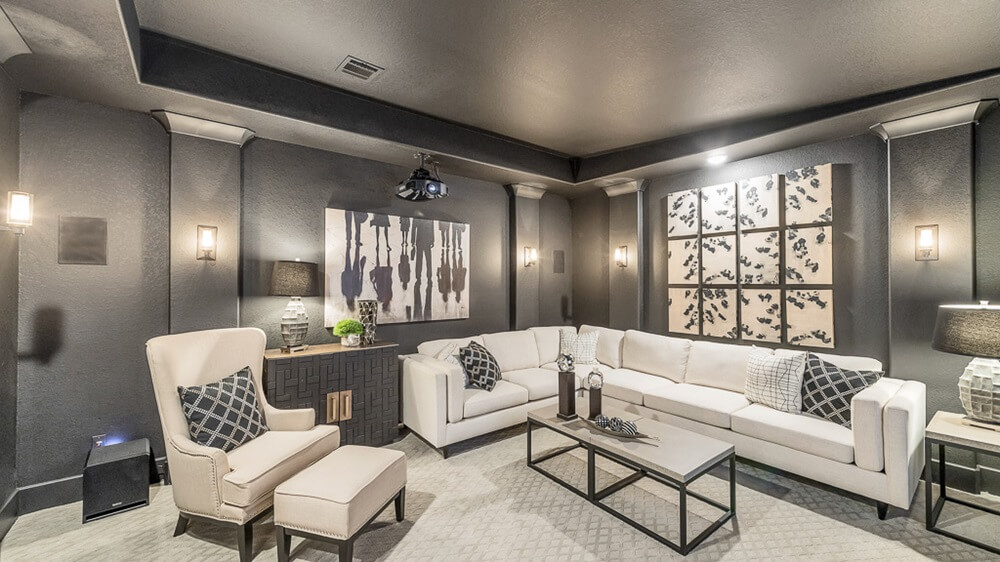 Knitting up a Storm
Austin | Reunion Ranch | Sapphire
This spectacular craft room offers convenient storage for all your yarn and art supplies. A quiet place to escape and create or a cozy space to enjoy arts & crafts with little ones.
Raise a Toast
Dallas | Hamilton Park | Freesia
Impress friends with your amateur sommelier skills and store all your favorite wines. The Freesia plan offers this attractive wine valet for aficionados of the vineyard.
Colorado
Fancy a Game of Cards?
Denver | Brighton East | Parker
Here's a fun idea at the Parker model if there's a future paleontologist in your household. Take the full virtual tour if you like what you see.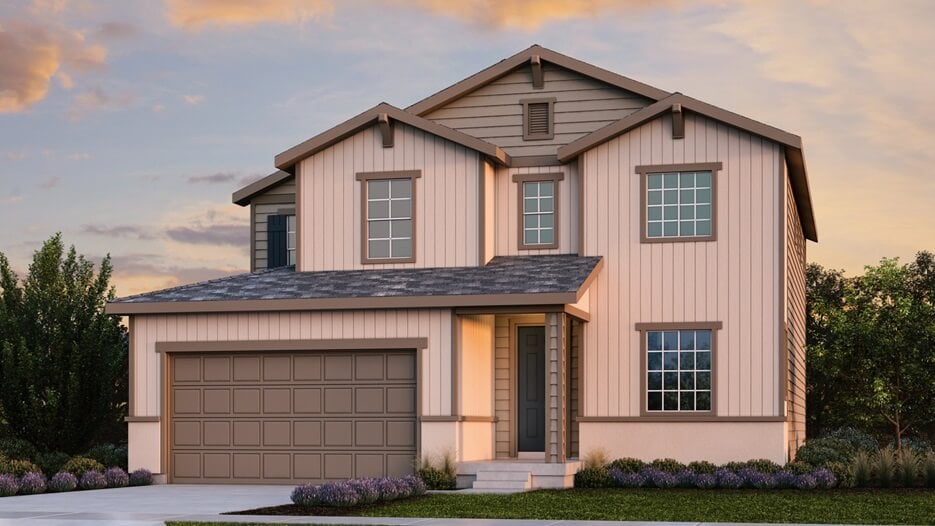 Arizona
Convert a Bedroom into a Tech Zone
Phoenix | Aloravita Landmark Collection | Albany
This setup is a fantastic option for the computer whiz in your house. There are plenty of little cubby holes to hide electronics/robotics gear, too.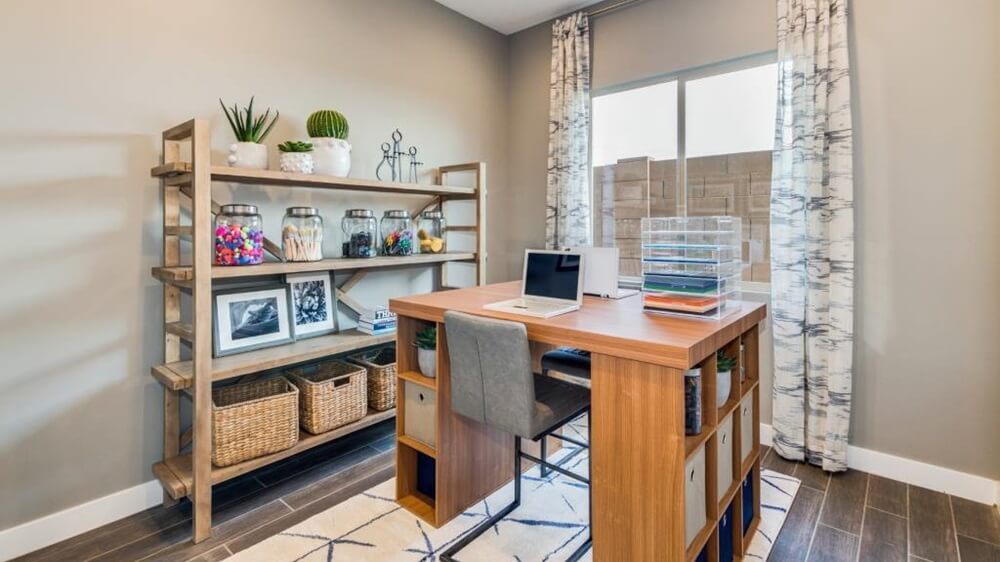 California
Upstairs Bonus Area Goes Crafty
Southern California | Westridge at Sycamore Hills in Upland | Avenue 3
Floor plans with a casual upstairs living room present a world of opportunity. Set up your craft goodies on the spacious desk area while you stream your favorite program in the background.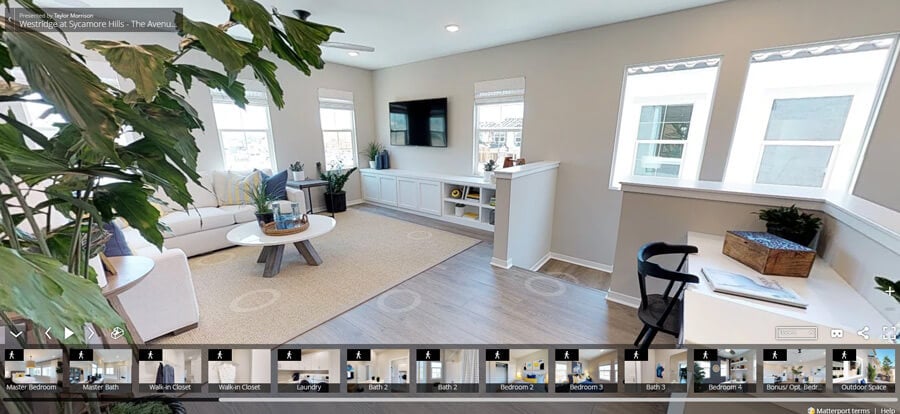 A Hobby for Baby
Meadowood at Park Place in Ontario | Plan 2
This gorgeous safari-themed nursery is a great way to get the newest member of your family interested in animals.
Play that Funky Music
Sacramento | Folsom Ranch – Azure | Plan 4 – Skye
Love to sing? This room not only inspires the aspiring recording artist, but provides a fun space to hone your hobby and lay down some tracks.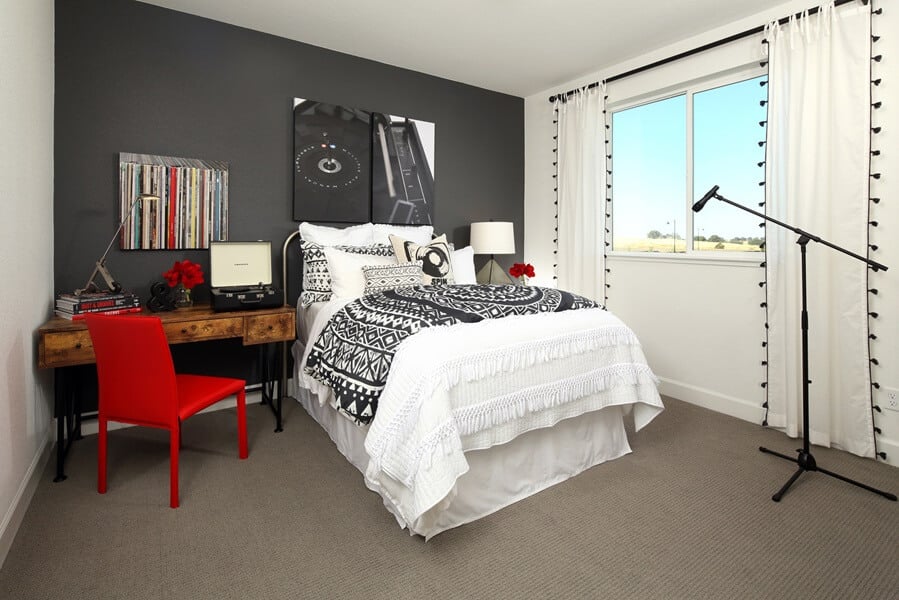 Imagination Plus
Bay Area | Nova at the Vale | Plan 6
This princess-themed room provides a quick escape to fantasy land. A pair of chest-of-drawers offers plenty of storage for dolls and other toys from the land of make believe.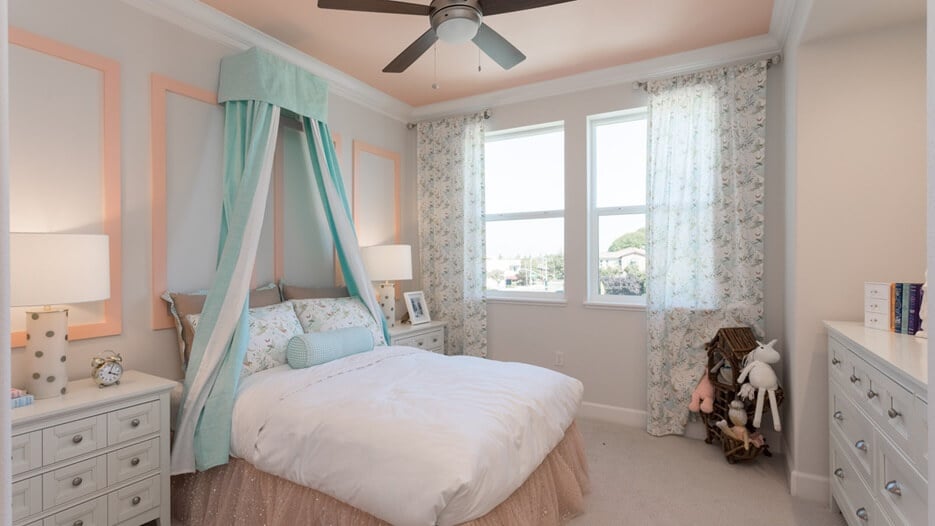 What's Your Hobby?
Which of these fun hobby rooms most inspires you to have more fun? Let us know in the comments!