At Taylor Morrison, we believe that your new home is the most important home we can build. It's part of what makes our company different and a big reason why we've been named America's Most Trusted Home Builder four years in a row.
We understand that every homeowner is different. With different needs, different budgets and different lifestyles. Including buyers who are looking for a smaller home.
Opting for a smaller home is a growing trend – and maybe it's right for you?
5 Great Benefits to Owning a Smaller Home
Simple math tells you that the fewer square feet you have in your home, the less time and energy you'll expend tidying and cleaning. Whether you work long hours, prefer an active lifestyle or head out of town often on the weekends, a smaller floor plan translates to more freedom and extra free time.
It's no secret that a smaller home comes with a smaller price tag. This means you'll have much more wiggle room in the budget to add on all those beautiful options and upgrades you've always wanted. Some buyers prefer a smaller home that's more luxurious than a larger plan with standard finishes. The same theory holds true for furniture shopping, too. With fewer rooms to decorate you can choose to splurge on more expensive furnishings and accessories.
Even a top-quality new construction home requires maintenance over the years. Simply put, the smaller your home, the fewer things that can go wrong. From a fresh coat of paint to redoing the roof, major maintenance projects cost less with a smaller home.
The cost of heating or cooling your residence is directly related to the volume of air circulating through your home. Along with responsible energy-efficient construction, a smaller home can cut utility expenses dramatically. It's not just about money, either – a smaller home is better for the environment.
Less space to fill with stuff can be a positive game changer for many people. Instead of focusing on accumulating more possessions, you can enjoy quality time with your loved ones indoors and out.
Smaller Plans that Pack a Punch
Today's sub-2,000 square foot home looks a lot different than smaller homes of the past. Utilizing open-concept planning and techniques for optimization of space, a smaller home built in 2019 will live much larger than similarly sized house designs from yesteryear.
Taylor Morrison's award-winning plans provide the trendiest features in every new home we build. Even our most compact plans include:
To show you what we mean, let's look at 6 of our most popular floor plans from across the country.
Hudson Plan 3 – Vintage at Old Town Tustin in Southern California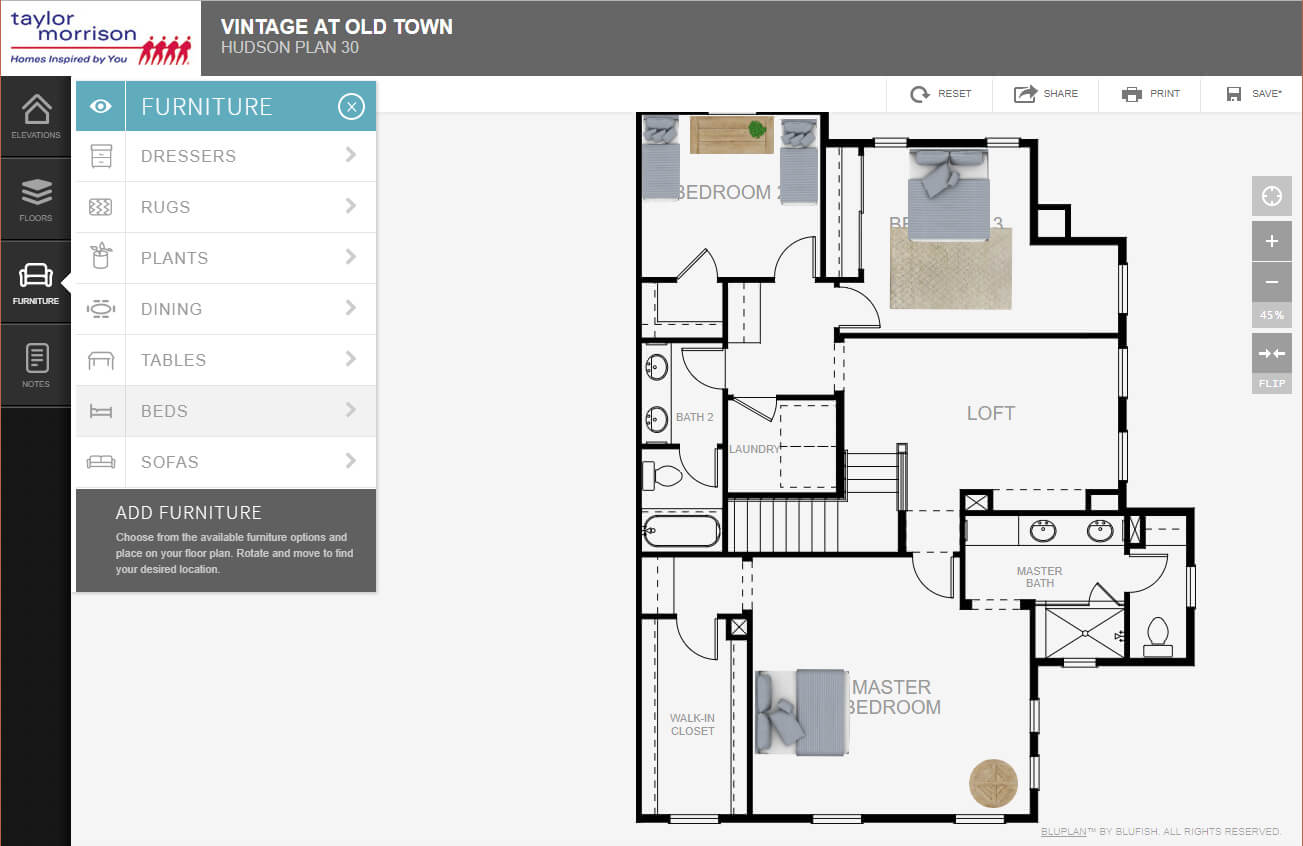 1,884 Sq. Ft. | 3 Bedrooms | 2 Baths | 1 Half Baths | 2 Garage | 2 Stories
Proving that detached living doesn't mean you'll have to give up your favorite living spaces, Hudson Plan 3 looks and lives like a single-family home. The master suite offers dual sinks and vanities plus the unique feature of a private deck off the owner's retreat.
Lumina – Tenova in Phoenix, AZ
The Lumina plan offers the luxury of walk-in closets in all three bedrooms with the added benefit of having a full bath right next door with adjacent linen and coat closets. Great for multi-tasking, the laundry room is tucked in neatly past the kitchen beside the pantry.
1,768 Sq. Ft. | 3 Bedrooms | 2 Baths | 2 Garage | 1 Story
Aurora – Brighton East Farms in Denver, CO
1,919 Sq. Ft. | 2 Bedrooms | 2 Baths | 2 Garage | 1 Story
An excellent choice for buyers who work from home, this two-bedroom plan features a charming study that can double as an office. Don't need a den? No problem. Convert the space into a third bedroom. A fun bonus feature with the Aurora plan is the drop zone just inside the owner's entrance. Load and unload the car with ease!
Bryn Mawr – Colfax Crossing in Chicago, IL
1,782 Sq. Ft. | 3 Bedrooms | 2 Baths | 1 Half Baths | 2 Garage | 3 Stories
This house for sale in Des Plaines is another fantastic example of how creative design is changing the way homeowners think about townhomes. Each floor of the home offers something different. The third floor comes with the option of master plus two bedrooms or dual owner's suites. The second floor provides spacious open-plan entertaining – and the ground floor features a nice bonus room to be set up as an office, gym, play room or media center.
Ibis – Lucaya in Fort Myers, FL
1,533 Sq. Ft. | 2 Bedrooms | 2 Baths | 2 Garage | 1 Story
Fort Myers real estate built for the Florida lifestyle. It's hard to believe so much variety fits in to just 1,533 square feet. Entertain in the great room or take the party outside to your private covered lanai. Celebrate great food with a spacious kitchen and adjacent dining room. Close up the den for privacy or leave it open for a cozy parlor or game room.
Pad – Gordon Park in Raleigh, NC
1,660 Sq. Ft. | 3 Bedrooms | 2 Baths | 2 Garage | 1 Story
Pad's impressive owner's suite is the highlight of this new Raleigh home. With a foyer-style entry and an enormous L-shaped walk-in closet through the master bath, the space feels more like the master bedroom of a luxury home than a compact ranch plan. Options for bonus storage are many, from a mud room to a broom closet, linens, coats, pantry and extra storage closet around the corner from the great room.
Learn More about Building a Smaller Home with Taylor Morrison
Take the first step towards owning your new construction home by locating new home communities near you.