Updated: July 30, 2019
Not all houses for sale in Ft. Myers, FL are created equal. Coming soon to beautiful Lake Como, Taylor Morrison's signature Esplanade brand is preparing to make a big splash at the highly-anticipated Esplanade Lake Club.
Designed for inspired living, the community not only boasts direct access to one of southwest Florida's largest lakes but also an incredible array of exciting, lifestyle enhancing planned amenities.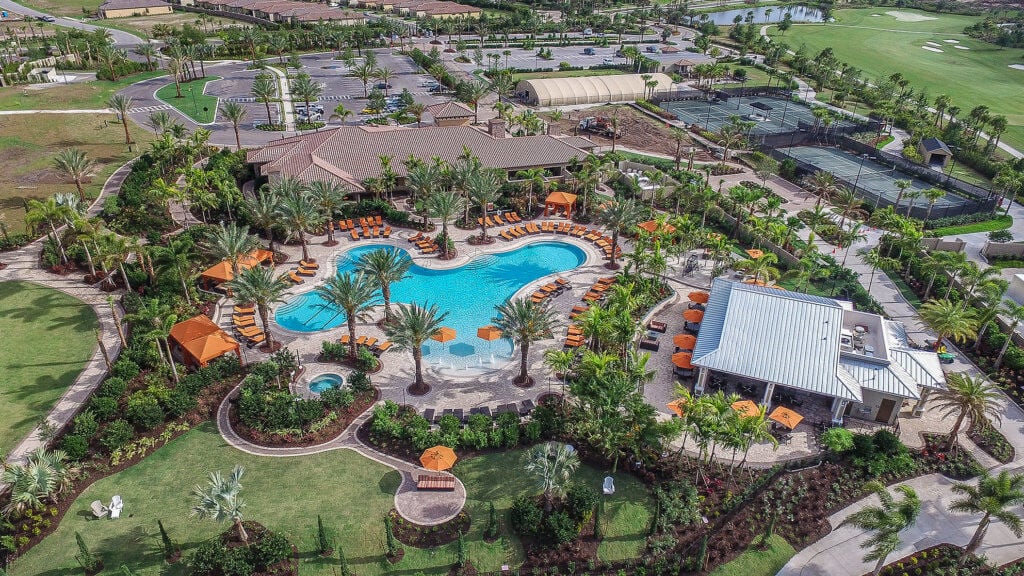 Discover all the reasons why life is better with resort-style amenities at your fingertips. Be sure to sign up at EsplanadeLakeClub.com so you can be among the first to select your homesite.
Fun for all Ages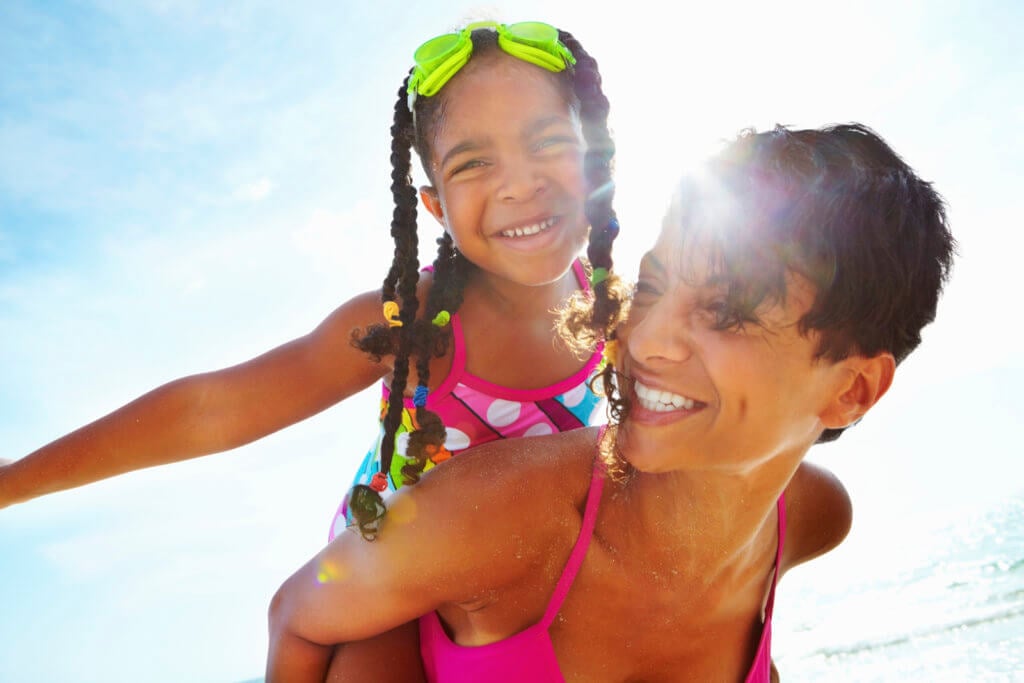 Ft. Myers homes will be for sale at Esplanade Lake Club and are different than many of our other Esplanade communities. Built for all ages, Esplanade Lake Club is a perfect fit for those to swim and those who've sailed the seven seas and are looking for the perfect destination to settle down by the waterside.
From access to great schools to a full-time Lifestyle Manager with a calendar full of events – there's sure to be something for everyone.
Kick Back at the Sparkling Community Pool
Whether you're looking to unwind or swim laps, Esplanade pools are styled to make you feel like you're on holiday. When we say that every day feels like a vacation at Esplanade Lake Club, we really mean it.
Massage Treatment Room
Speaking of feeling like every day is a vacation, how about making an appointment for a massage, spa treatment or a yoga class? Life's good when your favorite spa is right down the street in your own gated neighborhood.
Hungry? Head to the Bahama Bar and Grille
You don't have to go far to enjoy a tasty meal out. The outdoor Bahama Bar and Grille will offer the perfect blend of classy yet casual dining right there in the neighborhood. Meet up with new friends for a cold drink, refreshing salad, tasty burger or scrumptious seafood.
Plan a Fun Get Together
The clubhouse will feature a planned full-service catering kitchen plus space for residents to utilize for meetings, socials, gaming and more.
Tennis and Pickleball
Sporting enthusiasts find it easy to keep busy with planned top-quality sports courts plus leagues and lessons organized by the Lifestyle Manager. Taking up tennis or pickleball as a hobby is also a fantastic way to make new friends in the community.
Challenge your neighbors to a game of bocce ball and you'll soon see why everyone who moves to the Sunshine State gets hooked on this fun Italian outdoor game.
Waterfront Walking Trails
Stay fit and enjoy an active lifestyle with a well-maintained network of walking trails throughout the resort-style gated community. Walk to the pool. Walk to the spa. Walk to the lake. You're going to need a new pair of walking shoes.
Inspired Boating Options
With over 350 acres of fresh water to explore, Lake Como is one of Florida's premier boating destinations – with more than enough space for enthusiasts to hit the water. This large tropical oasis offers a relaxing kayak or paddle boarding tour along the shore. Or, take a seat at the helm of your private sailboat. Enjoy fishing? No problem. Put in your 23′ bass boat and catch the big one in Lake Como. Now that's Florida living!
Community Marina and Boat Ramp
Dedicated Kayak Launch
Dry Storage
Individual Residence Boat Docks Available
Boats up to 23' are allowed, along with kayaks and stand-up paddle boards
America's Most Trusted® Home Builder
It's no secret that Taylor Morrison builds homes that people love to live in. We've been named America's Most Trusted® Home Builder an impressive four years in a row and we're doing all that we can to make it five.
Shop 9 floor plans of 1- and 2-story house designs ranging from 1,856 to 3,276 square feet with a 2-car garage. Plans feature 2 to 4 bedrooms with study and 2 to 4.5 bathrooms.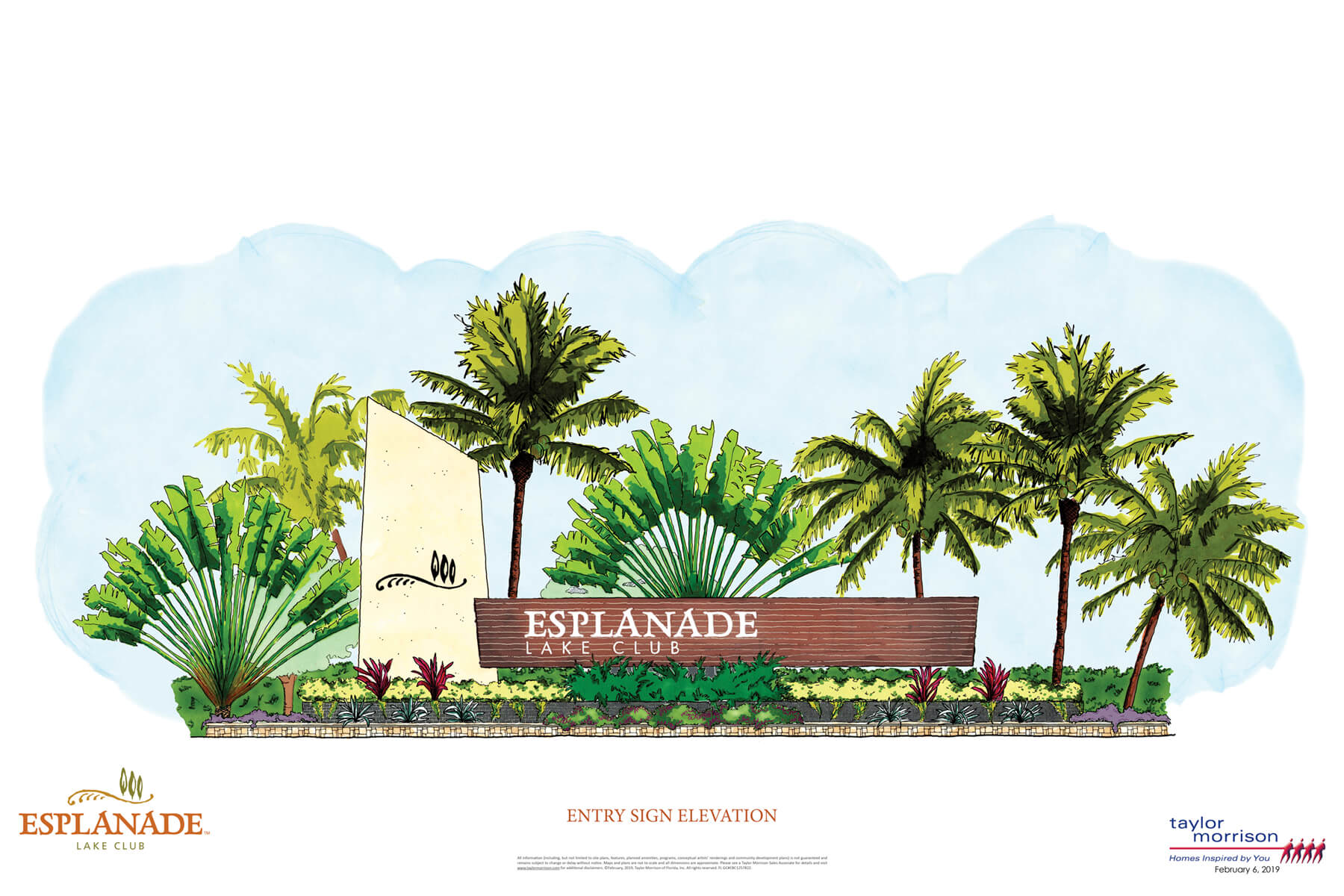 Esplanade Lake Club is the perfect place to explore, relax, engage and revitalize. Surround yourself with natural beauty and exciting ways to enrich each moment of your day.
Get ready to call Esplanade Lake Club home. Get started by joining the VIP Interest List today.

Disclaimer
Esplanade Lake Club is an all-ages community. All information (including, but not limited to prices, views, availability, school assignments and ratings, incentives, floor plans, site plans, features, standards and options, assessments and fees, planned amenities, programs, conceptual artists' renderings, tax rates and community development plans) is not guaranteed and remains subject to change, or delay without notice. Activities, venues and local events listed above are for informational purposes only without guarantee and subject to change outside of Taylor Morrison's control. Please contact each venue directly for further current complete details. Photos are for illustration only and do not necessarily represent actual community. Community improvements, recreational features and amenities described are based upon current development plans which are subject to change and under no obligation to be completed. Community Association and other fees may apply for certain activities and events. This is not an offering in any state where prohibited or otherwise restricted by law. Please see a Taylor Morrison Community Sales Manager for details and visit www.taylormorrison.com for additional disclaimers. © February, 2019, Taylor Morrison of Florida, Inc., CBC1257822. The Esplanade® name and logo are federally registered. All rights reserved.