If you've ever daydreamed of relocating to the Sunshine State on a cold, drizzly day, you're not alone. Americans are heading South in big numbers – and not just for Winter! They're building dynamic, prosperous lives where you seldom have to worry about your pipes bursting when the temperature drops below zero.
In this post, we'll share everything you need to know to find out if the Orlando real estate market is right for you. We'll also talk about the benefits of building a new home from scratch and give you a huge selection of communities to choose from.
It's All About the Lifestyle
Floridians have long known that living the vacation-themed lifestyle is exactly as good as it sounds. If you've ever been somewhere on vacation and thought, "Wow. I could live here," then Orlando might be just the right place for you.
Imagine getting into the car instead of an airplane to visit world-class theme parks like:
Walt Disney's Magic Kingdom
SeaWorld
Universal Studios
The Wizarding World of Harry Potter
Epcot
Gatorland
LEGOLAND® Florida Resort
And many more.
See yourself having access to dozens of beautiful golf courses. Yes. Dozens. There are a whopping 71 golf courses within a 20-mile radius of Orlando, FL – many of which have been designed by golf's biggest legends. There's a course for everyone but if you love a challenge, Orlando is home to some of the trickiest holes and most gorgeous, challenging greens you'll ever play.
Envision how much more lake time you'll get in when it's sunny and beautiful almost every single day of the year. The area boasts an incredible selection of beautiful lakes for swimming, boating, fishing and water sports. Be sure to check out the incredible Clermont Chain of Lakes.
You'll also find an eclectic restaurant scene for foodies and an annual calendar packed with fun festivals, activities, events, concerts and more.
Houses for sale in Orlando also offer all the casual fun of enjoying cold drinks on a hot day on your lavish covered lanai.
Outstanding Job Growth
Did you know that Orlando is adding more jobs per capita than any other metro area in the country? According to the Business Facilities' 2018 Metro Rankings Report, the city enjoyed a nation-high 3.8% overall job growth since December of 2016. It's no surprise that the Bureau of Labor Statistics listed Orlando as having one of the lowest unemployment rates in the country, too.
And if you're ready to hang up your gloves and retire, Orlando is an excellent place to unwind and make the most of your retirement.
Just for Anglers
Feel happiest when wetting a line? Orlando is a fantastic place for sports fishing. Here are four of the most unique (and full of fish) fishing holes in the Orlando area:
Bay Lake and the Seven Seas Lagoon
Embark on a chartered fishing boat from Disney Resort marinas and you'll experience some of the best bass fishing you can imagine.
Lake Panasoffkee
Back your trailer up to the launch and get ready to fish the shallow waters for largemouth, bluegill and redear sunfish. The redear sunfish is famous in these parts for its ability to eat snails and mollusks. Local fishermen call it a shellcracker.
Lake Kissimmee
With almost 35,000 acres of water to fish, you'll never feel crowded on Lake Kissimmee. The hydrilla, grass and cattails on the shoreline create the perfect ecosystem for catching lots of fish along the edge of the lake.
Lake Toho
A great spot if you love to fish but prefer a guide. The marina is packed with talented captains who can show you where the big ones are.
Yum, Let's Eat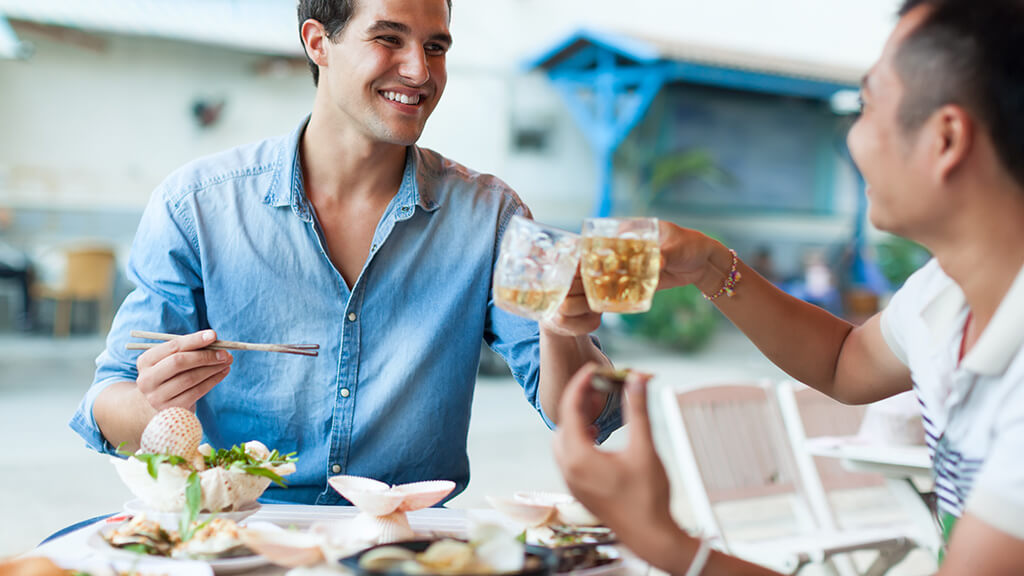 There are so many delicious restaurants to choose from but here are a few of our favorites near Taylor Morrison communities:
Lake Nona
Boxi Park – You've never had a culinary experience quite like this. Stop by for food, drinks, music and fun in a unique outdoor park setting. Open Thursdays and Fridays from 4:00 pm and from 11:00 am on the weekends.
Oviedo
Devine Wine & Grill – Outstanding hand-crafted cocktails and a unique take on American upscale dining. Fine dining where your plates are meant to be shared.
Oviedo
De La Vega Rum and Tapas – If you've yet to experience tapas, this is the place to do it.
Winter Garden
Winter Garden Farmers Market – More than just a place to pick up fresh fruit and vegetables. Swing by every Saturday for a tasty meal to fill up before you browse the goodies.
Join the Party
Staying busy in Orlando is just as easy as walking outside and finding sunshine. Here is just a tasting menu of the good stuff you'll find all over the region.
Clermont
Lakeridge Winery Summer Grape Stomp | June | 19239 U.S. 27 North, Clermont, Florida 34715 | 1-800-768-WINE
Winter Park
The Taste of Winter Park | April | Winter Park Farmer's Market, 200 West New England Avenue, Winter Park, FL 32789 | 407-644-8281
Oviedo
Bacon, Bourbon and Blues | May | Center Lake Park, 299 Center Lake Lane | 407-971-5588
General Orlando Area
Orlando Fringe Festival (Art and Theater) | May | 812 E Rollins St, Orlando, FL 32803 | 407-648-0077
Epcot® International Festival of the Arts | Early 2020 | Epcot Walt Disney World® Resort | 407-939-5277
Epcot International Flower & Garden Festival | March – June | Epcot Walt Disney World® Resort | 407-939-5277
Get it Right, the First Time Around
There are a lot of great reasons to build a new home instead of shopping the resale market – but above all else, buying someone else's home is going to be just that. Someone else's home.
It's nearly impossible to find the perfect resale home that's truly perfect. Resale homes always come with a compromise – the compromise between what you really wanted and what you'll settle for.
A new home is a blank canvas. You get to choose from a big list of floor plans and then make the modifications and upgrades that matter to you most. You're given flexibility and autonomy that you give up when browsing ready-now real estate listings.
And it's not just structural options that put your personal stamp on your new home. During your visit to the Orlando Design Studio you'll have the opportunity to play interior designer and select from an impressive selection of finishes, colors, flooring, tiles, countertops, cabinetry, fixtures and so much more – all with the help of a talented design consultant to guide you every step of the way.
Choice is Good! Find Your Happy Place in Orlando
Discover the right new home community to suit your personal style and needs. Then, get started on shopping floor plans and make your move to Orlando!
The Canyons at Highland Ranch, Clermont
1,768 to 4,830 sq ft | 3 to 7 Bedrooms | 2 to 4.5 Bathrooms | 1 to 2 Story Homes | 2 to 3 Car Garage
1010 Braewood Drive, Clermont, FL 34715 | 877-889-7055
Esplanade at Highland Ranch, Clermont (55+)
1,722 to 2,930 sq ft | 2 to 3 Bedrooms | 2 to 3 Bathrooms | 1 Story Homes | 2 to 3 Car Garage
508 Bellflower Way, Clermont, FL 34715 | 407-756-5025
Estancia in Windermere
3,314 to 3,972  sq ft | 4 Bedrooms | 3.5 to 4 Bathrooms | 1 to 2 Story Homes | 2 to 3 Car Garage
1106 Estancia Woods Loop, Windermere, FL 34786 | 407-756-5025
Havencrest in Orlando (West Orange County)
3,314 to 4,882 sq ft | 4 to 5 Bedrooms | 3.5 to 4.5 Bathrooms | 1 to 2 Story Homes | 2 to 3 Car Garage
7518 Blue Quail Lane, Orlando, FL 32835 | 407-756-5025
Hawk's Crest in Winter Park
1,588 to 2,582 sq ft | 3 to 4 Bedrooms | 2 to 3.5 Bathrooms | 1 to 2 Story Homes | 2 Car Garage
2308 Kestrel Perch Place, Winter Park, FL 32792 | 407-756-5025
Overlook at Hamlin in Winter Garden
2,726 to 5,173 sq ft | 4 to 6 Bedrooms | 2.5 to 5.5 Bathrooms | 2 to 3 Car Garage | 1 to 2 Story Homes
7712 Minutemen Loop, Winter Garden, FL 34787 | 407-756-5025
Southern Oaks in Oviedo
3,221 to 4,830 sq ft | 4 to 7 Bedrooms | 3.5 to 5 Bathrooms | 1 & 2 Story Homes | 3 Car Garage
31 Robin Nest Drive, Oviedo, FL 32765 | 407-756-5025
Whitetail Run in Oviedo
3,226 to 4,830 sq ft | 4 to 7 Bedrooms with Den | 3.5 to 4 Bathrooms | 1 to 2 Story Homes | 3 Car Garage
3673 Kershaw Place, Oviedo, FL 32765 | 407-756-5025
Steeple Chase in Lake Mary
3,314 to 5,601 sq ft | 4 to 5 Bedrooms with Den | 3 to 4.5 Bathrooms | 1 to 2 Story Homes | 2 to 3 Car Garage
395 Blue Lake Circle, Kissimmee, FL 34758 | 407-756-5025
Woodland Park in Orlando (Lake Nona, Airport area)
1,588 to 4,440 sq ft | 4 to 7 Bedrooms | 2 to 5 Bathrooms | 1 to 2 Story Homes | 2 to 3 Car Garage
12048 Alder Branch Loop, Orlando, FL 32824 | 407-756-5025
Greenfield Village in Davenport
1,687 to 2,802 sq ft | 3 to 4 Bedrooms with Den | 2 to 3 Bathrooms | 1 to 2 Story Homes | 2 Car Garage
108 Hamlet Loop, Davenport, FL 33837 | 407-756-5025
Solivita in Kissimmee (55+)
1,295 to 2,840 sq ft | 2 to 4 Bedrooms | 2 to 3 Bathrooms | 1 Story Home | 1 to 3 Car Garage
395 Village Drive, Kissimmee, FL 34759 | 877-335-1543
Bellalago in Kissimmee
1,767 to 5,646 sq ft | 3 to 7 Bedrooms | 2 to 5.5 Bathrooms | 1 to 2 Story Homes | 2 to 4 Car Garage
1220 Lago Vista Court, Kissimmee, FL 34746 | 407-756-5025
Vitalia in Port St. Lucie (55+)
1,295 to 2,582 sq ft | 2 to 4 Bedrooms | 2 to 3 Bathrooms | 1 Story Home | 2 Car Garage
10097 Red Oak Court, Port Saint Lucie, FL 34987 | 772-345-4937
Updated 6/26/2019