Guest Contributor Lee K. Crowder, Design Gallery and Model Home Branding Manager for Taylor Morrison and Darling Homes shares some Kitchen Cabinet Design Tips
One of the coolest perks when you buy one of our new Taylor Morrison homes is access to the Design Studio nearest your new community. That's where you get to turn your new house into the perfect home and create the perfect kitchen you've dreamed about. But before you go to the Design Studio, professional designer Lee Crowder has some words of wisdom to help you get the most out of the experience and end up with kitchen cabinets that are both beautiful and efficient. (Not buying a new home just yet? Read on anyway. We've included a few tips for maxing storage in kitchen you've got.) Take it away, Lee.
Kitchen Storage Prep
The Number One best piece of advice I can offer when it comes to designing a dream kitchen at the Taylor Morrison Design Studio is to do your homework ahead of your visit. Pay attention to how you use your existing kitchen and take notes.
For example, how far do you have to walk to unload the dishwasher? Is it a trek just to put the silverware away? When you pull a cookie sheet or muffin tin out of an upper cabinet do a whole bunch of other things tumble out and hit you on the head? Can you even remember where you stored your stand mixer or the accessories for your food processor? Do you know what's hiding in those cabinets above the refrigerator or in the dark recesses under the sink?
Knowing the challenges with your current set-up will help you and your design consultant create something that's right for the way you function in the space.
Specialized Accessories to the Rescue
One of the easiest first steps to living your best life while cooking for yourself or a large group is to add built-in cabinet accessories. You'll be amazed at the variety available and how they can simplify kitchen chores. Here are a few of my favorites:
Built-in silverware and knife storage drawers next to the dishwasher will cut down on steps.
A small beverage fridge on the outskirts of the kitchen to hold waters, juices and soft drinks will free up precious fridge space for food. Even better, it means you and your family won't be constantly opening and closing the refrigerator all day long.
Lower cabinets with shelves can easily become a graveyard for seldom-used items. Who knows what's stuffed back there! Pull-out pot and pan drawers are a popular solution that lets you use the entire capacity of your lower cabinets and retrieve things easily. They aren't just for cooking equipment, either. People use them for storing wine, liquor, even everyday dishes.
Pull-out trash drawers are no-brainers that solve a whole bunch of problems. They free up floor space. They get an eye-sore out of sight. They're often large enough to house two bins, so you can have your trash and recyclables in the same space. You'll never again come home to garbage strewn all over the kitchen by a naughty pet. And, speaking of pets, pull-out trash drawers are also a great place to house the dog and cat food.
Kitchen Accessorized for Style
I also have a couple of favorite upgrades I often recommend just because they're easy, elegant ways to make a personal style statement.
Glass doors with puck lighting are a wonderful way to show off your beautiful but seldom-used serving pieces. Unlike open display shelves, glass cabinet doors keep kitchen dust and grease off the pieces so they're ready to use when you need them.
Hardware is both beautiful and functional. It adds sparkle and style, like jewelry, but it really serves a purpose, too. Often the more modern cabinet doors or even doors with soft-close hinges are hard to open without hardware. Pulls and knobs add personality and make it easier to open and close cabinetry.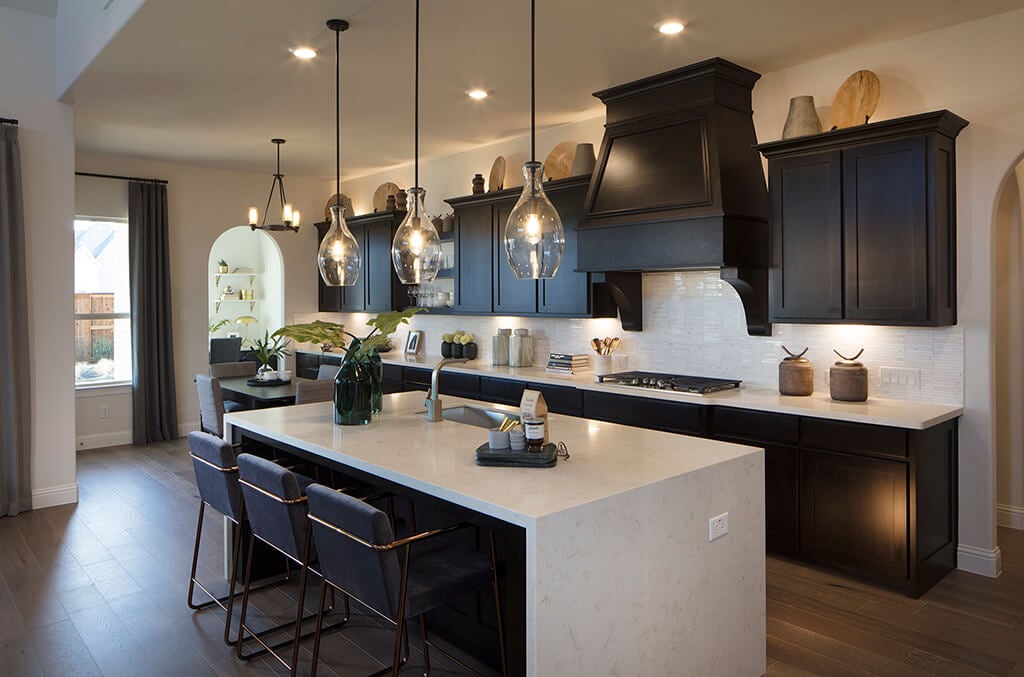 A Couple Do's and Don'ts
When choosing add-ons for your kitchen cabinets don't go overboard. Extra storage is great but try not to put it where it interferes with traffic patterns or function. For instance, don't add a lot of additional storage to your kitchen island. This is where guests will sit and asking them to move so you can get a needed item can quickly get old. Also, avoid adding lower cabinet storage units for housing everyday items in the heavy traffic lane of your kitchen.
---
---
Dream Kitchens Now Selling Everywhere We Build
Ready to design that new home dream kitchen?  Start your search for a new home at here. If you're interested in the Austin area, be sure to take a look at our new Heritage at Vizcaya homes for sale in Round Rock.  Round Rock real estate is attracting attention from people who want to be close to Austin's cultural scene and job centers but prefer small-town ambience.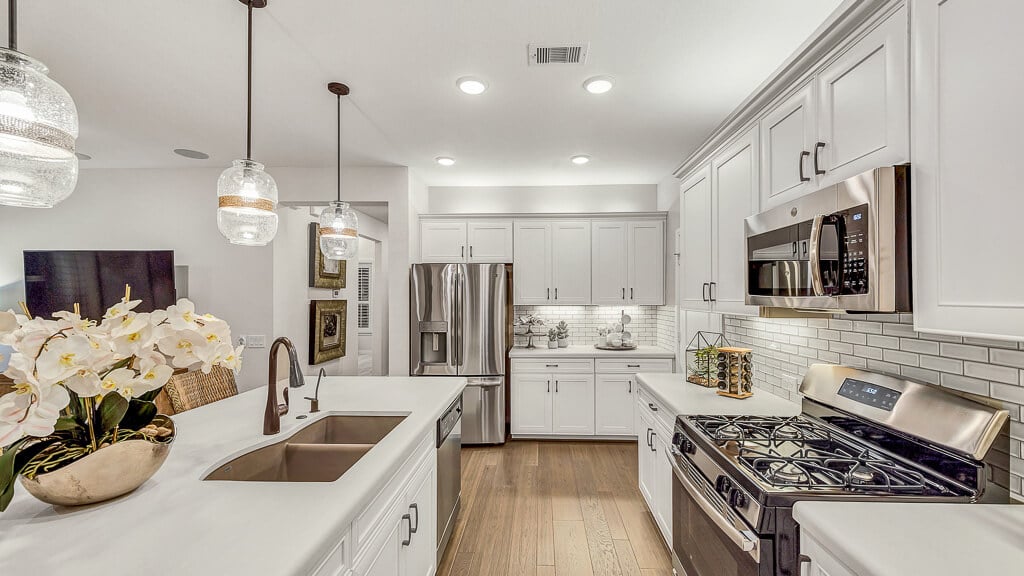 Stuck with the Kitchen You've Got?
Until you can buy that new house with kitchen cabinets designed to your specs, consider these "after-market" add-ons and quick-fix ideas to maximize space and efficiency. The basic concept is to use hidden space (inside cabinet doors), narrow space (between the fridge and countertop), and wasted space (under and on the ends of cabinets).
Do a quick online search for DIY kitchen cabinet add-ons. You'll find dozens of cool ideas that the average handy man or woman can complete in a few hours or over a long weekend.
Install inexpensive under-cabinet LED light strips to illuminate food prep areas.
Install stemware racks under cabinets are inside tall cabinets.
Use the end of a cabinet for specialized racks to store lids, spices and for hooks to hangs small pots, potholders, aprons, etc.
Hang a low-profile knife block inside a cabinet door near your primary prep area.
Look into pot racks that can be hung from the ceiling.
Put freestanding divider racks and stepped shelves in cabinets to increase storage.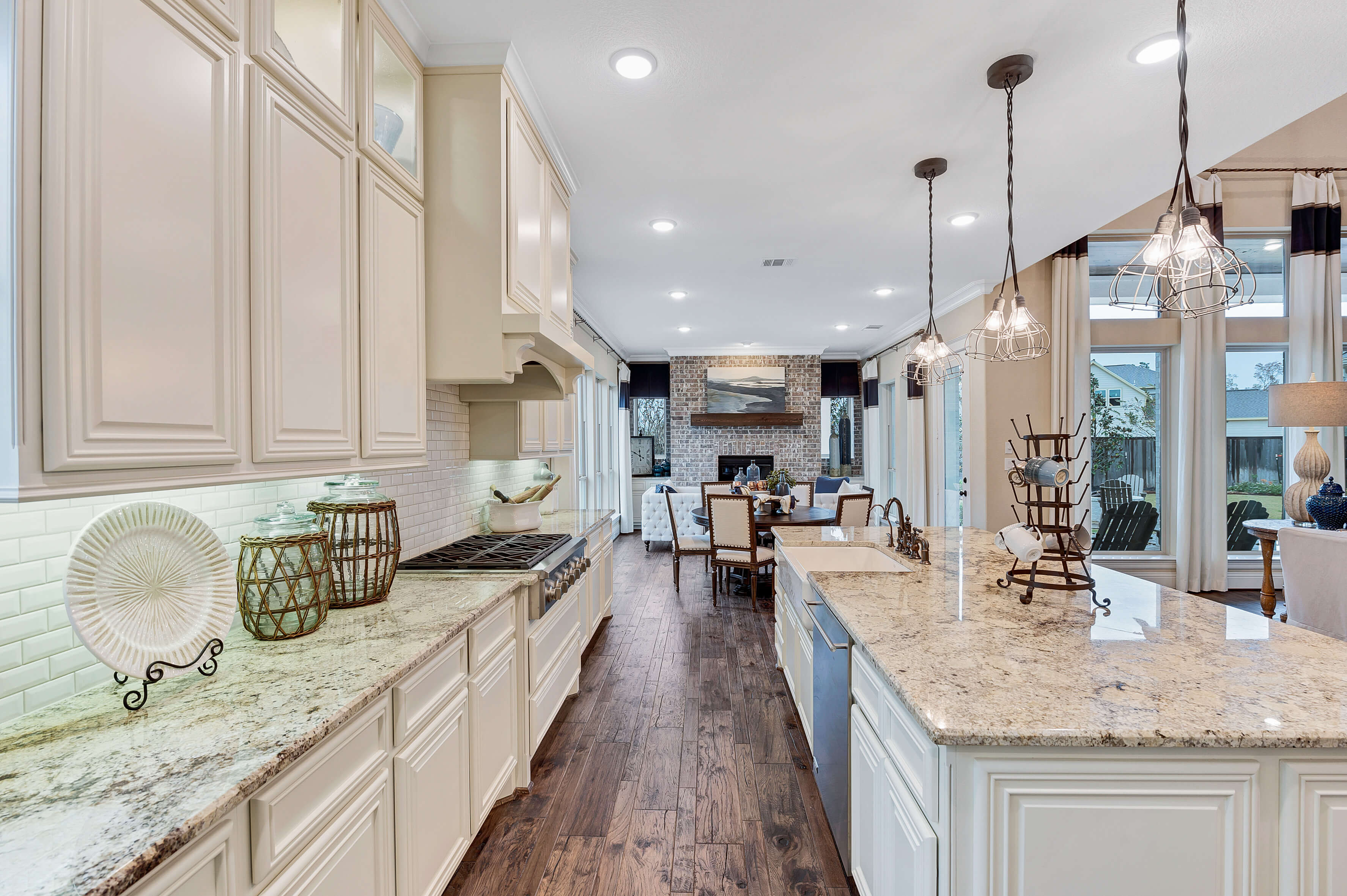 The more thought you put into how you use your kitchen cabinets, the better they'll serve you, and the less likely you are to waste money buying food and gadgets you've forgotten you already have!