Help Your Parents Discover the Difference
Part of getting older is coming to grips with the reality that your parents are getting older, too. For many, this means helping them to sell their home and move into a lower maintenance living situation.
If you're in this boat (or will be soon), Taylor Morrison has helpful tips we're happy to share to guide you through the process.
For those located in the Austin, Texas real estate market or whose parents plan to relocate to the area, we'll include a special section to introduce you to our Inspired Living brand and showcase 55+ homes at our resort-style Heritage at Vizcaya community.
My Parents Are Active and Healthy, Why Would They Need My Help Finding a New Home?
It's not just money or fitness that prevents retirees from saying good-bye to their home. It's natural to form an emotional attachment to the house where you raised your kids and many years of familiarity can make the thought of change feel unnecessary or even uncomfortable.
These emotions can lead to a situation where your parents don't look at the real challenges of aging in their current house from an objective point of view. They might even feel guilty bringing up the possibility of selling the home for fear that you or your siblings will be upset.
With your guidance, you can help your parents plan the next chapter of their lives. Often, you offering the suggestion alone is enough to get them to seriously consider making a change.
Other reasons why your assistance will be appreciated even when your parents are far from elderly include:
Familiarity with technology: How Americans buy and research homes in 2019 is very different than how we did it in the past. You can help your parents harness the power of the internet to find a home and community that's a perfect fit.
Clear up misunderstandings about modern 55+ communities: Many older folks still equate 55+ living with senior living or an old age home when today's active-adult communities are anything but. You can inform your parents about fun, social retirement community options that they may be unaware exist.
Understanding the Types of Retirement Communities
Independent living is a goal most seniors hope to achieve – to preserve their freedom and maintain the ability to do as much as possible on their own as long as they are able. Help your parents live as independently as possible by ensuring they move into the right kind of community to match their health and needs.
Nursing Home: A nursing home is designed for individuals who require constant monitoring and medical care. This is a last resort option that generally stems from frailty or very poor health.
Assisted Living: An assisted living facility offers a blend of trained care staff with the independence of a private residence. In an assisted living arrangement, residents do not necessarily have daily monitoring or assistance, but help is available at all times when requested. Residents of assisted living facilities typically require some assistance with medical concerns or household chores but not every day.
Active-Adult Community or 55+ Community: An active-adult community does not provide any sort of medical monitoring or assistance. These communities are crafted for active seniors who can fully care for themselves, but prefer the social aspects of living in a community with like-minded people in the same stage of life. 55+ communities typically offer resort-style amenities, fitness facilities and a Lifestyle Director to coordinate social clubs, activities and events. Homes are generally single-story and designed for easy maintenance and most active-adult communities include grounds maintenance in HOA fees.
A Focus on Health
More than any other factor that plays into the decision-making process, your parents' health and wellness will indicate the type of retirement community that's the best fit.
Should your parents be 100% capable of managing their own household, hygiene and medical needs, it's likely that a modern 55+ community is going to be the direction they'll want to take.
If you're unsure about whether your parents are independent enough for an active-adult community, here are a series of questions to consider:
Are there signs that they may need assistance with personal care like getting dressed, bathing and hygiene?
Have one or both of your parents experienced an issue with falling?
Do they have mobility issues getting in/out of the house?
Have your parents lost a lot of weight recently because of challenges related to shopping or meal prep?
Do your parents suffer from memory-related challenges?
Other Factors to Consider
Once you have determined the type of community you're looking for, you'll need to go over your parents' finances with them to work out a realistic budget. Once you have a solid figure for what they can comfortably afford you can start to look at specific communities and decide if they're prefer to rent or own.
From here you can research communities and schedule tours based off the following criteria:
What is their preferred location?
Is it important that the community be near to close friends and relatives?
Do they have a preference to a certain climate?
How far is the community from medical facilities?
What types of amenities are they interested in?
Would they prefer a community with a full-time Lifestyle Director?
Is shopping, dining and entertainment nearby?
Insider Tips for Getting Your Parents Involved
While researching and visiting retirement communities can be overwhelming, it's vital that your parents are engaged in the process. One great way to do this is to arrange for your parents to meet current community residents during their tours. Many communities host periodic social events where prospective buyers can meet residents, try out some of the amenities and get a feel for the types of get togethers they can expect to attend as owners. A quick call to the community sales manager is an easy way to arrange this.
Another great idea is to get your parents signed up for the VIP Interest List email newsletter for the communities they're interested in. This way they can learn more about the community at their own speed while also receiving invites to public events.
Take your time and be patient if your parents are taking a long time in making a final decision. Purchasing your retirement home is a big move and there's no reason to feel like you're in a rush.
Taylor Morrison Brings Resort-Quality 55+ Living to Austin
Homes for sale in Round Rock, TX at Heritage at Vizcaya offer retirees the perfect blend of onsite amenities, access to nature and proximity to one of the nation's most vibrant cities. From the state-of-the-art clubhouse to the refreshing pool, fitness facilities, sports courts, walking paths and more, every day at Heritage at Vizcaya is the start of a new adventure to live it up.
And with three distinctive series of floor plans to choose from, it's easy to find the right layout to match your parents' budget, tastes and needs. If the Austin area is on your parents' wish list, you can't go wrong with starting your research at Taylor Morrison's premier 55+ community in Round Rock, Texas.
Retirement Community Alternatives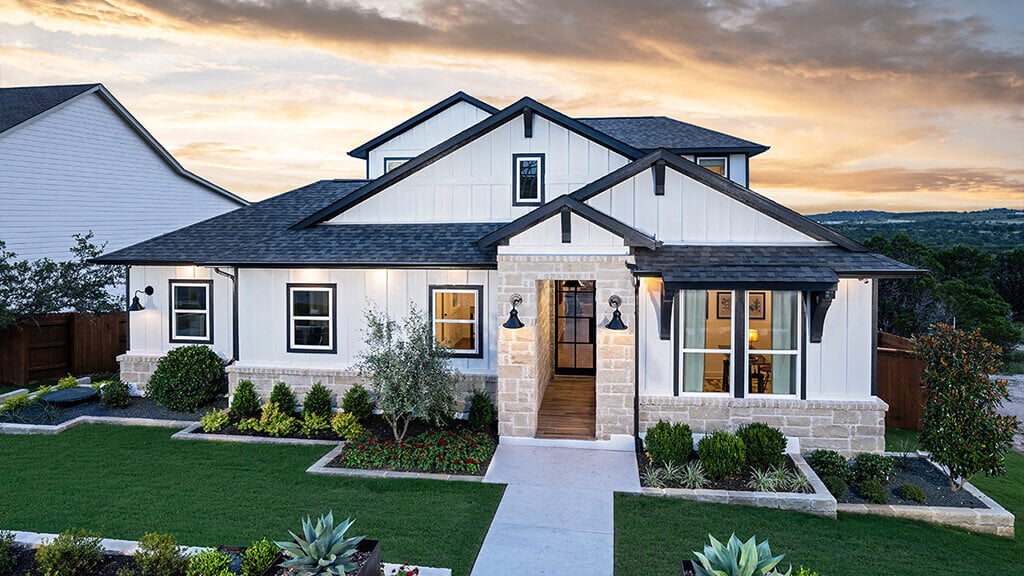 If after several tours your parents just don't feel like a 55+ community is right for them, consider making a move together into a new home with multigenerational living spaces. This is an attractive option both financially and for you to spend quality time with your loved ones. If you have little ones at home, co-parenting with grandma and grandpa can be a rewarding experience, especially if you pick an area with great schools.