Ranked by WalletHub as one of the Top 100 Small Cities in America, Apex, North Carolina offers idyllic small-town Americana in the suburbs of the Raleigh real estate market. It's beautiful. It's quaint. It's close to major employment centers. And perhaps best of all, it's a heckuva lot of fun!
Let's look at ten of the most popular reasons why Apex homes for sale are such a hot commodity.
1. True Downtown Setting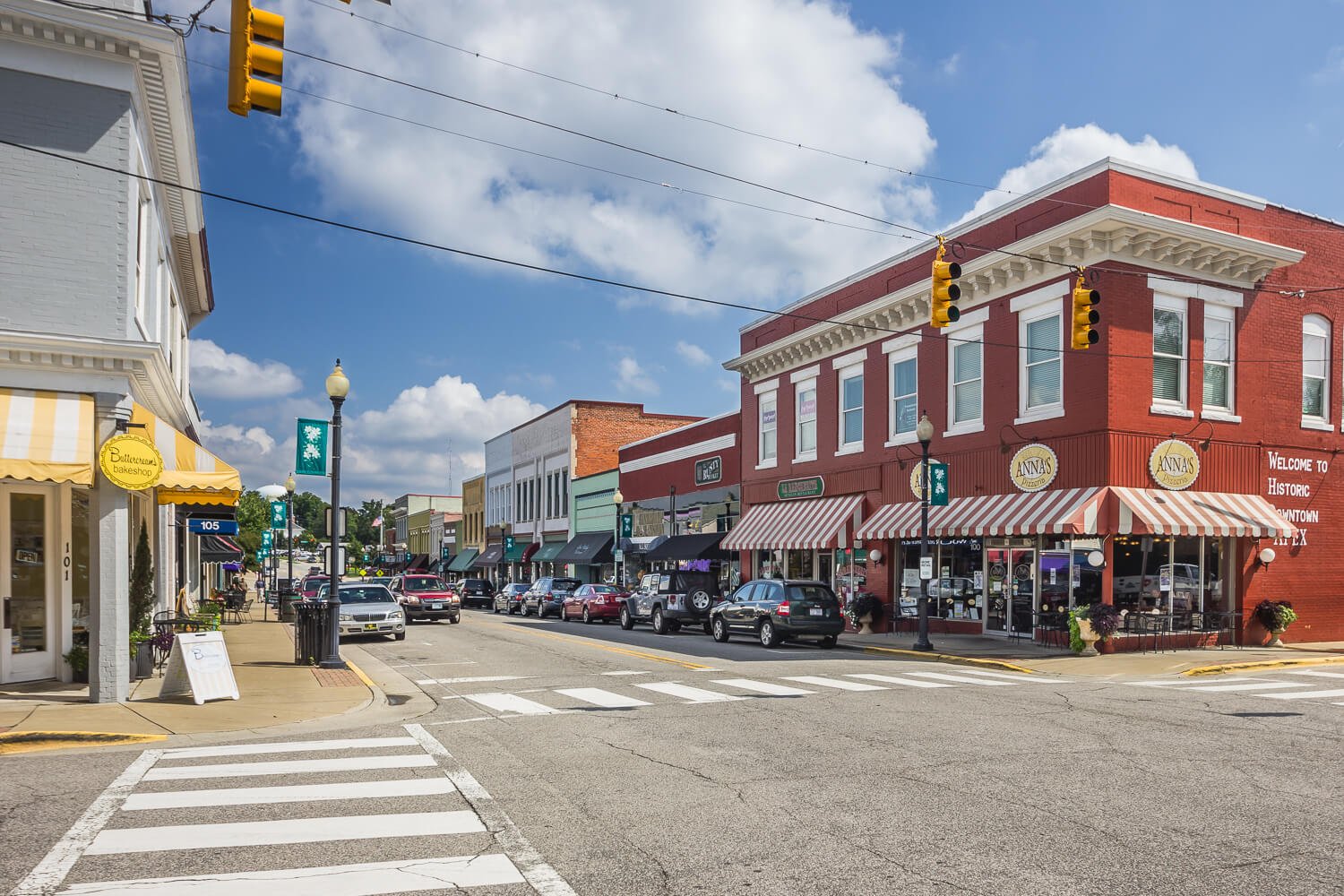 The historic downtown is something else. Whoever said Main Street is a thing of the past has definitely never been to Apex.
Packed with quaint shops, stylish boutiques, cafes and unique eateries, there's always somewhere new to explore and it's the kind of place you could spend an entire Saturday afternoon in just moseying about and window shopping. The historic downtown is an excellent place to eat out, too, which is great for foodies.
Many buildings in the historic center date back to the 1800s and are listed in the National Register of Historic Places. This creates an authentic old-time setting that can't be beat.
2. Impressive Parks and Greenways
The city of Apex maintains eleven miles of public greenways that connect to additional trails in Cary and follow the American Tobacco Trail all the way to Durham. This makes for an incredibly large area you can explore on foot or by bike. It's no wonder that residents of Apex spend so much time outdoors.
For parks, there's something for everyone – from soccer, to bird watching, to watersports, tennis, baseball or open-air concerts:
Crowder Park offers both forested areas and a relaxing 3-acre pond with boardwalk and observation deck.
Apex Community Park features a full 160 acres of multi-use facilities plus a 50-acre lake where you can rent canoes or kayaks.
Kelly Road Park features playgrounds, tennis courts, ball fields and trailhead access to the Beaver Creek Greenway.
Apex Nature Park offers disc golf, sports courts, dog park, nature trails and an outdoor amphitheatre.
Apex Jaycees Park is a great place to plan a picnic or work on your swing in the batting cages.
Pleasant Park is set to open in the winter of 2020. When it does, this 92-acre complex will be the ultimate place to "stay and play" in Apex.
And let's not forget that Jordan Lake is the second largest lake in the Triangle. Here you'll find hiking, camping, fishing, swimming and boating.
3. Unbelievable Selection of New Homes
Over the past thirty years, Apex has exploded from a sleepy hamlet of just 5,000 people to a bustling small city of 45,000. If current trends continue, the town is on course to grow and grow some more.
This makes now an opportune time to buy and break into the area on the ground floor. Fast growth means a wide selection of housing options including new home communities with fun onsite amenities like pools, fitness center, clubhouses and more.
Another great thing about shopping Apex homes for sale is the availability of new construction luxury townhomes in great locations. Townhome communities offer a fun low-maintenance lifestyle and often include a fantastic selection of onsite amenities. Both Preserve at White Oak and Townes at Westford feature resort-style pools, clubhouses, fitness centers, parks, sports facilities and more.
4. New Home Construction Apex NC Great for Treasure Hunting
Apex is a paradise for antiquing and shopping for unique home décor. Start off at Antiques on Salem Street before heading to The Rusty Bucket, Stylish Living and many more charming boutiques.
For gifts check out Apex Outfitter and The Doodling Bug.
5. New Homes Apex, NC 27523 Offer an Amazing Location
Situated near the center of the Research Triangle, Apex is convenient to major employment hubs, a trio of top universities, Raleigh-Durham International Airport and more. With fast connections to US Highways 1 and 64 plus Interstate 40 and Interstate 540, you can make the quick 15-mile drive to downtown Raleigh or enjoy world-class golfing in Pinehurst, NC in just an hour.
Apex's central location also means that day trips to the North Carolina beaches or Blue Ridge Mountains are a breeze.
6. Community Happenings Worth Getting Excited About
One of the best ways to build community is to bring neighbors together for a good time. For a city of its size, Apex offers an impressive annual calendar of events and festivals. If you like to eat and have fun, you're going to love living in Apex.
Apex Music Festival
Peak City Pig Fest
Old Fashioned 4th of July
Peakfest
Founders Day
Trick or Treat on Salem
Easter Egg Hunt
Apex Latino Arts Festival
Family Basketball Ham Toss
7. Strong Background in Education
It's no surprise that the city has been given an A rating for schools by Niche.com. Wake County Public Schools is the largest school district in North Carolina, and one of the top-rated, too.
8. Great Local Options for Shopping
While heading to Raleigh for shopping can be fun, residents of Apex love that they don't have to go to the city if they don't want to.
Beaver Creek Crossings and Commons are large shopping centers where you'll find everything from supermarkets to big box outlets, department stores and more. South Point and Crabtree Malls also offer an impressive selection of big-name retailers.
9. Top Cultural Facilities
Both the Koka Booth Amphitheatre and the Halle Cultural Arts Center are local treasures. From outdoor movies and concerts to the Chinese Lantern Festival, dance classes, visual arts exhibitions, musical theater and more, there's always something of interest taking place on the community arts calendar.
10. Fresh and Delicious Farmers' Markets
Eating clean and finding nutritious local produce is easy.
Choose from three popular nearby farmers' markets in Apex, Holly Springs and Western Wake. Fill your pantry with the freshest and healthiest homegrown fruits & veggies while picking from a gorgeous selection of homemade country-style goodies.
Healthy living and small-town charm. Find your new build Apex, NC home today.