As one of the most vibrant and diverse metropolitan areas in the country, life in the Bay Area is just about as good as it gets. This holiday season, make the most of festive happenings by taking advantage of one or more fun special events.
From our family to yours, we wish you the happiest of holidays in your new construction Bay Area home.
Still searching for the perfect house for sale in the Bay Area? Make Moves with Taylor Morrison and start making holiday memories in your new home.
Take in a Show
There's something magical about live theater and the holidays. Treat your little ones to an age old classic that you grew up with or a modern take on the spirit of the season.
Here are three fantastic options for introducing your children to performance art.
Charles Dickens's A Christmas Carol at the American Conservatory Theater: A classic story of regret and redemption. Share the story of Ebenezer Scrooge as he visits the ghosts of his past – and future.
San Francisco Ballet Nutcracker: No holiday season is complete without scoring tickets to Tchaikovsky's most famed holiday-themed work. Dazzle young hearts with snowfall outside the Opera House and magic on stage. Over 150 costumed characters from Clara and the Nutcracker Prince to mice, fairies the Snow Queen and more!
The Very Hungry Caterpillar Christmas Show at the Bay Area Children's Theater: Created by Jonathan Rockefeller, this cute giant puppet show will enchant small children from the ages of three to eight.
Enjoy a magical stroll through twinkling lights
One of the year's most popular holiday lighting events, Zoo Lights at both the San Francisco Zoo and Oakland Zoo combine the holiday spirit with all your kids' favorite furry friends.
Activities include:
Wandering carolers
Visits with Santa and his reindeer
Tasty hot cocoa and seasonal delights
Face painting
Holiday arts and crafts
Special zookeeper meetings
For Science Lovers
Light up your child's imagination at CuriOdyssey's IlluminOdyssey. A dazzling display of color and light, visitors can explore a wonderful world of luminescent splendor with their own colorful lantern.
From the captivating canopy of fiber optic strands to mesmerizing rainbows, plasma balls, robots, dancing, geometric laser lights and so much more, electrify your holiday plans at the CuriOdyssey science center.
Experience Holidays from around the World
Experience the wonders of the holidays through the eyes of different culture from across the globe. This December, Children's Fairyland Winterland celebrates traditions from Christmas, Chanukah, Kwanzaa, Las Posadas, Diwali and Chinese New Year. Join us for stories, crafts, a festival of lights and of course a visit from Santa.
San Francisco magazine called Children's Fairyland, "a timeless reminder of the joys of standing three-feet tall."
The Great Dickens Christmas Fair
Head to The Great Dickens Christmas Fair at Cow Palace Exhibition Halls to journey back in time to Victorian London. An elaborate performance with hundreds of costumed players, your trip to Jolly Olde England begins the moment you walk through the doors.
Winding lanes. Colorful history. Enticing aromas. Roasting chestnuts and enticing lamplit shops. It's the Christmas Carol ambiance you've always dreamed of but live and in person.
Experience this renowned Bay Area holiday tradition, bringing Dickens's London back to life in San Francisco since 1970.
Magic Awaits at the Fairmont Hotel
The Fairmont Gingerbread House is a two-story, life-sized gingerbread house located in the iconic grand lobby of the Fairmont San Francisco hotel. A must-see holiday attraction, the gingerbread house is built with an incredible 6,000 homemade gingerbread bricks, 1,650 pounds of candy and 3,300 pounds of royal icing.
Your Favorite Theme Park Gets Prepped for Holiday Fun
Live holiday shows. Delicious seasonal fare. More than sixty rides and holiday attractions.
Winterfest is perhaps the year's most delightful time to visit California's Great America.
See the Bay Area's tallest Christmas tree and shop Artisan Alley to complete last-minute gift shopping or add holiday cheer to your new Bay Area home's holiday décor.
See the Bay Area's tallest Christmas tree and shop Artisan Alley to complete last-minute gift shopping or add holiday cheer to your new Bay Area home's holiday décor.
All Aboard!
Choose from a trio of fun holiday trains to experience the spirit of the season with a ride on the rails. A perfect fit for train lovers or anyone in search of a mesmerizing adventure.
Train of Lights at the Niles Canyon Railway in Freemont, CA: Embark on an hour-long ride through the canyon while sipping holiday-themed refreshments. Marvel at the antique coaches and feel the night air from an open car. Cars are decorated inside and out.
Santa Train: Enjoy hot cocoa and fresh baked cookies as you travel with Santa's elves on your way to the North Pole. Music, magic, games and entertainment. It's one and a half hours you'll never forget.
Holiday Lights Train or Chanukah Train at Roaring Camp: Ride the Holiday Lights Train November 29-30 or December 7-8 and 14-23 or reserve your ticket on the special Chanukah Train scheduled for December 26.
Lace up for Some Fun on the Ice
Grab your mittens and scarf for the most fun you'll have on two blades. A spin around the ice hand in hand with your child is the perfect way to build holiday memories to last a lifetime.
Check out the new Kristi Yamaguchi Holiday Ice Rink at City Center and while you're at Bishop Ranch you can see a movie, get in some shopping or enjoy a fun meal out. The rink will operate from November 15 through January 5.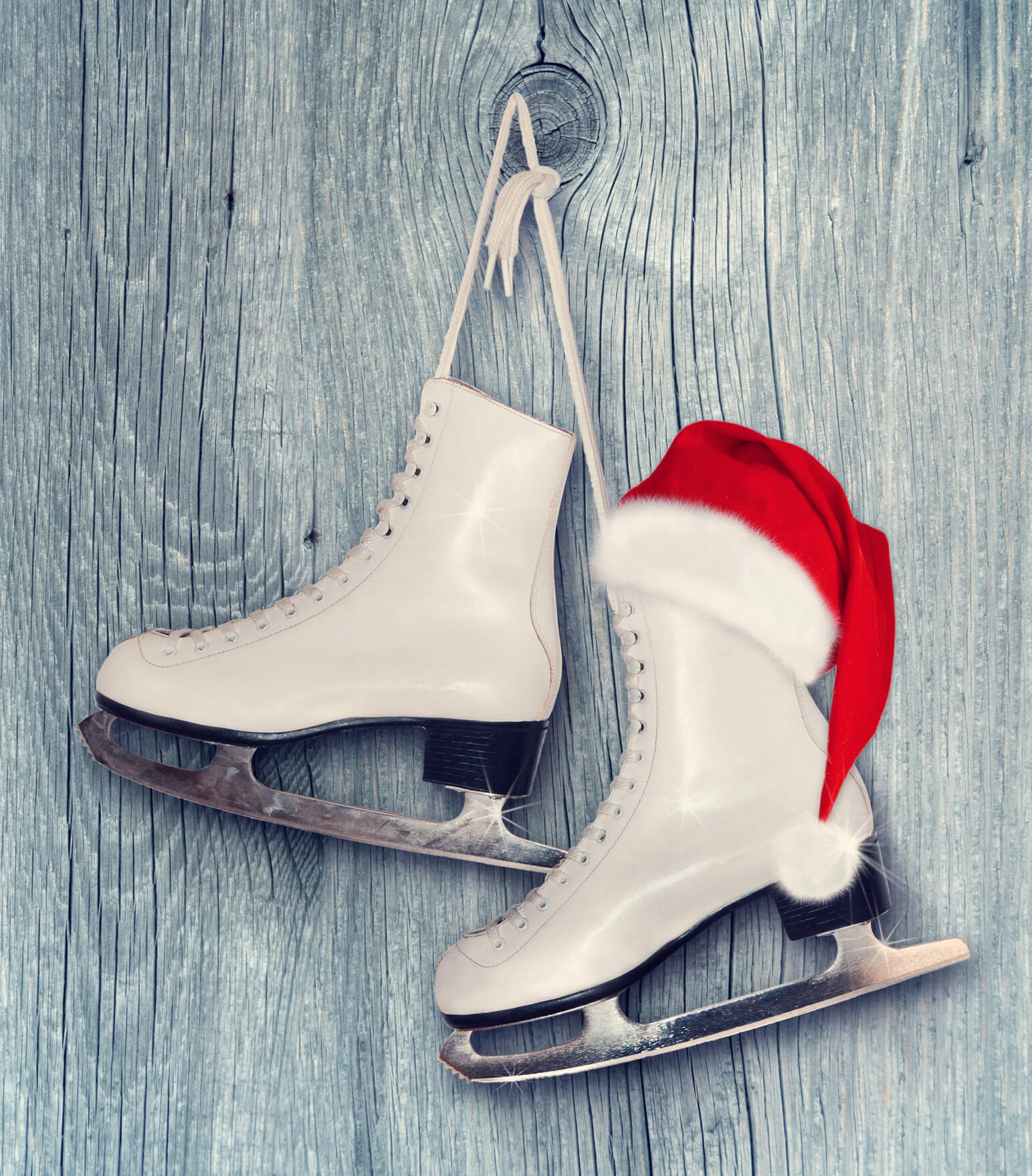 You can also visit these enchanting Bay Area outdoor rinks or find an indoor venue near you:
Give the Gift of Giving
Whether you call it a giving tree or an angel tree, celebrate the spirit of the season by taking your kids to buy holiday gifts for children in need. Available at most large malls and shopping centers, a giving tree is a special way to purchase a thoughtful gift for a boy or girl whose stocking would otherwise be empty.
However you celebrate – we sincerely hope your holidays are merry and bright.