It's that coveted time of year! Apple cider and hot chocolate abound, you're breaking out the sweaters in neutral colors, fall home decor is on the way, and it seems that a Scholastic Book Fair could pop up at any moment. There's just something undeniably nostalgic (in the best way) about the fall season.
Today on the blog, we're excited to talk about the best exterior paint colors this fall, plus more design and decor ideas. There are many simple yet effective ways to ensure your home is on trend and ready for the coming months. So, take a sip of that pumpkin spice latte and let's get into it!
Choosing the Perfect Exterior Paint Colors
It can be tricky to decide on a color combination for your home. Here are some quick tips and tricks to help you decide.
How Many Colors Should the Outside of my Home Be?
Generally, homes with two to three exterior paint colors will exude a timeless and sophisticated look. Of course, these colors should be complementary, meaning they flow seamlessly together and do not clash. Some aesthetically pleasing color combinations we feature at Taylor Morrison include:
Dark Grey and White
Dark grey and white exterior house colors create a modern, sophisticated, and striking look. The light teal door and curtains in the windows of this home add a subtle pop of color that softens the entire effect.
Cream, Olive, and Brown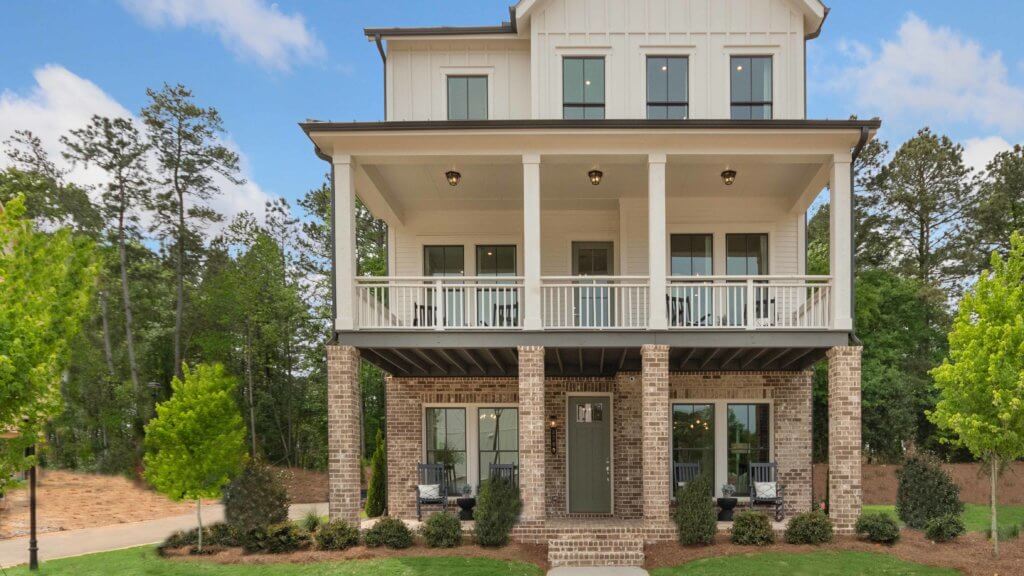 If you're looking for a classy and timeless look, you simply can't go wrong with cream, olive, and brown exterior paint. These subtle colors blend seamlessly together and provide a sense of warmth and calm.
White, Grey, and Beige
A subtle contrast can go a long way! The soft white and brown exterior paint pairs beautifully with the striking grey, which adds a modern touch.
Looking for more home design inspiration? Check out our blog on 2022 home design trends here.
2022 Exterior House Color Trends
Low contrast neutrals within the same color family have ruled the exterior paint colors home scene this fall. Homeowners have gravitated towards:
Warm, earthy neutrals with an inviting look
Cool-toned neutrals with sleek black accents
Warm whites, off-whites, and cream colors
Charcoal accents and modern grey exterior paint
Consider the Color of your Front Door
Choosing an accent color for your front door is the perfect exterior trend to spice up your home this fall! Be sure to select a color that complements, not clashes, as a bright door will be the new focal point of your home.
Ideas for Creating Outdoor Living Areas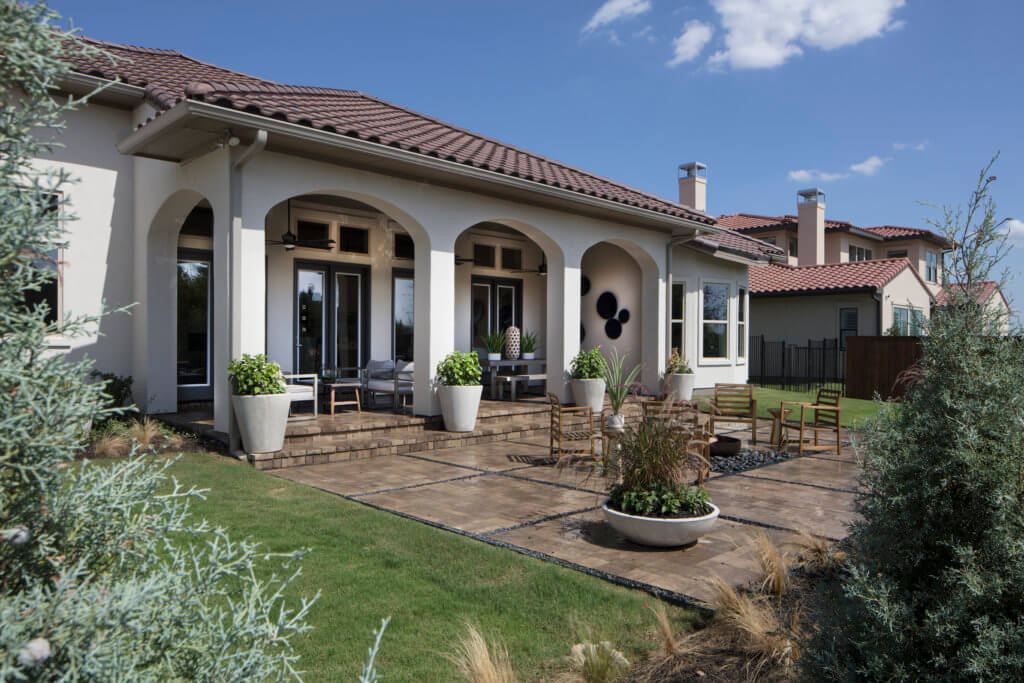 The weather is finally starting to cool down, and it's time to start spending more time in your outdoor living areas. Check out our helpful tips for how to start a garden and more!
It's Okay to be Perfectly Imperfect
While a freshly mowed lawn is always in style, you don't have to worry about pristine perfection when it comes to home gardening. Take hedges— to stay on trend, they should be neat and trimmed, not precisely manicured into a square block. It's all about natural shapes that blend into your front yard or backyard garden this fall.
Planting a Backyard Native Plant Garden
When starting a garden, be environmentally conscious by utilizing plants that are local to your area. Native plants are accustomed to the climate, so you won't have to use excessive fertilizers or pesticides. Plus, native plants use less water, helping to save your bill and the planet.
Plant herbs, vegetables, and fruits for a low-carbon, environmentally friendly garden.
Drought-tolerant plants are a great way to save water and prepare for future water shortages.
Additional décor tip: Set out pumpkins, straw, and wicker baskets to create a fall aesthetic for your backyard garden.
Adding Outdoor Metal Sculptures
For a contemporary twist to your fall home decor, add a metal sculpture to your yard. These come in various sizes and styles, so you'll surely find one that fits your outdoor aesthetic.
How metal sculptures will level up your yard game this fall:
An exciting element of surprise
Carefully placed lighting can elevate your sculptures
Different moods are created with unique sculptures
For more outdoor sculpture inspiration, click here.
Designing Outdoor Living Spaces
If you're planning on spending lots of time outside, curating your space to be both comfortable and stylish is a must. This year, we've seen many innovative ways to bring the comfort of inside spaces to the natural beauty of outdoor ones.
Outdoor Kitchens
We love backyard living areas! If there's one thing that brings people together, it's food. An outdoor kitchen will be a focal point of your home, giving you another space to socialize, laugh, and grow closer to the people who mean the most to you.
Complete the look by trying out one of these festive holiday tablescapes!
Shade Coverings
If you live in a sunny state, investing in shade coverings is a great way to spend more time outdoors. Your guests will be drawn to your lovely covered outdoor spaces!
Outdoor Fireplaces
When it comes to ideas for outdoor living, there's just something about a cozy outdoor fireplace that makes gathering with friends and family all the better. So, grab some hot chocolate, tell a few stories, and spend your nights laughing over a toasty fire.
Outdoor Dining Spaces
Outdoor dining spaces are both functional and beautiful. Plus, they'll make your backyard feel bigger, which is always a plus in our book.
Lots of Additional Seating
Ready to throw a fun fall-themed party? Backyard living spaces with plenty of additional seating are the perfect way to create an unforgettable experience for your guests.
Trending Outdoor Furniture Layouts for 2022
Goodbye bright yellow plastic Adirondack chairs; hello square and modern furniture that blends seamlessly into your outdoor space! Plastic is uncomfortable to sit on and cracks in extreme heat. Investing in comfortable furniture that complements your space is a great way to embrace exterior fall home decor this fall.
Outdoor Furniture Color Trends for 2022
When it comes to outdoor living trends and colors, furniture in modern neutrals is always a good idea. But if you're aiming for a more exciting and vibrant feel, adding colorful cushions and pillows is an easy way to brighten up your space.
Another Day, Another Blog in the Books
Well, thanks so much for reading! Browse homes and check out our limited-time finance savings here. We hope you enjoyed this blog and are inspired to transform your home into a fall-inspired, inviting space you'll love. Until next time!