Today on the blog, we have an incredibly exciting announcement to celebrate: Taylor Morrison has officially partnered with The Home Edit! Led by two women entrepreneurs, Clea Shearer and Joanna Telplin, The Home Edit works to improve the everyday with a unique blend of form, function, and fun. Through transformative and rainbow-ified organizational tips and tricks, they've helped influencers, everyday individuals, and celebrities (including Khloe Kardashian, Chris Pratt, Eva Longoria, and Reese Witherspoon, to name drop a few) love where they live.
Together, Taylor Morrison and The Home Edit can revolutionize the way we experience and enjoy our homes. So, let's get into it! Read on for why we're such great partners, what we plan to do, and maybe a few organizational tips and tricks from the experts themselves!
Introducing The Home Edit
Clea and Joanna are the executive producers and stars of the Emmy-nominated Netflix show, "Get Organized with The Home Edit," where they organize the spaces of major celebrities and everyday viewers. You can find their organizational products at Walmart and The Container Store, and be sure to read their New York Times best-selling book, The Home Edit: A Guide to Organizing and Realizing Your House Goals.
The Inspiration Behind Our Partnership
Here at Taylor Morrison, we value one thing above all else—people. We do what we do so that each of our customers can find, build, and design a beautiful home they'll truly love. From our top-of-the-line design features, carefully crafted floor plans, and thoughtful community planning, our homes are one-of-a-kind. As America's Most Trusted ® Home Builder for 8 years and counting, we couldn't be more confident in our homes, communities, and team members.
The Home Edit has a similar goal in mind—to help others live in spaces they can be proud of. Clea and Joanna are the ultimate organization team. What started as a friendship quickly turned into the world's most famous organization business! Using their signature style, they transform each and every room to be functional and look amazing. The Home Edit takes traditional organizing and turns it on its head through interior design—creating one-of-a-kind spaces their clients can enjoy (and maintain) for years to come.
A 10-Part Video Series is on the Way!
Ready for home organization inspiration? Be on the lookout—for the rest of the year, we'll be dropping videos with expert organization tips from Clea and Joanna themselves!
A Sneak Peek at Clea and Joanna's Organization Tips & Tricks
While we can't give all their organization magic away, please enjoy this sneak peek, plus be sure to download the book: Organize and Love Your New Home, The Ultimate Home Organizing Guide.
Kitchen Organization: Perfect Your Pantry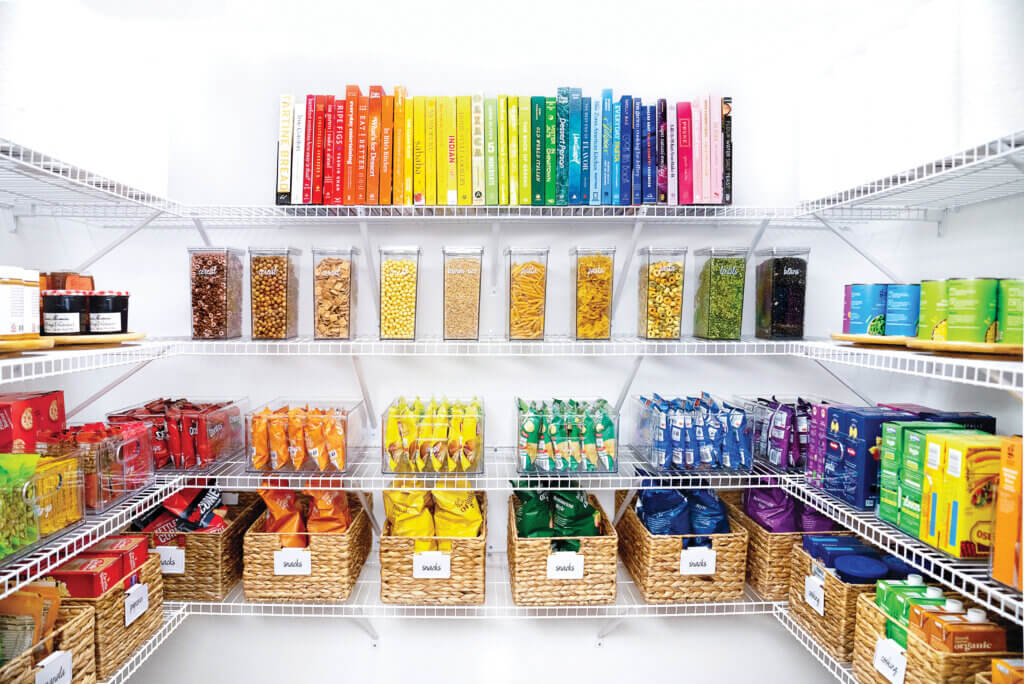 The kitchen is truly the heart of any home. Clea and Joanna have cooked up a system for kitchen organization, including how to level up your pantry.
Ditch the original packaging for aesthetically pleasing clear canisters.
Place large or bulky items in baskets.
Use turntables at eye level.
Place your most used food and snacks at the front of your pantry, with lesser used goods in the back.
Closet Organization
If you're getting ready to venture outside your home, your closet is where you start your day. Make seeing all your items and picking an outfit easy and beautiful with these pro tips:
Map out your space and take stock of your belongings.
Group similar items together and sort them by color, size, and style. If you're like us, you'll love creating a rainbow effect in your closet!
Use organization tools like stackable bins and velvet hangers
Label away! This helps you stay on top of closet organization and ensures everything has a designated home.
Loving these organizational tips and tricks? Be sure to click on this link—we're uploading videos of Clea and Joanna explaining their organization methods in our stunning Taylor Morrison homes! Here's what you can look forward to:
June 25th, 2023: Kitchen Goals
July 10th, 2023: Wow Your Wardrobe
August 9th, 2023: Pack Like a Pro
August 22nd, 2023: Wash, Organize, Repeat
September 5th, 2023: All Function and Games
September 19th, 2023: Keep Up With the Upkeep
October 2nd, 2023: Partnership with Banner MD Anderson Cancer Center
November 1st, 2023: That New Home Feeling
November 28th, 2023: Down to the Details
The Best Homebuilder & The Best Home Organizers
Thanks for reading! We hope you are just as excited about this partnership as we are here at Taylor Morrison and The Home Edit! One room at a time, we can't wait to help you create beautifully designed and clutter-free spaces you'll absolutely love.