Welcome to Solivita, a unique 55+ resort-lifestyle community in Kissimmee, FL, that radiates happiness and optimism from every corner. For the past 20 years, Solivita has left an impressive legacy, boasting beautiful Italian-inspired architecture, a charming small-town feeling, and of course, stunning homes with a list of amenities that go on and on and on!
Today on the blog, we could not be more excited to highlight this one-of-a-kind place, where idyllic charm meets lasting connections and creates, without a doubt, a beautiful place to call home.
Community Involvement Soars at Solivita
Solivita is about more than stunning homes and a brilliantly designed master plan; it's about the connections and friendships our residents form for years to come. Check out all the ways Solivita-goers mix and mingle, then explore the community if you think you could be ready to make a move and experience the famed Florida lifestyle.
Starlite Ballroom
Dance the night away at the Starlite Ballroom. Or, if dancing's not your thing, stop by to listen to live music and chat with friends.
Village Center
The Village Center is the heart of it all! Dine at local restaurants, pick up everyday essentials from the convenience store and pharmacy, and take a well-deserved break at the C3 Wellness Spa, known for its holistic and reinvigorating treatments to calm your soul and stir your spirits.
Restaurants Near Solivita Village Center
Get a taste of the local hot spots near Solivita.
The Grill at Stonegate
Tasty China Restaurant
Sushiology
Yellow Dog Eats
Señor Frogs
Lin Garden 2
Cheddar's Scratch Kitchen
Villa Italian Kitchen and more!
It's Easy to Get Social with Hundreds of Clubs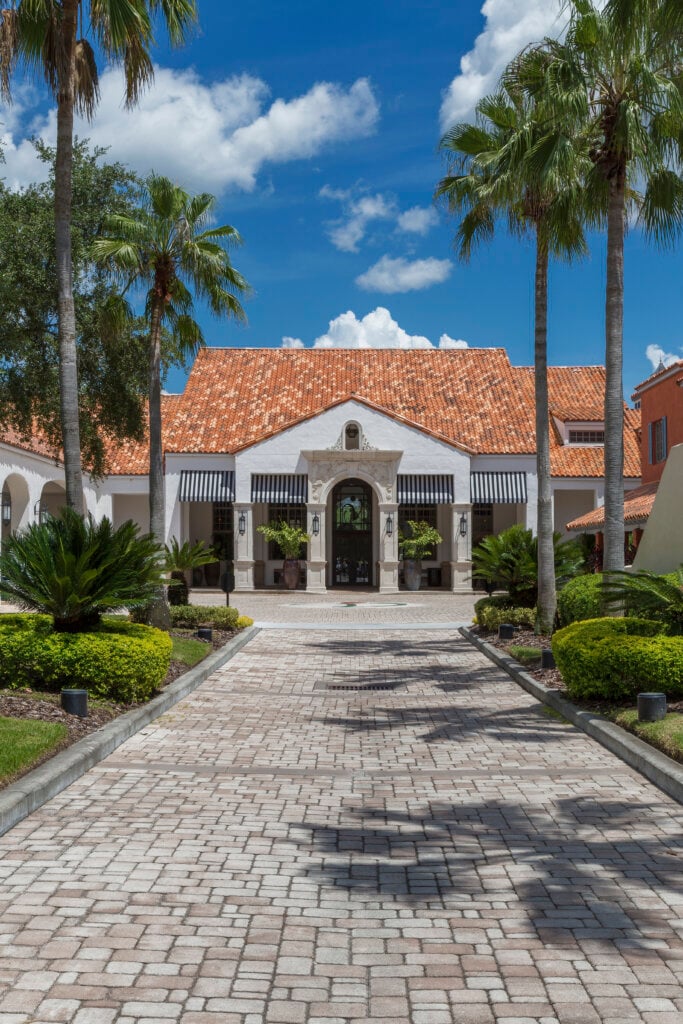 You can find various club meetings in the multipurpose rooms at Solivita—there really is something for everyone to enjoy in this resort-lifestyle community! Stick to what you know, or branch out and try something new. Some of the most popular clubs at Solivita are the pickleball club, travel clubs, charitable groups, and even a club that puts American flags in neighbors' yards for the patriotic holidays. It's all about the sense of community at Solivita, and the clubs are an integral part of this tight-knit feeling.
We Love Pets! Hang Out with your Furry Friends at the Community Dog Park
Here at Solivita, we understand that pets are a dear part of many households. The joy they bring cannot be overstated, which is why we're happy to provide a dedicated dog park for your furry family members.
Have you heard of our Esplanade communities? Discover even more opportunities for a resort-lifestyle today.
Embrace Your Competitive Spirits at Solivita
It's easy to stay active at Solivita, whether you're an avid golfer, dedicated swimmer, table tennis aficionado, or busy capitalizing on pickleball's newfound popularity. No matter the activity, there's always something to do and someone to do it with.
Hit The Links
If you want our advice, we suggest hitting our two 18-hole championship golf courses with someone who's just a little bit worse than you. Whether you're a beginner or an avid golfer, these lush courses are sure to be challenging in the best way.
A Golf Cart Friendly Resort-Lifestyle Community
We don't just love golf at Solivita; we love golf carts! There is golf-cart friendly parking all throughout the community, plus events and parades perfect for carting around in. Solivita is a spirited community with a patriotic spirit—you'll love the ceremonies on all the big holidays, including Veterans Day, Memorial Day, and of course, the Fourth of July.
The Courts are Calling Your Name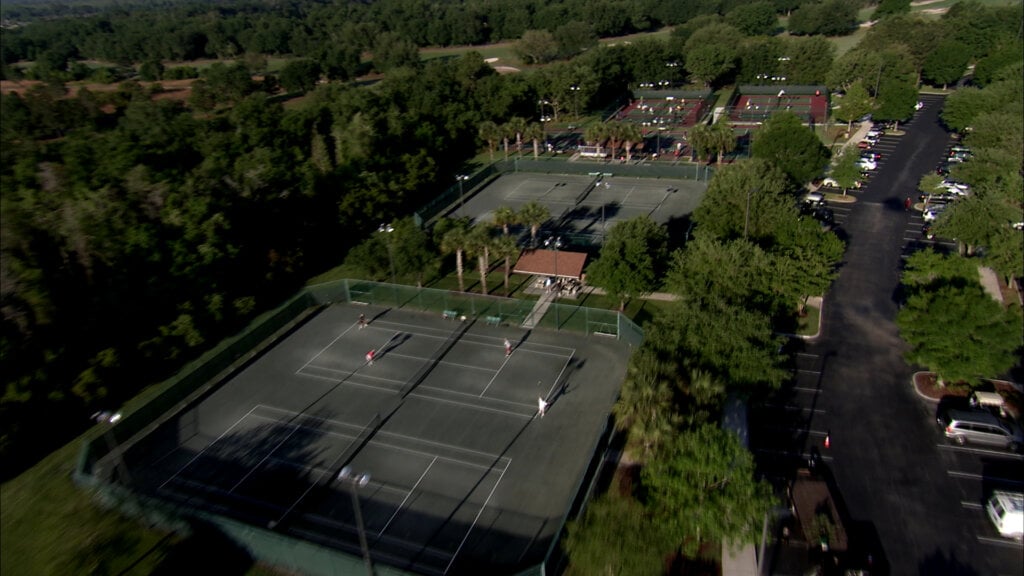 If you're ready to get competitive, head outside to the softball, basketball, and tennis courts to brush up on your skills.
Sophisticated Sports are Sports, Too
For those not inclined to the softball field, try out bocce ball or croquet for some light and fun activities.
Cruise Ship: Land Edition
Who doesn't love good old-fashioned cruise ship and lawn games? Get competitive at the horseshoe pits, billiard room, table tennis, and shuffleboard.
Relax and Repeat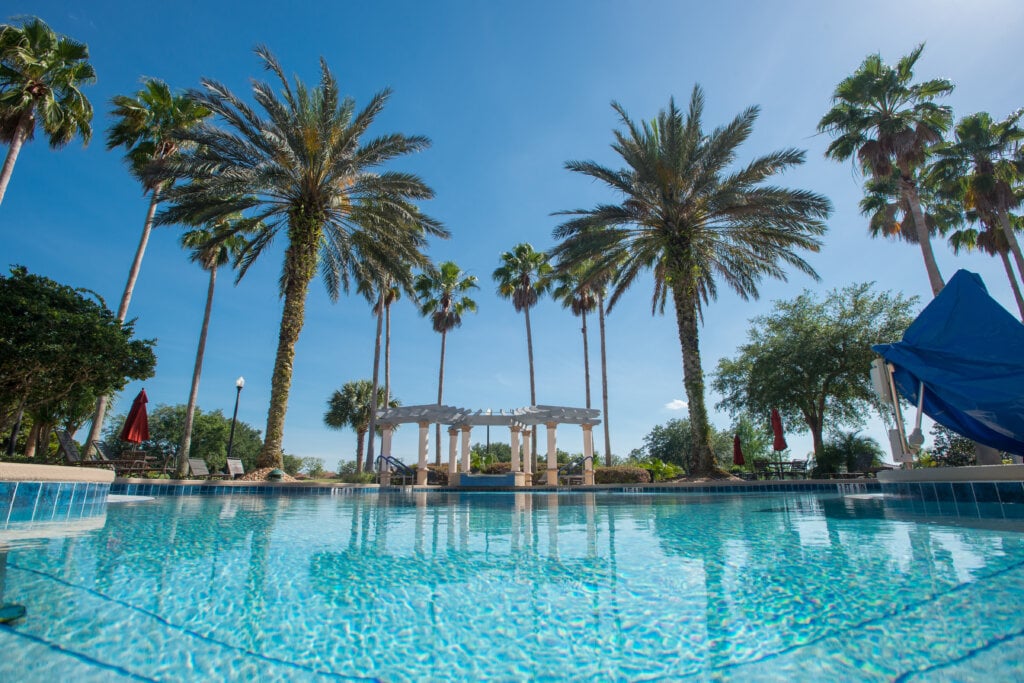 Let all of your stress melt away at this stunning resort-lifestyle community. Our favorite place to take it easy is at the shimmering resort-style pools (there are 14 and a spa)! If you're ready to take a much-needed breath of fresh air, venture to the community garden or open-air pavilion.
Looking for something more on the interactive side? Head to the ceramics room with kilns to hone a new skill. Then, stroll through the community art gallery, showcasing residents' work. Maybe you'll have a piece of art in the gallery one day!
Convenience is at your Doorstep at Solivita
We've got you covered with access to a full-service computer lab and business center at Solivita. There's also an ultra-convenient pharmacy to pick up everyday essentials and a luxurious spa! Grab some friends and head to the spa for a day of pampering and connecting with your community.
Give it up for our Awards!
We've collected an impressive array of awards over the years (trust us: you're going to want to take a look through these accomplishments).
Award #1: America's Best Master-Planned Communities for Adults with an Active Lifestyle in Orlando by Where to Retire Magazine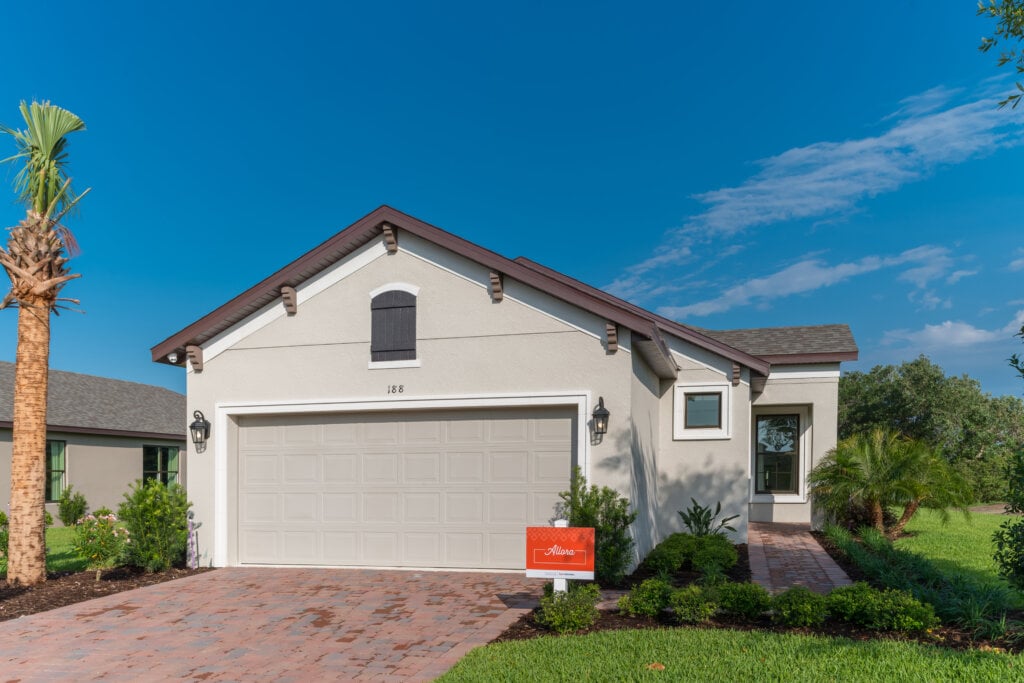 Allora Model at Solivita in Kissimmee, FL
The title says it all! Our array of innovative and interactive community amenities puts us a step above the rest.
Award #2: Design, Community Planning, and Environmental Sustainability
We are proud to say that we have earned over 70 awards for design, community planning, and environmental sustainability.

Award #3: Best of the Best Pickleball Communities by Ideal Living Magazine
Pickleball is all the rage right now, especially here at Solivita! We're happy to be named a Best Of The Best Pickleball Community and can't wait to see you on the court.
Step Inside the Tuscan-Inspired Homes at Solivita
Magari model at Solivita in Kissimmee, FL
Once you're ready for a cozy night in, get a taste of Italy in our Tuscan-inspired one-story homes. This is the final phase of new construction! These homes are perfectly sized, with careful attention to detail and design features you'll love. Here's what you can come home to at Solivita:
Open-concept floor plans perfect for flowing conversations
Try out new recipes in the gourmet kitchen
Escape to serene primary suites, complete with roomy walk-in closets and spa-inspired bathrooms
The final phase of construction at Solivita will feature 1,172 – 1,364 square feet, 1-story homes with 2 –3 bedrooms, 2 bathrooms, and 2 – 2.5 car garages
Thanks for Reading, and Welcome to Solivita!
As always, thank you so much for reading! We are delighted to highlight the incredible Solivita resort-lifestyle community and all it offers. From abundant amenities to gorgeous homes and an unwavering sense of community, Solivita truly encapsulates everything a home should be. Explore the community and check out our limited-time finance savings to make your move today!