Your Guide to a Fabulous Girls' Weekend – Part 1
You love hanging with family and enjoy getting together with neighbors. But sometimes a woman just needs a little girl-time with old friends. If your friends are scattered throughout the country, why not get the girls together in your area? If you live in a Taylor Morrison community, you're already in a great location. With so many options close to home, planning a three-day girls' weekend will be a breeze.
ARIZONA
Friday: Spoil yourselves at one of the area's pampering resorts. If you're living in Phoenix, you can meet up with the girls at a resort or even treat yourself a weekend stay. Indulge in a soul-refreshing massage and mani pedi at the spa, or simply lounge by the pool. In the evening, head downtown and kick up your heals at Gypsy Bar. Or, enjoy the friendly crowd and spectacular city views on the rooftop bar at Bar Smith.
Saturday: Sleep in if you want then walk the town and shop the local boutiques and stores. For dinner, choose one of the many dining options from Phoenix's Best of Food & Drink. If you're in the mood for some culture, take in a show at one of the area's performing art centers.
Sunday: Start the day with one of Phoenix's best brunches at Bink's Midtown, voted Best New Restaurant 2013. For other delicious options see 10 Best Restaurants for Brunch in Phoenix.
CALIFORNIA
Friday: Choose your transport of choice—from luxury limo to festive trolley—and take a tasty Napa Valley wine tour. Later, dine at one of Napa's Zagat-rated restaurants. Then enjoy a girls' night on the town.
South Bay Alternatives: If you're in the South Bay, you can still take a wine tour. Follow up with dinner at one of The Hottest Restaurants in San Jose and a night out and about.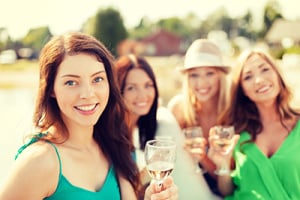 Saturday: Get some fresh air on a day hike at Shell Ridge Open Space in Walnut Creek. Too much after last night? Then shop at Broadway Plaza. When it's time to unwind you'll find what you need at Changes, the East Bay's premier spa. Then catch a show at Lesher Center for the Arts.
South Bay Alternatives: The spectacular view of the Bay Area from Mission Peak Regional Preserves is a must-see. Or go shopping on Santana Row, where you'll also find plenty of great restaurants and fun events.
Sunday: Before everyone heads for home spend a little more time with the girls at an East Bay brunch.
South Bay Alternative: If you're just not ready for the fun to end, try one of the Best Boozy Brunches in the South Bay. Alcohol is optional of course.
Friday: Float down the American River and enjoy three to four hours of pure relaxation. By the time evening rolls around you'll be ready for some fine or casual dining, Sacto-style. Then hit the night scene at a Best of 2015 Dance Club.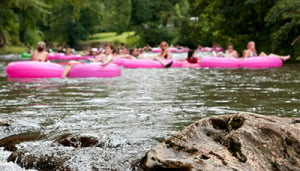 Saturday: Take the girls on a de-stressing relaxation vacation at one of the best spas in Sacramento. Then tour the capitol in the afternoon. Public tours are available on the hour from 9 am to 4 pm. If it happens to be the second Saturday of the month, art gallery tours are free. Ready to chow down? You have some mighty tasty choices.
Sunday: It wouldn't be a girls' trip without a wrap-up cup of Joe at a local coffee shop.
Where to stay: These dreamy hotels feature fabulous spa experiences for you and your friends.
Friday: Exciting day or restful day? If it's thrills you're looking for, sip mint juleps and cheer on your favorites at the Del Mar Racetrack next summer. But if being pampered sounds good, choose a SoCal spa resort from among the 30 Best in California. If you're in the Orange County area, choose from a variety of restaurants, from comfort food to sushi.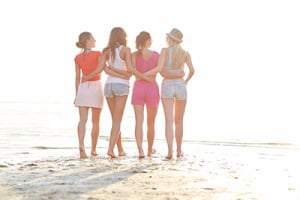 Saturday: It's California! You'd be crazy not to spend at least one day at a world-famous beach. For a memorable night out, Newport Beach has a lot to offer. Or, if you're further south, checkout all that San Diego's Gaslamp Quarter has to offer.
Sunday: A girls' weekend just wouldn't be the same without a yummy Sunday brunch. Get the scoop in the Orange County Brunch Guide.
COLORADO
Friday: For the adventurous, there are some great rafting options for every level of experience. Or take a leisurely day hike and enjoy the amazing views. For a totally different direction, walk and shop the boutiques, shops and cafes around downtown's Larimer Square. Then join in on the exciting nightlife at Larimer Square or the South of Colfax district. For laughs, choose the Comedy Works in Larimer Square. For dinner, check out these Must-Try Restaurants.
Saturday: Get your relaxation on at a luxury spa. Or soak up the arts at the Denver Art Museum, which offers world-class exhibits, lectures and tours. When the sun goes down it's time for Lannie's Clocktower Cabaret. For more dining, less entertainment there are plenty great restaurants to choose from. If you call Denver home, break from the usual and pick one you've never been to before.
Sunday: Sunday morning sleepyheads can savor the scene and coffee beans at a local coffee shop.
For more ideas, see part 2 and part 3 of our Girls' Weekend Guide.