A Day in the Life at Esplanade Golf & Country Club at Lakewood Ranch
Imagine enjoying the kind of lifestyle that lets you relax and make friends with your neighbors. Together have an impressive array of options for having fun and being active. In our minds, let's take a trip to an incredible Esplanade home and community in West Florida, Esplanade Golf & Country Club at Lakewood Ranch.
You always dreamed of living in a new home in Sarasota. After telling your Sarasota agent what you were looking for:
Golf course community
Gorgeous home built by a respected home builder
A place where there's a real sense of community
You were shown Esplanade Golf and Country Club at Lakewood Ranch by Taylor Morrison and couldn't wait to move in.
Your New Esplanade Home
Today, you and your family live just off hole #1 in your brand-new Francesco floor plan. You enjoy your spacious, 2,862 sq. ft. home with a beautiful living space, 3 bedrooms, and 3.5 baths.

A Leisurely Morning at Esplanade
You wake up in your elegant Owner's Suite and look out the window to take in the spectacular views of the golf course, where you're thrilled to see a colorful glossy ibris resting near the green. First order of the day is sipping coffee or tea on the lanai. After a light breakfast at the kitchen island bar you get ready for a full round of golf.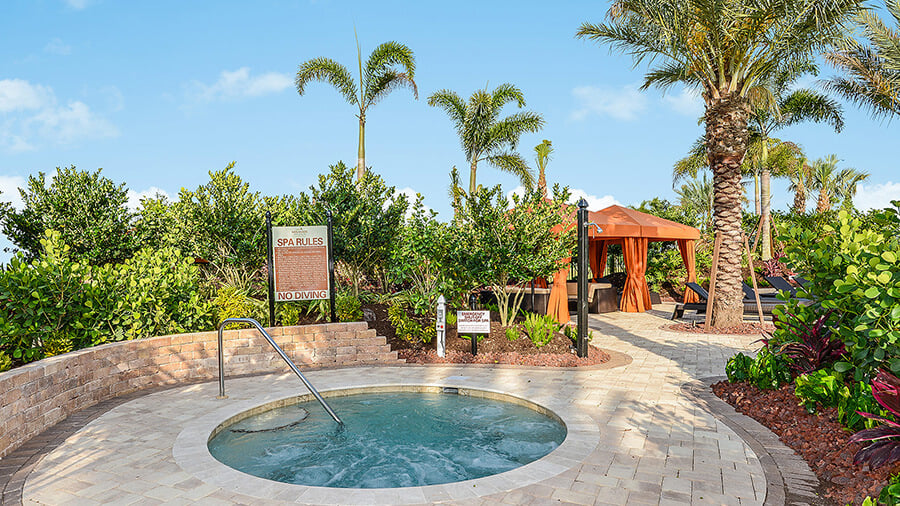 Esplanade Golf & Country Club Tee Time
In your Owner's Suite, you prepare for the day in the elegant hotel-style bathroom, then select your outfit in your expansive walk-in closet, one of two in the suite. Now it's time to head out. You hop onto your golf cart waiting in the garage and drive to the Clubhouse to meet up with friends.
After 18 holes on the championship golf course, you decide to take a relaxing soak with friends in the Wellness and Amenity Center hot tub. You're even invited to the bocce ball court for more fun, but decide to get back home to prepare for the evening's roving neighborhood potluck dinner.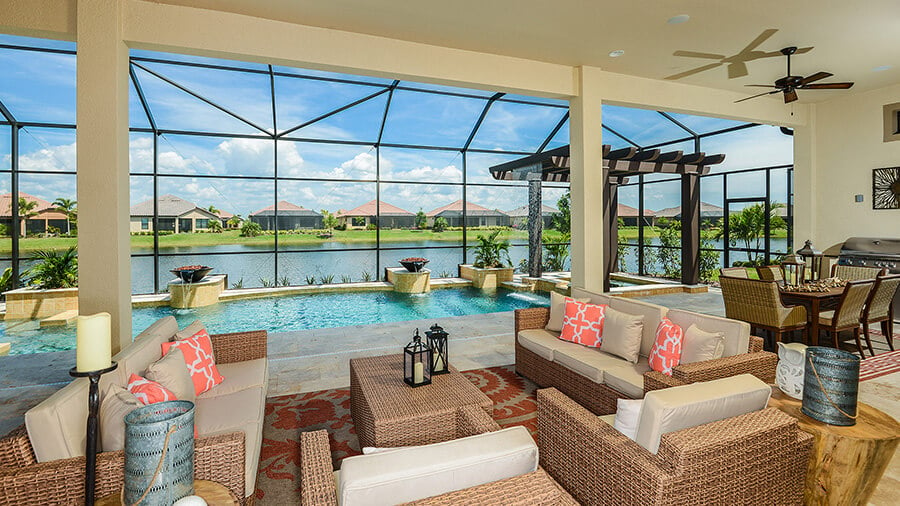 Evening with Your Esplanade Neighbors
You prepare shrimp scampi pasta with your family in your gourmet kitchen and get the house ready for guests. Once 6 pm rolls around you step out for a stroll to the first home of the evening for champagne and appetizers, gathering in the lanai of your neighbor's Mercedes floor plan home to watch the multi-hued sunset over the lake.
For the second stop, everyone walks a few doors down to a Luca floor plan home for salad paired with white wine sangria. Then it's on to your home for the main course.
Final Toasts and More Fun
Your guests appreciate the mouth-watering buffet you set up on your kitchen island. Everyone moves to the long table you set up on the lanai for a delicious al fresco meal. With lively conversation running, you toast to your neighbors and their friendship.
With bellies full, everyone walks to the Bahama Bar for dessert, cocktails and dancing to the live music. Finally, it's time to head home, although a few neighbors stay to dance the night away. You saunter home, enjoying the evening air, and return to the comforts of your peaceful Owner's Suite retreat.