2017 design trends for home and community are much like fashion trends. The Taylor Morrison designers and architects take trends, not fads, into account.  They include the latest special features and detailing that home buyers are drawn to.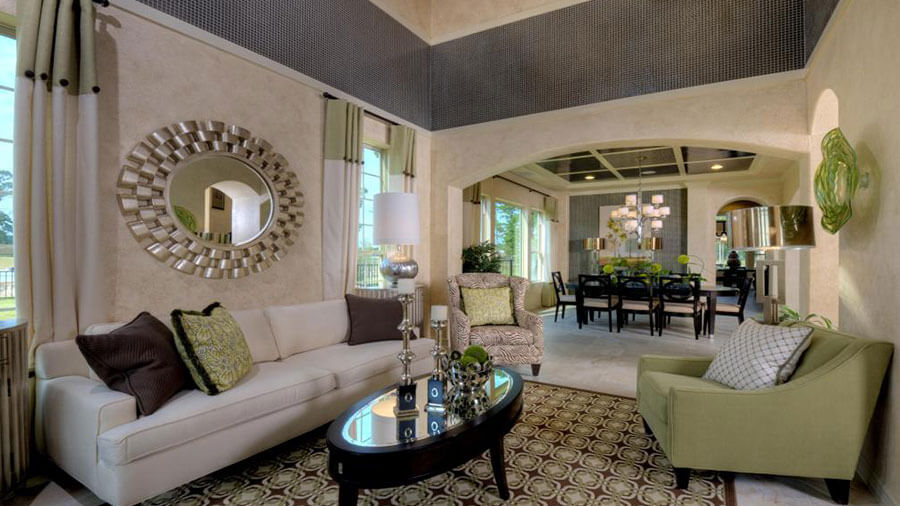 Color of the Year
The 2017 Color of the Year is a vibrant, refreshing green called Greenery. Pantone selects the yearly color and provides collections of colors that complement Greenery. Use these colors to change up your interiors with accessories like pillows, throw blankets and bedding.

2017 Design Trends
Add spice to the entryway with new wallpaper. Select design elements with a splash of color. Install a new mirror or piece of artwork. You can even refresh the laundry room with updated storage. Change the color of walls, throw rugs and other elements for  quick temporary change. At Taylor Morrison, we help home buyers select their favorite finishes, tiles, flooring and innovative tech at our Design Studio, offering a great opportunity for them to use the trends they love best.
Artisanal is In
Relax about DIY projects and follow another trend. Select hand-crafted items and accent pieces. Add a splash of color or whimsy by adding in designer items. Such items fill this Keystone floor plan home. The designers include equine themed pieces and beautifully made woodworking though out the model home.
Community Gathering Spaces
Bring people together with specially designed spaces. The stunning new clubhouse at Esplanade Golf & Country Club at Lakewood Ranch by Taylor Morrison is a good example of how our new homes in Sarasota and other areas are complemented with the socializing and fitness spaces residents desire.
Walkable Suburbs
Today's home buyers often crave the old-fashioned walkability and special touches. Winthrop Village and its new homes in Tampa features Traditional Neighborhood Design (TND) complete with traditional home design, white picket fences, alleyways and pedestrian-friendly streets, and retail and dining establishments in the village's own town center.
What's Your Favorite?
The 2017 design trends reflect how people today want to socialize, have fun, and feel at home. What are your favorites?