Purchasing a new home from Taylor Morrison is an exciting decision. Along with buying into a fantastic community with a convenient location, the chance to add your signature touches at the Design Studio means your new digs will suit your personality to a T.
But having the opportunity to choose your own flooring, countertops, paint, finishes and more can be an overwhelming experience. Especially for those who are purchasing their first to-be-built new home. That's why we employ talented designers at every division across the nation to walk homebuyers through the process.
Tap into a Wealth of Knowledge
Our expertly trained gurus have helped hundreds of buyers navigate the design gauntlet. We thought it would be a cool idea to interview a few of our top designers and put together a knowledge base of their hottest tips.
These folks are knee-deep in paint chips and carpet samples on a daily basis. If anyone knows how to get the most out of the Design Studio, it's the talented coordinators who run the show.
So, here you go. Design Studio tips from coast to coast!
Denise Hodgdon is the Design Studio Manager for both Tampa and the SW Florida divisions. She's been working for Taylor Morrison since 2004 and is a strong believer in letting prospective buyers get an early peek at Design Studio options as a sales tool.
"We hold open house hours every Wednesday from 3 to 7 and on the second and fourth Saturdays of every month from 10 to 2," she said. "Providing preview or browse sessions converts prospects to buyers. Our design team gets people excited about the possibilities. We're proud to have a conversion rate of over 89 percent."
And in fact, Denise's #1 tip for new home buyers is to take advantage of these open preview sessions and attend as many as possible. The more familiar you are with the catalog of products the more confident you'll be in your final selections.
She also suggests visitors check out the small vignette displays that showcase how cabinet, countertop, splash and flooring selections will look together in the home.
"A lot of our clients are worried about making a design mistake. They ask for guidance and an honest professional opinion to insure selections are cohesive and flow well together."
Additional Insider Tips Include:
New jumbo tiles (16" x 32") have recently been added. These extra-large tiles are sure to be a big hit in 2018.
A lot more options are available for backsplashes than you might think. Be sure to browse the full selection before nailing down a final decision.
Quartz countertops, white cabinets and wood look plank tiles are the most popular upgrades in SW Florida. New quartz patterns/colors will be trending in 2018 as well as lighter colored cabinet options.
Don't miss out on the opportunity to upgrade to glass entry doors. All that extra natural lighting goes a long way to brighten your foyer.
Southwest Florida Links and Contact Information
Denise Hodgdon, Design Studio Manager  | Phone: 813.626.8461 | Email:

[email protected]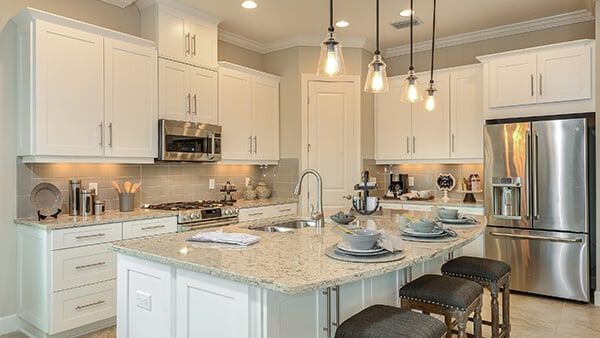 Farnese Floor Plan | Bayside in Osprey, FL
A member of the Taylor Morrison team for 4 years now, Atlanta Design Studio Manager Terance B. Manly always chuckles when clients ask if he'll decorate their home once they move in.
Although Terance won't come over to hang photos and fluff pillows, he does have sage wisdom to offer regarding must-have upgrades:
"Smart home technology is the future. It's modern convenience at your fingertips and I wish more people took advantage of it. There are also incredible options out there these days for appliances. Buyers are always surprised to see refrigerators with a built-in Keurig or French Door wall ovens. You can truly kit out your kitchen to be gourmet supreme."
Like Florida, quartz countertops are a popular option. Atlanta new home buyers are also big fans of upgrading to hardwood floors and adding a cozy linear fireplace. Design Studio visitors are blown away by the split-faced stone, Chef's Kitchen and mosaic Carrara marble.
Terance's Top Pro Tip:
Spend a lot of time doing research on Houzz.com or the Pinterest App. Save your favorite concepts in your phone to show the Design Studio team. This way we can best put together a design package that truly suits your personal tastes.
Atlanta Links and Contact Information
Terance B. Manly, Design Studio Manager | Phone: 404.213.7326 | Email:

[email protected]

 
Fenway Floor Plan | Lakeview at Ivy Creek in Buford, GA
Lisa Perlman has worked in the design segment of the home building industry since 2004. She came on board with Taylor Morrison 11 years ago and has managed the Bay Area Design Studio for 4 years. She loves her job and says the most important facet of the Design Studio process is determining your personal style.
"If a homebuyer doesn't know what design style appeals to them it's very difficult for us to help them put together a cohesive plan within their budget. I suggest buyers spend a lot of time on websites like Houzz.com or Daltile.com until they get a stronger sense of what they like."
Another tip she has is to visit the Design Studio during Open House hours to take the stress out of official scheduled visits down the road when decisions need to be made.
When it comes to options and upgrades, here's what she has to say:
"We sell a lot of hard surface flooring. Buyers like to upgrade to hardwood, quality laminate or tile in the main living spaces."
"Quartz countertops in the kitchen are a close second place when it comes to popular upgrades."
"Upgrade cabinets now! It's one of the more expensive options but very difficult to upgrade later. A kitchen with great cabinets and other standard options will look very nice."
Bay Area Links and Contact Information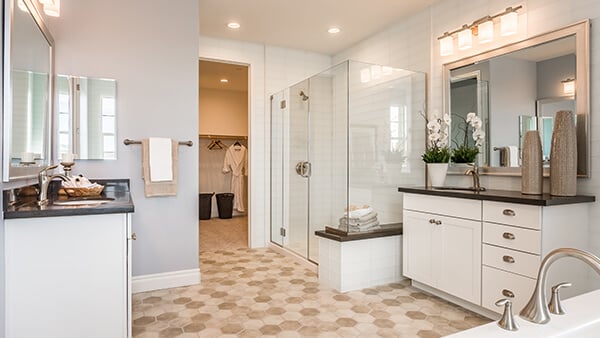 Plan 1 | Ivy Oak in Dublin, CA
Angie Ruiz has worked in home design since 2003 and started with Taylor Morrison Phoenix four years ago. When we told her about this project she got really excited and had a lot to say!
Her top tip is to let Taylor Morrison install upgrades from the get-go:
"Many clients come in with the idea of doing DIY upgrades down the road. Or they say they have a friend in the business who can cut them a deal. But it's false logic. Even when you choose a standard option that's included in the purchase price, you're paying for this in your mortgage. Why buy a new floor today that's not what you want only to rip it out and throw it in the garbage in 3-4 years? Upgrade now with Taylor Morrison instead of doing the same thing twice."
More Ideas Include:
Gourmet kitchen packages are a hot seller in the Phoenix/Scottsdale market for their "wow" factor and most buyers focus more energy on designing the kitchen than any other room. Shaker style cabinets and farmhouse sinks are also trending right now.
Tile upgrades are a fantastic way to put your personal stamp on your new home.
Come prepared to your Design Studio appointment with ideas in mind. Pinterest is your friend. Have a basic grasp on your budget so you've got a realistic number to work with for options and upgrades. Setting a budget in advance makes design fun and not stressful.
Research trends but listen to your heart.
Creative organization, simplicity and retro themes are very in right now.
Spend the money to upgrade to R/O & Water Softening technology to protect your health and your investment.
Quartz counters that look like marble and tiles that look like wood are great upgrades that pack a punch.
Phoenix Links and Contact Information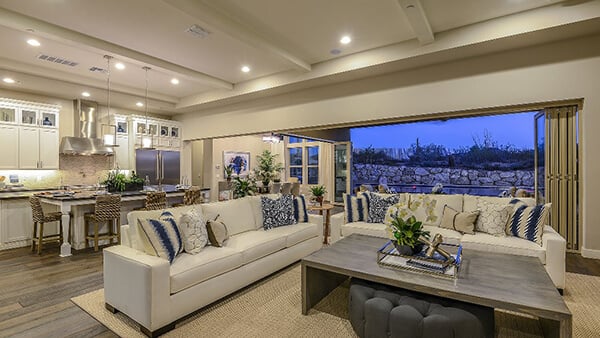 Tesoro Floor Plan | Andaluza Capstone Collection in Scottsdale, AZ
Find Additional Inspiration
From furnishing your new house to planning and executing the landscape of your dreams, piecing together the perfect home is both an art and a science. There's a lot to be learned and a world of resources to choose from.
Have a look at this informative blog post on finding inspiration at your local home & garden show. The more you know the better you'll be prepared when it comes time to pick up your new keys!