Updated December 9, 2019
The holidays are fast approaching and that means traveling to see family. Whether you're the one fluffing pillows in the spare bedroom for visitors or loading your brood into the car for a road trip to grandma's house, it's always a good idea to brush up on how to be a great host or houseguest.
Knowing the dos and don'ts of entertaining etiquette is a one-way ticket to amiable family fun for everyone.
If you've recently purchased at one of our Communities in the Spotlight, you're probably chomping at the bit to show off your new house! We hope these helpful hints help you and yours enjoy a holiday season to remember.
How to be the Best Guest Ever
Maintain Clear Pre-Trip Communication: Hosts need to know when you're arriving, when you're leaving, how many people are coming and what your plans are during your stay. If you plan on taking everyone out to dinner on Saturday night, don't make this a surprise. This is exactly the kind of information a host needs to plan grocery shopping and meals.
Arrive on Time: If you're going to be late, phone ahead to let your hosts know. If you're going to be early, don't be! An early arrival can be extraordinarily stressful if your host isn't ready for you. Instead, kill an hour or two at Starbucks or McDonald's and arrive on time.
Never Show up Empty Handed: Even mom and dad appreciate a little something to say, "Thanks for having us." A small gift is a little thing that packs a huge impact. Something as simple as a bottle of wine or bouquet of flower will do.
Understand the Impact of Children: Parents get so used to having kids around that it's easy to forget that not every home is set up for it. Even if your host has children of their own, it's a good idea to ask in advance what the house rules are. Make an extra effort to enforce noise and mess control. For particularly rowdy kids, try to schedule a mini-adventure one afternoon to give your hosts a few hours of tranquility. If your kids bore easily, bring plenty of books/games/activities to keep them occupied.
Limit Your Stay: A typical visit should be 2 to 3 days max. Extend your stay beyond this timeline only with very close friends and family.
Bring What You Need: While you need not pack like you're staying at a hotel, don't rely on your host to provide every little toiletry. You don't want to be rolling steamer crates into the guest room for a weekend stay but do bring enough clothes that you won't need to ask to run a load of laundry.
Offer to Pitch In: After meals, offer to help clean the kitchen or do the dishes. Even if your offer is refused, the gesture is appreciated.
Ask about Linens & Towels: Some hosts prefer towels and sheets be left on the bed. Others in a pile on the floor and others in the laundry room hamper. Ask how to deal with linens when it's time to pack up and head home.
Offer to Offset Costs: Even when you know your host will not accept the money, it's good form to offer to help pay for groceries, gas money, etc.
Respect Sleep Schedules: Pay attention to what time your host hits the hay and whether they like to sleep in or be up at the crack of dawn. Do your best to turn in early if they do and don't make everyone wait for you to start breakfast.
Don't forget to express gratitude. It can be easy to take an invitation for granted when staying with family or close friends – but a lot of work goes into looking after guests and so a big-time thank you is warranted even when staying in your old bedroom in your childhood home. Ideally, thank yous are best delivered via hand-written note in the mail.
Entertain Often? Choose a Floor Plan Optimized for Sleepovers
At Taylor Morrison we do our best to design homes for the way you live. Check out a few of our hottest plans that are perfect for homeowners with a running tally of houseguests.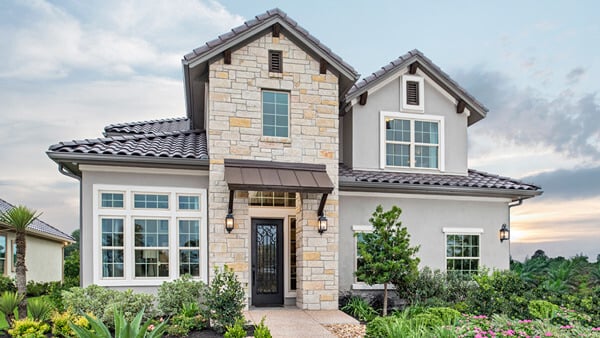 Terracotta Floor Plan | Travisso Capri Collection in Leander, TX
Easy Ideas for Preparing Your Home to Wow Guests
Making houseguests feel welcome doesn't have to be stressful. Follow this simple guide to convert your spare room into home sweet home for friends and family.
Make it Easy for Guests to be Self-Sufficient: Guests don't want to be a burden and most visitors feel uncomfortable rummaging through the cupboards looking for coffee filters. Anticipating what your guests will need to be self-sufficient during your stay takes a load of your shoulders while making them feel at home.
Inquire about Dietary Needs: Find out in advance if your guest has dietary restrictions. Some people are too polite to tell you that they don't eat meat or have a gluten or lactose intolerance.
Use Quality Towels & Linens: You don't need to order 600-count Egyptian cotton luxury sheets for your second cousin, but you shouldn't use the guest bedroom as a home for "castoff" old sheets, either. Somewhere between boutique hotel and college dorm room will do…just as long as you're closer to the former!
Provide Tech Support: Print out the WiFi password on a small card to put on the dresser or bedside table. Give guests a quick rundown on how to operate the TV if you've got a pile of remotes in the media center.
Minimize Knickknacks: Sometimes the guest room becomes a display case for souvenirs and other trinkets. Consider a more minimalist approach to décor to give your visitors somewhere to put their stuff.
Empty Shelves & Chest of Drawers: Along the same lines, be sure to clear out shelf, closet and dresser space for your visitors to unpack their clothes. It's OK to have some of your seldom worn outfits sharing space but don't overdo it.
Provide Toiletries: Leftover travel-sized toiletries gathered from past hotel stays are great additions to your guest bathroom.
Here's a pro tip. Test your guest bedroom before visitors arrive to see how comfy it is. If you can't sleep in there comfortably, then your guests can't either.
Maybe you need a new mattress? Or window coverings that block more light? The only way to know for sure is to do a test run.
If it's wintertime, check that the room is warm enough. Fold an extra blanket on the bottom of the bed just in case.
Get Creative When Dressing the Bed
First impressions are everything. Wow visitors by taking a few extra minutes to turn the bed into a first-class guest room centerpiece.
Learn from Stephanie at Somewhat Simple
Remember Stephanie? The blogger who wrote all about her Taylor Morrison home buying experience?
She loves to entertain and has written several posts at SomewhatSimple.com about hosting houseguests overnight. A big thank you to Stephanie for sharing these pearls of wisdom:
Read more about Stephanie's new build home in Phoenix with social media hashtags #SomewhatSimpleHome and #SSBuildsWithTM.
Additional Helpful Information
If you're still looking for more inspiration. Check out these previous posts from the Second House on the Right blog: