Thanksgiving might be one of the best American holidays around. No gift-buying involved, just family, friends and lots of delicious food. To up the festive vibe, think about decorating your home for the holiday. It's fun and creative, and you can always get the kids involved.
In our effort to find some unique Thanksgiving décor ideas, we turned to our talented and imaginative friend Stephanie from SomeWhatSimple. We first got to know Stephanie when Taylor Morrison built her family's new home in Phoenix, AZ, and we've turned to her for refreshing ideas ever since.
Here are some fun and crafty Thanksgiving home décor ideas to try out this year.
Welcome Guests at the Door
Folks with new homes in Crystal Falls in Leander, TX, in Florida or wherever you find Taylor Morrison communities can add seasonal charm to their front doors with these great wreath ideas. Hang a DIY Thanksgiving wreath on your front door to really welcome friends and family into your home. Stephanie shares that a Nut Wreath and Gourd Wreath are among her 10 Favorite DIY Thanksgiving Decorations.
For the Nut Wreath, designed by Martha Stewart, all you need is shelled walnuts, a bags of almonds, hazelnuts and pecans in the shell, a flat wooden wreath form and a ribbon.
Gourd Wreath, recommended by Rosyscription, isn't necessarily a DIY wreath, but you can buy them at a home goods store or online, like this one on etsy.com. The warm colors and seasonal gourds make it the perfect fall season greeter.
For a simpler DIY wreath, consider making a fun Turkey Wreath. It requires a foam wreath form, burlap ribbon, faux leaves, a slice of craft wood, acrylic craft paints and a hot glue gun and hot glue sticks.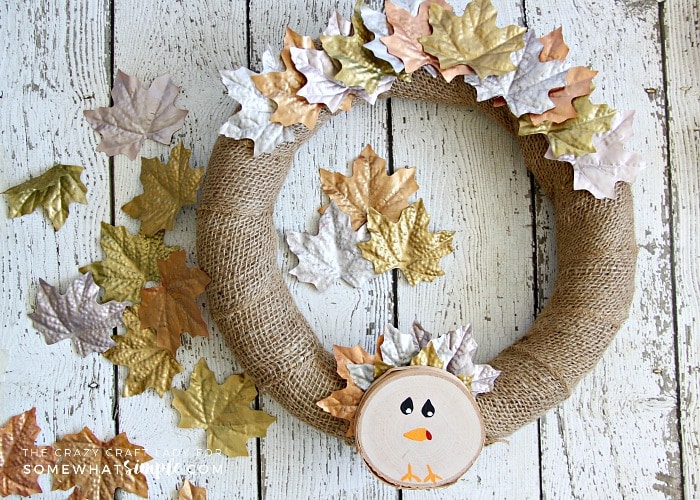 Set the Mood with Garlands
A simple way to dress up a room for Thanksgiving is to string up Gratitude Garlands. Each colorful piece on the garland highlights something you're thankful for. Everyone in your family can include things that they are grateful for. If you like these Garlands you can download the banners and print them out.
For Black Tie Décor
If you're going to be entertaining guests in a more formal setting, consider these Holiday Entertaining Thanksgiving Printables. Each piece, which carry out a black and white or more muted theme, include a Thankful banner, printable messages, a tabletop fragrance diffuser, a white lantern filled with pie cones, white dishes and some linen-lined baskets.

Just for Kids
If you have children, you can make the season extra special for them by personalizing it to their tastes. Consider having a Thanksgiving table just for the children. Your kids can help make the decorations. These Thanksgiving Tips and Ideas for Kids offers a step-by-step rundown of how to get ready, from coordinating the kids' space and thinking up activities for after dinner to outdoor ideas and creating special desserts.
Create Tablescapes
Up your presentation with beautiful Thanksgiving Tablescapes, like these decorative ideas. Using some inspired ideas and supplies from Lowe's, Stephanie crafted some incredible fall-themed centerpiece items.
Make a Family Thanksgiving Tablecloth
This Thankful Thanksgiving Tablecloth is a family creation. You can make a tablecloth by writing what you're thankful for all over the cloth, but it's fun to get the whole family involved. All you need is a canvas drop cloth and permanent markers. Each family member writes and draws what they want to give thanks for, and you can add onto it every year.
Countdown to Thanksgiving
Have a family day-to-day countdown to Thanksgiving using a Countdown Jar. Fill the jar with little notes proclaiming something to be thankful for and pull one out every day until T-Day. You can download decorative printable labels for your jar and printable thankfulness notes.

Today I Am Thankful For…
This printable message lets everyone in your family share what they're thankful for. Just download the Today I Am Thankful For printable, put it in a frame with glass and have a dry-erase marker on hand. Then, write what someone is thankful for directly on the glass using the dry-erase marker so you can switch the message every day.
Candy Bars That Inspire Gratitude
Everyone will be glad you made these Thanksgiving Candy Bar Wrappers. Clever and decorative, they're perfect for dressing up your favorite chocolate candy bar. Hand them out to Thanksgiving guests, or give some to the hosts of a Thanksgiving celebration to attend.
Kids Coloring Clipboards
Entertain the littlest ones at Thanksgiving with these DIY Coloring Clipboards. Just download and print the coloring and activity sheets, clip one each to 6" x 9" clipboards, and bundle sets of crayons to attach to each board. The kids will love these, and they won't even have to sit at a table to color.
Coloring Sheets and Pilgrim Hats
Use these printables to create Thanksgiving Coloring Sheets and adorable Pilgrim Hat Crayon Cups. The coloring pages feature themed illustrations along with lines for the kids to list what they're thankful for. The black pilgrim hats only take a few minutes to make, and they make the perfect contrast to the colorful crayons they will hold.
Thanksgiving Pictionary
This fun Thanksgiving Pictionary craft project can be the hit of the party for the children. It uses a printable turkey with printable craft sticks for feathers. The turkey label is glued onto an empty can and the printed stick labels, or word feathers, are glued to craft sticks. Put the finished feathers into the can and you have a cute and colorful Thanksgiving Pictionary game that the kids will love.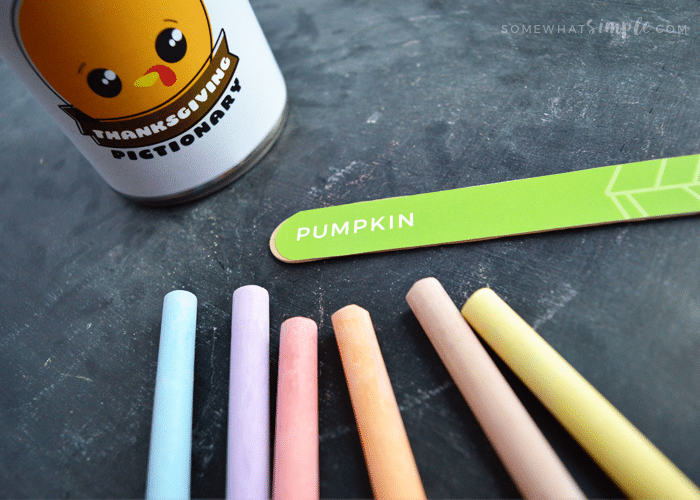 Thanksgiving Bread Wraps
Fall is the perfect season for baking banana and pumpkin bread, and these fun printable loaf wraps are a great finishing touch. If you're gifting homemade bread for Thanksgiving, wrap one of these "Today I Am Grateful for You!" around each loaf before you hand them out. The idea comes from WhipperBerry.com, recommended by SomeWhatSimple.
Conclusion
You can find even more Thanksgiving ideas that use free printables on SomeWhatSimple, here and here.
We'd like to give one more shout out to Stephanie at SomeWhatSimple for sharing all these great ideas with us. Get more ideas by following her via social media pages listed below or with these hashtags #SomewhatSimpleHome and #SSBuildsWithTM.
Facebook | Instagram | Twitter | Google+ | Pinterest | YouTube