Whether you're curious about housing in Orlando or lucky enough to have snapped up a prime piece of Oviedo real estate, it's never too early to start planning that move. Oviedo and the surrounding area has plenty to offer you, so it can be a little overwhelming to scope out everything there is to see or decide what to do. Fortunately, we have just the tips and tricks you need to feel confident in your choice to move!
Moving Guide to Oviedo, Florida
Most of our info is specific to Oviedo, but there are plenty of tips that apply to each and every move.
It's always important to have a plan, and we've written a guide that compiles info on how to decide what to keep, how to write out a timeline, and what supplies and help you might need.
Moving is stressful for everyone, but it can be especially taxing on the little ones. We have plenty of advice to offer, but in general, if you keep your kids informed, involved, and engaged about the move, you'll be fine. Let them pack a few boxes, show them as much of the new house as you can beforehand, and take them to their new school early to try and cure those first-day jitters!
Once you've moved in, it's always nice to add a few touches to help make your new home truly yours (though if your new home in Orlando comes courtesy of Taylor Morrison, you'll already have a leg-up there). We've compiled an exhaustive list of professional tips here, so don't hesitate to install new tiles or pick up some smart appliances!
Know What You're Getting Into (Don't Worry, it's Just Peace and Quiet)
Tucked away 18 miles outside of Orlando, Oviedo has a fun peaceful atmosphere. Our Southern Oaks Community, for example, preserves plenty of the surrounding natural beauty, including lush, gently-swaying trees and lakes. The town, with a relatively small population of 33,000, offers even more lakes and trees to admire, along with a quiet,intimate atmosphere. Your day trip options aren't just limited to bustling Orlando, either. The sleepy town of Winter Springs is only eight miles away, with a similarly quiet atmosphere and plenty of shops and restaurants to explore.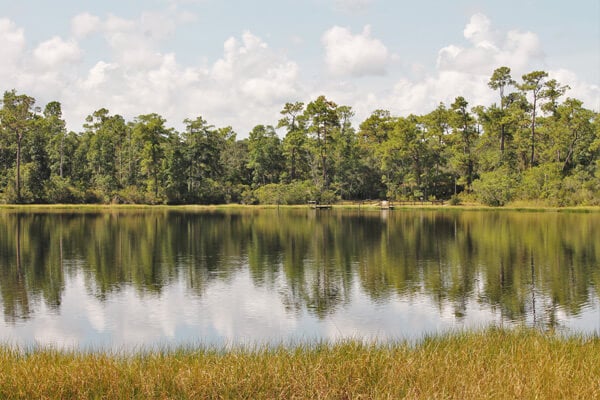 Meet the Neighbors and Help the Kids Make Friends
Despite the relaxed atmosphere, Oviedo is always offering something interesting for those who take an interest in the community. The Community Calendar is a great place to start, keeping you posted on upcoming events like Food Truck Thursday. Events offer more than a chance to enjoy delicious food and drink and fantastic live music. They let you get to know your neighbors and make relationships that'll last the rest of your life. You don't need to leave the kids out, either – in addition to the area's plentiful adult community organizations, there's a multitude of groups to help your little ones make new friends!
There's nothing like the old standbys. The Girl Scouts and Boy Scouts both have branches in the Oviedo area, and will teach your little ones lessons they'll remember forever
If you'd like a local twist on national organizations like the girl and boy scouts, be sure to check out Camp Fire! Community service, self-esteem boosting exercises, and fun group activities that everyone can enjoy all make Camp Fire something truly special. If you'd like to get involved, the Camp Fire Sunshine Council can always use some volunteers!
Don't forget to make sure your little ones are nice and active! The Oviedo YMCA offers fun for all ages – including a parent's night out – but offers more than enough programs for youngsters to keep even the most energetic kids busy. From private swimming lessons to youth soccer, you have plenty of options!
Explore the Oviedo, Florida Area
There are plenty of benefits for grabbing a custom home in Orlando – for one thing, your Southern Oaks home will be only a short drive from, well, Orlando! There's no shortage of things to do nearby, along with plenty of opportunities to help you start a new life.
It goes without saying, but Orlando is the biggest draw when it comes to nearby attractions. The massive city is home to a breathtaking variety of activities and things to do. From family-friendly fun at the Orlando Science Center to a multitude of shops, restaurants, and golf courses, the City Beautiful is an incredible place to visit!
Of course, Orlando doesn't just provide access to one of Florida's greatest cities. The bustling town is a gateway to some of the best parks in the United States! Disney World is only 35 miles away, while Universal Studios is seven miles closer. Don't forget about summertime fun at Aquatica Water Park, it's only 33 miles away!
Wherever you're going, commuting is quick and easy. If you're living in Southern Oaks, you're only moments from Orlando's main transportation corridor, which puts employment centers like the Orlando International Airport, local theme parks, and health care facilities within a 45 minute drive.
Enjoy Life in a Fantastic Community | Southern Oaks
Living in a town as fantastic as Oviedo would be wasted without taking advantage of everything the area has to offer! After your move, you'll enjoy perks like natural beauty, a thriving local economy, great schools, and more!
Moving can be intimidating, especially when you're considering an area with so much to offer. But more options means more opportunities for yourself and the people you love, and Oviedo has plenty for everyone. Use this knowledge and make your next move with confidence!