On Valentines Day, after your sweetie, treats and gifts take center stage. When it comes to fun ideas for food and crafts, let's turn to our friend Stephanie at SomewhatSimple.com. We appreciate her for sharing some of her favorite Valentines Day ideas with Taylor Morrison below.
We first met Stephanie and Somewhat Simple when she began blogging about the process of building a Taylor Morrison home in Phoenix. It was an exciting experience for Stephanie and her family, one that happens for our homebuyers throughout the country, from the Woodland Hills community in Chicago, in new homes in Atlanta's Townsend at Lenox Park and Waterside at the Catawba, a community of new homes in Charlotte, SC, to our communities in California.
---
Sweet Treats & Eats
---
Start Talking: Conversation Heart Cookies
They look like the iconic candy hearts that are so popular but taste so much better! More than just a sugar cookie recipe, this one comes with suggestions for stamping messages on each heart.
Gotta Have More: Valentine S'more Bites
These heart-shaped, chocolate-dipped, marshmallow-filled treats are so yummy you it's impossible to stop after just one. Don't expect them to last long!
Sweet! Healthier Brownies with Raspberry Swirl
You don't usually see "healthy" and "brownie" in the same sentence. These incredible pieces of art are surprisingly healthy AND yummy. The secret ingredient? Black beans! Don't worry—chocolate's also included.
Float the Idea: Cupid Floats
This Valentines drink is great as an after-school snack for the kids or a treat for the whole family. The ingredients sound tasty: vanilla ice cream, cherry soda and red licorice. It's a special recipe for making the day special.
Serve It Up: Heart-Shaped Eggs in Toast
Whip up a heart-felt breakfast with this simple recipe. It's an easy way to share the love at the start of the day. You need eggs, red dye and toast. Serve with some strawberries on the side for a sweet addition.
Just Desserts: Valentines Twinkies
As delicious as they are to make, Valentines Twinkies is like strawberry shortcake with a twist. Take everyone's favorite snack, Twinkies, and cut them into hearts—one heart per Twinkie. Then put them on a plate along with strawberries, cover with strawberry jam and, if you want, drizzle with chocolate.
Oh Fudge: Chocolate Fudge Valentines Day Cupcakes
Valentines Day and chocolate just seem to go together. Make these Chocolate Fudge Cupcakes filled with strawberry cream cheese in the middle for a party, the office or a household treat. Add little candy harts on top for the finishing touch.
---
Printables
---
Gotta L-O-V-E It!: L❤VE Scrabble Tiles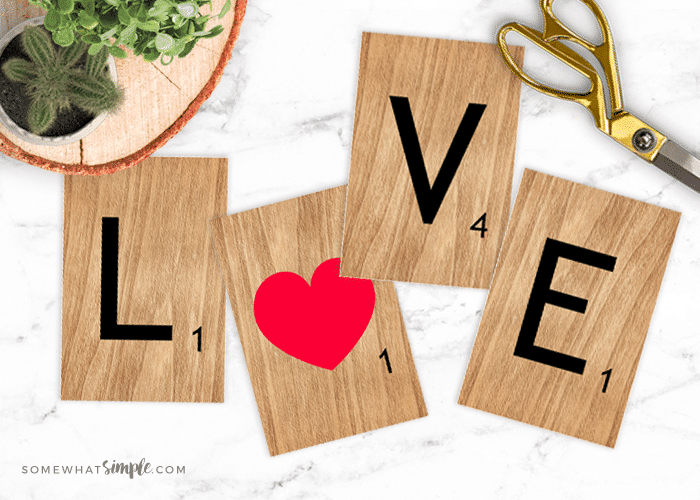 Can you spell FUN? Download these free LOVE Scrabble Tiles, cut them out, make a banner and you're done!
Kidding Around: Create Your Heart Out
Give the kids a fun Valentine with this free printable. Listed in Stephanie's Top 25 Valentines Printables,  Give them to the kids along with a gift of a few (or box!) of new crayons and let them color away!
So Punny: Be My Punny Valentine!
Get cute and punny with these adorable food cards. Write personal love notes inside the cards and brighten someone's day. Slip one into your child's lunch. Or include them along with the appropriate snack, such as "I love you berry much" with a strawberry treat.
Daily Love: 7 Days of Love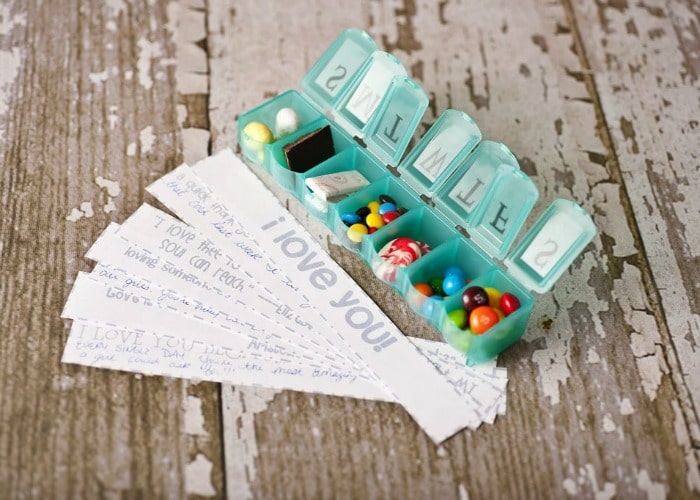 Put small candies of your choice into a daily pill box and add these adorable notes, one for each day. Each free printable note has a love quote or message. You can add your own personalized message.
Heart Strings: Yo-Yo Valentine Printables
Simple and adorable, these printables do the trick. Print out the Be My Valentine cards, cut them out and tape a yo-yo on each one. Easy peasy.
---
Planning & Activities for The Day
---
All in the Family: Plan the Perfect Family Valentines Day
Look at these ideas for a family Valentines Day—there's even a how-to video to demonstrate their creation. You'll find ideas for activities, countdown printable decorations, stationary and more.
Hubby Love: Sexy Gift for Your Husband
Two tags, one each for a gift: one a promise of a massage and the other…something a little more R-rated! Each tag features a clever poem. Even though romance is more than just a holiday endeavor for couples, these clever free printables can spice things up a bit for special occasion.
Wrap It Up: Candy Bar Wrappers
Give sweetness to your friends, family and even colleagues. These printable wrappers feature Valentines messages. Once they're printed out, dress up some candy bars with wrappers.
Share the Love: Family Heart Attack
Get crazy with this fun Valentine activity. Make or purchase some fabric hearts and play one—or all!—of the game ideas the kids are sure to love.
Get Crafty: Love Bugs Craft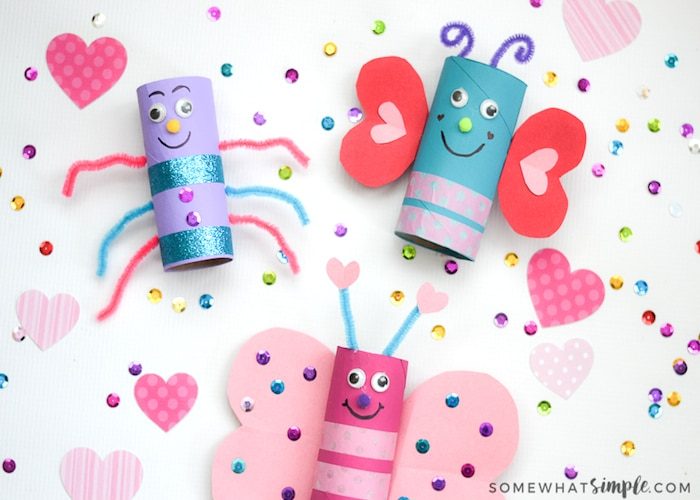 Give the kids something fun to do with these Valentines Day Love Bugs. Cute-as-a-bug Love Bugs are made with empty toilet paper rolls, construction paper, pipe cleaners and embellishments. Your kids will love making them.
Celebrate! Family Activity Cube
Want an easy way to celebrate the day as a family? This Activity Cube has a template for printing on card stock. This blog shows you how to make it and includes some great ways to use them.
---
We ❤ Stephanie
---
A special thanks goes out to Stephanie for these wonderful ideas. While she, her husband and five kids were involved in the creation of their dream home, Stephanie kept her SomewhatSimple.com blog readers updated along the way. And the fun continues as we follow along the home's transformation as the family lives in their new home.
Get more inspiration and follow along on social media with her hashtags: #SomewhatSimpleHome and #SSBuildsWithTM.
Facebook | Instagram | Twitter | Google+ | Pinterest | YouTube