Whether you're into brats & burgers or red wine and shish kebabs, the backyard barbecue as is much a part of the Americana as apple pie and baseball. At Taylor Morrison, we recognize the importance of backyard fun by incorporating stunning outdoor living spaces into every one of our new construction homes.
When searching for your new home, it's important to consider what's going on outside as much as in.
And there's no better way to get a real feel for the possibilities than taking a tour through one of our model homes. To highlight the best of what your backyard experience can be, let's head to Estancia at Cielo and look at all the work that went into creating this stunning Rancho Santa Fe, California home.
Who Needs Vacation with a Backyard Like This?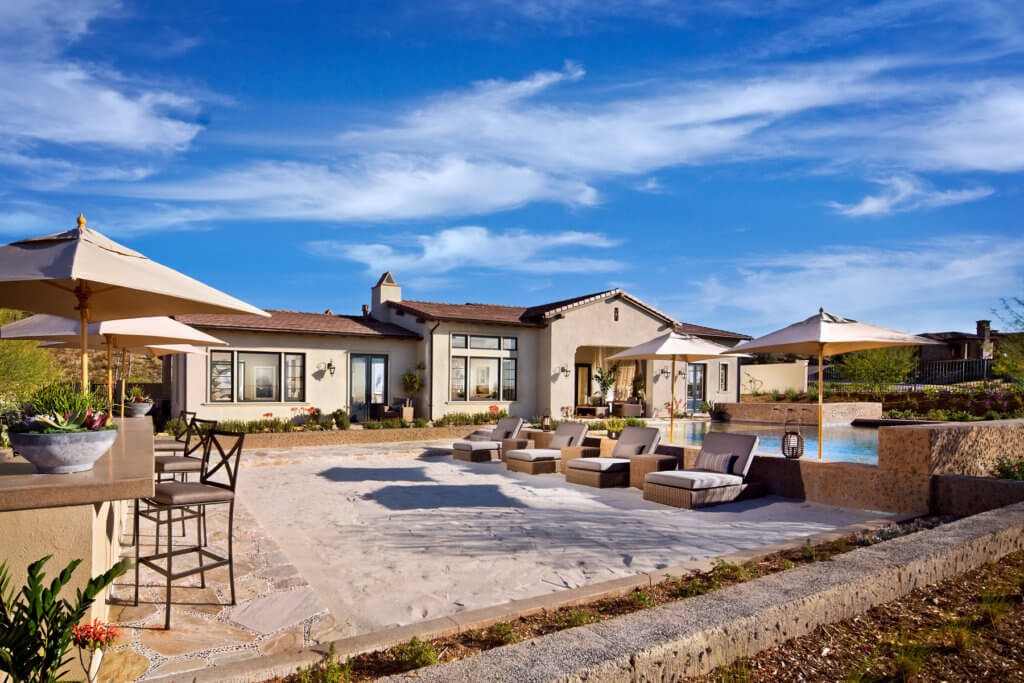 The ultimate in southern California luxury real estate is selling at Estancia at Cielo in San Diego County. True to form, the deluxe appointments and amenities don't stop just because you've opened the slider.
Crafted to recreate a resort-style paradise for every single day of the year, let's dissect what makes this design so successful at capturing the essence of the So Cal dream.
With a backyard setup like this, it's easy to see how residents of Estancia at Cielo are known to throw the liveliest gatherings and the best pool parties in town!
Make it Alfresco with a Gorgeous Outdoor Living Room
Curl up and get cozy. Residence Four takes backyard bliss to the next level by combining comfortable furniture with a jaw dropping natural vista. Bonus! The flickering flames of an outdoor fireplace. All this postcard worth view needs is good friends and great conversation.
More than just a place to socialize and enjoy fresh air, the backyard at Residence Four also includes room for a full outdoor dining setup. There's plenty of yard for the kids to run around and you can even option in a personal Bocce court. It's year-round southern California living at its finest.
Love this view?
It's selling now.
More Backyard Inspiration from California
For more backyard ideas, look no further than Sea Summit, a new home community in San Clemente, CA. This deluxe verandah and swimming pool arrangement is lavish enough to impress even the most discerning Orange County home buyer.
It's the good life and then some. Here's an example of two model home backyards from Taylor Morrison Bay Area communities. Which do you prefer?
Experience this outdoor paradise at Taylor Morrison Sacramento.
Outdoor Fun from Sea to Shining Sea
You can find more backyard inspiration at every one of our new home communities across America. Peek over the fence and see what's happening coast-to-coast at Taylor Morrison.
Taylor Morrison Phoenix
Life in the desert means year-round sunshine for backyard dips into your private pool. Cool off under the shade of your poolside pergola or opt for a plan that's complete with outdoor fireplace and flowing fountains.
Taylor Morrison Denver
Embrace the beauty of natural mountain landscaping. Large rocks and a water feature really tie this rugged look together.
Taylor Morrison Dallas
This multi-textured covered lanai makes for fantastic alfresco living whether it's day or night or rain or shine. Check out the Harrison Model Home at Waterford Point at the Tribute to see the interior of the home.
Taylor Morrison Austin
One thing's guaranteed when you buy a new build home at Reunion Ranch in the Austin Hill Country. Your idea of what the perfect vista looks like will never be the same!
Stargaze from the deck or chat fireside under the covered patio. Fire up the grill and watch the sun set over the rolling hills of Texas.
Taylor Morrison Houston
Consider having a fireside soiree with a fireplace incorporated into your backyard patio. Here's an example from Taylor Morrison Houston.
Taylor Morrison Chicago
Live close to the city but with enough breathing room to stretch out on the deck and kick back under open skies. New homes in Chicago with spacious suburban backyard bliss.
Taylor Morrison Raleigh
Outdoor living spaces designed and built to be used every day of the year. It's easy to get comfy by the fire in this elegant solarium style covered patio.
Taylor Morrison Charlotte
When you live at Waterside at the Catawba your backyard extends well beyond the borders of your property line. Imagine how tranquil life must be when this view is waiting right around the corner.
Taylor Morrison Orlando
We need to break out our thesaurus to describe this backyard luxury pool arrangement. Deluxe. Indulgent. Striking. Sumptuous. Extravagant. Gorgeous.
The only word we're missing is "yours."
Taylor Morrison West Florida
Proof that golf & country club living in Naples, FL isn't just about nine irons and mimosas at the 19th hole. Bubbling pool accents and a stunning preserve view make this glass-covered lanai next-level charming at Esplanade Golf & Country Club of Naples.
See all Taylor Morrison communities in West Florida:
What Features are in Your Ultimate Backyard Dreams?
With so many exciting ideas to choose from, it's difficult to whittle your backyard vision down to a single theme.
Let us know in the comments which of these outdoor living concepts best resonated with your idea of backyard bliss.
Additional Helpful Information