Enjoy these gorgeous ideas for enhancing your backyard on a budget.
Our talented house designers believe a home's outdoor spaces are just as important as the interior. Check out these incredible (and affordable) backyard upgrades and how they work effortlessly into our most popular floor plans.
But before we forget – here's a shout out to Stephanie and Somewhat Simple. She's the writer who chronicled her new home purchase journey with Taylor Morrison online. Many of the great ideas mentioned in this post come right from her blog! We ♥ Somewhat Simple!
Charlotte Real Estate Gets Ready to Party
A convenient covered porch comes standard with the Rochester floor plan at The Retreat at Rayfield. Make the most of warm North Carolina evenings with a dinner party on the veranda!
Hosting a sophisticated gathering doesn't have to be expensive. Entertaining on a budget simply requires a bit more creativity.
Here are a few great tips for classy alfresco dining:
Light a Fire – Arrange a few used Mason jars over inexpensive tea lights and voila, you've got a gorgeous tabletop chandelier. Better yet, purchase a pair of cool flameless LED candles.
Crockery to the Rescue – Toss the Dixie cups and can the paper plates. Set the table with quality plates & silverware and save the disposable stuff for children's parties.
Platters & Place Mats – A few decorative serving trays & accessories make a world of difference.
Take a virtual tour of the Rochester.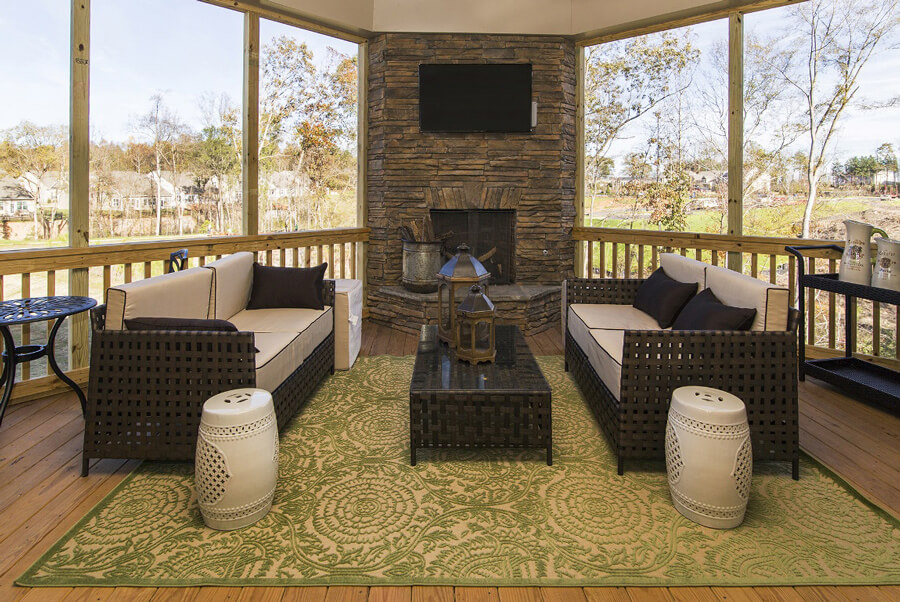 Perfect Porches at New Homes in Apex
Several plans at Preserve at White Oak Signature Collection feature the option for a screened porch. Enjoy protection from the elements and spruce up your outdoor living space.
Truly Comfortable Seating – There's no need for "outdoor" furniture on a screened in porch. The more cushiony the better.
A Coffee Table? – Coffee tables aren't just for coffee. A perfect porch needs a long flat surface for sandwiches and iced tea!
Potted Plants & Seasonal Accents – Decorate your porch just like any other room in the house. Bridge the gap to the great outdoors with potted ferns or hanging flower baskets.
Throw Pillows a la California
The rooftop decks at Lighthouse in Costa Mesa, CA were made for bold throw pillows. There's just something about a pop of color that livens up a patio.
And the great thing about basic outdoor pillows is that they're so easy to make yourself for nothing more than the price of fabric.
Not a DIYer? Head over to Piecemakers Peddler's Market and purchase one-of-a-kind handicrafts.
Huntin' Fun for the Kiddos
The Stirling floor plan at Creeks Crossing comes complete with the perfect yard for gathering critters.
Help your little ones connect with nature by fashioning these awesome DIY bug catchers.
S'mores in the Desert
At Enclave on the Eighth in Scottsdale enjoying evenings outdoors is a year-round endeavor. Ramp up your balcony fun with a sizzling new fire pit. S'mores anyone?
Need a bit more seating? Make a cinder block bench and make room for the whole neighborhood!
Additional Helpful Resources