Updated December 9, 2019
With the holiday shopping season fast approaching, Taylor Morrison homeowners from California to the Carolinas are heading to the garage in search of that big brown box marked "giftwrap." And for gift wrapping aficionados, it's the time of year to hit up the internet for fresh ideas on making every wrap job the most beautiful box under the tree.
We understand your commitment to quality and are eager to help make this season's creations your most spectacular yet.
We'll hold the tape while you fold the corners!
Get Organized
Getting creative with gift wrapping gets a whole lot easier when you can see your options and easily find all the goodies you're looking for. Here are a pair of simple tips to build an inexpensive DIY gift wrap station.
Round Up Your gift Wrap
Most wrapping paper comes in long rolls that can be cumbersome and difficult to keep on a shelf. Take a cue from your local poster shop and store them upright in a cylindrical wastepaper basket or plastic tub. This prevents rolls from rolling away and makes it easy to see all the styles you've got available in a single glance.
Small Shelf Unit
Pick up a small 3-4 plastic shelf unit to organize bows, ribbons, scissors, tape and so on. Use smaller boxes within each drawer to separate items into categories. Use a separate drawer for gift bags and the final drawer for gift cards.
If you don't have enough supplies to fill up a shelving unit, a pair of shower caddies can serve the same purpose with the added bonus of being portable.
Get Organized: Version 2.0
If you're strapped for space or want to keep your gift-wrapping station year-round for birthdays, weddings and other events, consider dedicating the back of a door to all your gift wrap supplies.
It's easy to do. Head to the closet organization aisle at your local hardware store and purchase a wardrobe strip with wire baskets.
Use old plastic jars (think peanut butter or mayo) to store small items that could slip through the wire mesh. Be sure to pick up at least one deeper basket to store your rolls of giftwrap.  Alternatively, hang wrapping paper using a coat hanger and a see-through plastic garment bag.
Pro Tip: Use a paper clip at each end of opening wrapping paper to prevent it from unraveling. This little trick also protects the edges from being ripped.
Set Up Shop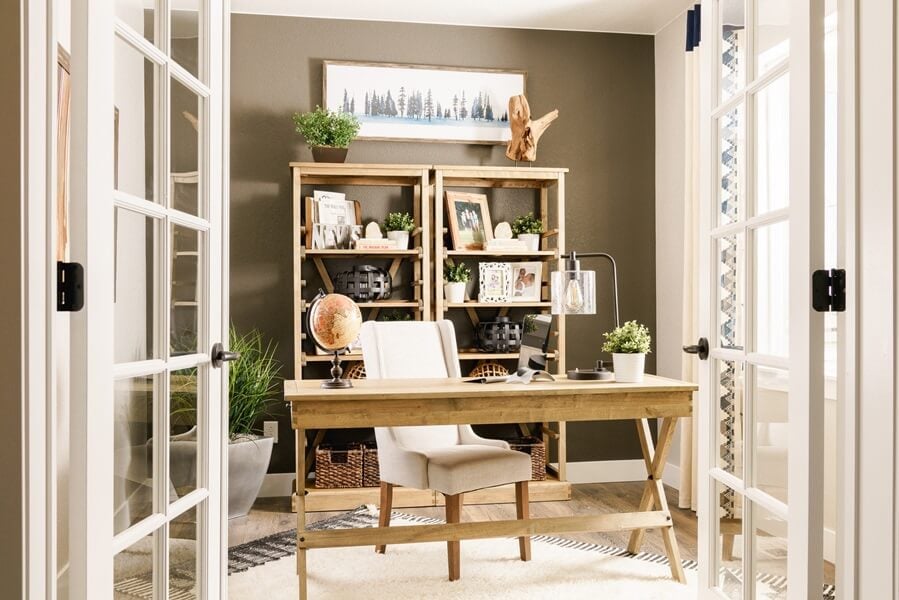 Holiday gift wrapping isn't a task you'll finish in a single day. It's an ongoing event all the way through New Year's. Find a space in your home to be giftwrap central.
Here's a great example from the Denver real estate market:
Look at the Montrose floor plan at Brighton East Farms. The office at this new Brighton, CO home can easily be converted to a makeshift version of Santa's workshop.
Get Your Creative Juices Flowing
Add a whole new level of wow factor to your presents this festive season by thinking outside the box. Consider these imaginative ideas that are as unique as they are beautiful.
Brown butcher paper, baling twine and a homemade miniature wreath combine for a rustic motif that's sure to be a big hit.
Wrap a tree ornament under the ribbon for a cute 2-for-1 gift special. Make it personal by crafting your own DIY ornaments by hand.
Newspaper and brightly colored yarn combine for a fun way to recycle and customize. Use the sports section for sports fans, stock ticker for business nuts, funnies for the kids and so on. For the traveler in your life, pick up a foreign language paper from the newsstand.
Wrapping a gift in plain white paper creates the perfect backdrop for an out-of-this-world showstopping bow.
Go Green! Eco-Friendly Gift-Wrapping Concepts
Do your part for Mother Earth by remembering to recycle and reuse. From saving last year's paper for another go around to using fabric remnants from your sewing room, there are countless ways to wrap beautiful presents without being wasteful.
Love to snack? Turn potato chip bags inside out for a gorgeously shiny foil giftwrap.
A few sprigs off the holiday tree make fantastic decorations that are 100% biodegradable.
Wrap a gift in a gift! From a new t-shirt to a blanket to a kitchen towel, wrapping presents in something useful is a win-win.
How about using a canvas tote bag? If you want to keep what's inside a secret, close the top off with a big safety pin.
Shop flea markets for old posters or maps. Use pages out of a magazine for smaller gifts.
Have an extra set of floor plans left over from your new home build? Consider using that as wrapping paper.
And remember, if you don't have time to get creative, you can always check the label and purchase wrapping paper made from recycled materials.
Get to Know "Mottainai Furoshiki"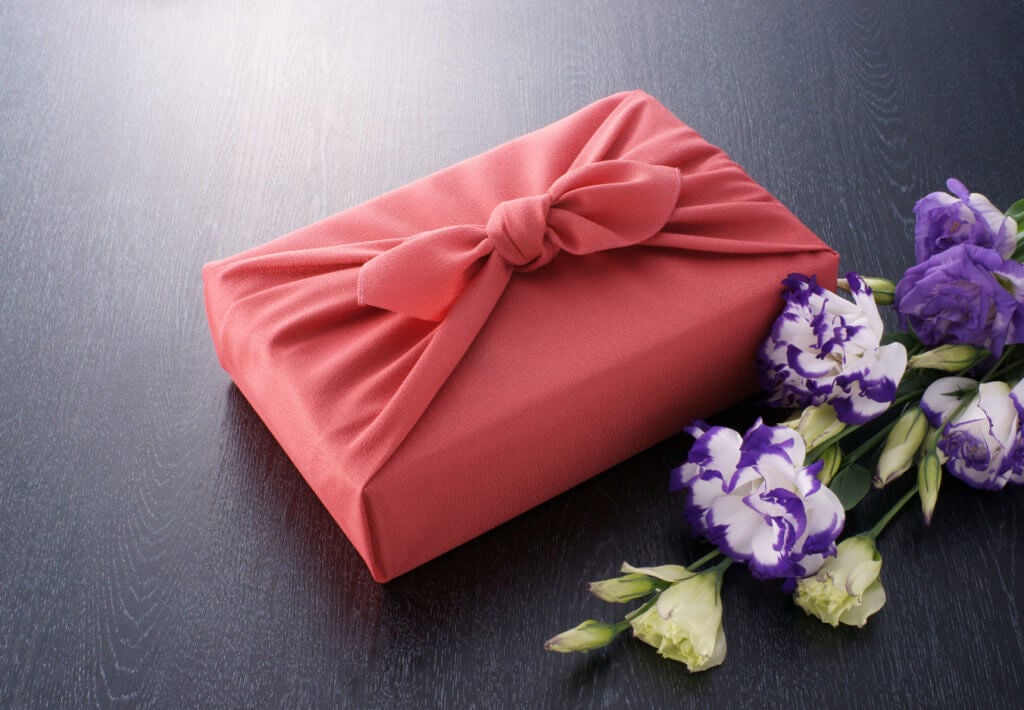 The Japanese have come up with a wonderful way to cut back on paper waste while preserving the time-honored tradition of wrapping beautiful presents.
The Minister of the Environment, Ms. Yuriko Koike, invented an ornate wrapping cloth made from PET bottles. Made of resistant material, the cloth can be used over and over again, passed on from the receiver to someone else and so on. You can also use leftover fabric, an old scarf or other cloth material you are no longer using.
With practice, the furoshiki can be folded around just about anything!
Bonus Tips
Amazon to the rescue: Give your recycle bins a rest by saving all the cardboard boxes that your online shopping comes in. It's a heckuva lot easier to wrap a box than an oddly shaped item.
Throw a party: Inviting a few friends to come over for a wrapping party is fun and a great way to learn new tricks and share/trade paper, ribbons and bows.
Start early: Try to wrap one gift per day instead of letting all your wrapping pile up and overwhelm you.
Instead of trying to wrap extra-large gifts, simply store these items away somewhere safe and run a piece of string into the great room. Wrap up a small note that says, "Follow the string to your gift."
A New Home for the Holidays
Ready to give your family the ultimate holiday gift? Explore the Taylor Morrison floor plan of your dreams or find the perfect move-in ready home to begin your next chapter.
Additional Helpful Information