Getting the squad together to watch the Big Game is an American tradition – and here at Taylor Morrison, we want to help you do it right. From tech talk to tasty treats, seating, dress code, lighting and more, we'll lay out all the X's & O's so you can bust through the line and dive over the pile for a touchdown worthy Big Game party to remember.
Game Details
Sunday, February 3rd
Mercedes-Benz Stadium in Atlanta
1 AMB Drive Northwest, Atlanta, GA 30313
Going to the game? Be sure to tour new home communities in Atlanta while you're in town. If you've got time, check out some of these fun day trips in the city, too.
For those of us without tickets, let's get started on creating the perfect space to kick back with friends & family to find out which team will be crowned the best in the land. (And more importantly, to see who brings over the best chicken wings!)
Hanging Your Own Personal Jumbotron
Is your television set more of a place kicker than a linebacker? Maybe it's time to use the Big Game as the perfect excuse to upgrade your TV!
Starting last year, the Big Game is now available in 4K. For the best viewing experience, you'll want your home to take advantage of the highest possible definition. Once you see the difference, you'll wonder how you ever watched sports on your old set up.
Pro Tip: Wall hang your television for the best viewing angles for all your guests. Aim for the center of the screen to be approximately at eye level for your seated position. Use a tilting mount to make slight adjustments and eliminate any screen glare.
Create Bone Cracking Stadium Sound
Hear all the big hits like you're right there on the sidelines by installing a sound bar or a full home-theater setup with speakers strategically placed around the room.
Most TVs come with quality built-in speakers these days but if you want to hear every hut and every helmet to helmet smash, you'll need to kick your audio system up a notch.
No Media Center? No Problem
Many Taylor Morrison floor plans come with a dedicated media center or the option to add one, but if your home doesn't have one, don't worry. With a few simple modifications, any spare room in the house can be converted for the Big Game.
Find a room with as few windows and doors as possible.
A rectangular space is best and remember that vaulted ceilings will carry the sound away.
Throw an area rug down if the space has hardwood or tile floors. Smooth floors reflect sound.
Thick curtains can help keep light out and absorb unwanted noise.
Dress & Decorate
Since only 2 teams make it to the Big Game, it's unlikely that your favorite club is suiting up. Don't let that stop you from picking a side and rooting them on like they're your own.
Ask guests to come dressed in the colors for the team they'd like to see win. You can also decorate the room with banners, print-outs or streamers. Some people like to decorate one side of the room for one team and the other side for the other. Another fun idea is to decorate the room in honor of the city where the game is hosted.
Huddle Up Team, It's Snack Time
A popular Big Game tradition is to throw a potluck and ask everyone to bring their favorite chip, dip or barbecue goodie. But if you're hosting, you don't want anyone to go home hungry. Purchase plenty of extra snacks in case you run out, you don't have to put them all out to start, just store your backup stash in the walk-in pantry.
Stock the fridge up with cold drinks and set out a cooler or two filled with ice so that guests can have somewhere to chill their own stuff without having to cram bottles and cans into your already packed fridge.
Game Room Lighting Tips
If you'll be watching from your game room, be sure your lighting is up to snuff before the gang rolls over.
Pool table lights are a sure sign that you're in a game room. If you have a table, it's a must, but even if you don't it's a fun way to light up the bar.
Track lighting for showcasing memorabilia. The Big Game is a great time to show off your collection.
Diffused bar lighting creates a different atmosphere compared to daylight style fixtures. Soft, muted light sets the mood for good times and great conversation.
Throw the Hail Mary with These 5 Perfect Examples
The same design specialists who help you add your signature touches also put together the gorgeous model homes you tour when visiting a Taylor Morrison community. Let's peek at some of the most beautiful home theaters and game rooms from around the country for inspiration.
Atlanta: Post Oak Glen in Cumming, Georgia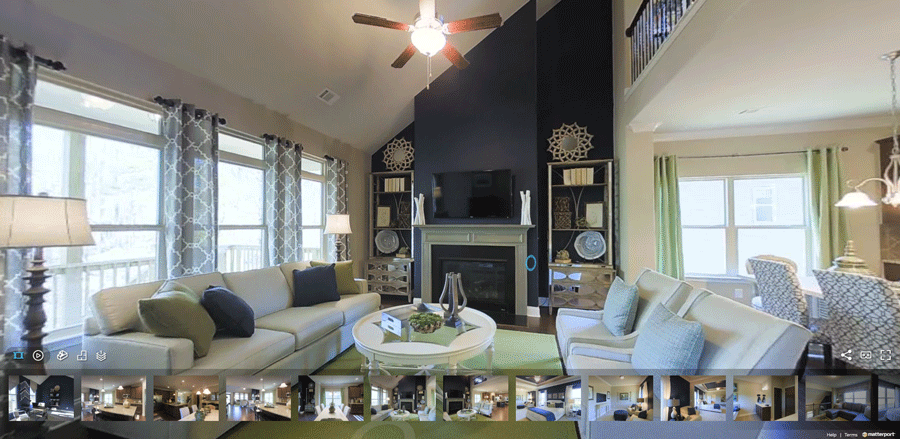 The 3-bedroom, 3-bathroom Burton design is the perfect Atlanta area house plan for those who throw huge get togethers. Take the Virtual Tour and see how the upstairs loft area has been turned into a fun media room. This means you can play the game downstairs in the great room and upstairs, too. No guest list is too long when you have more than one space to watch.
Austin: Meridien Floor Plan at Reunion Ranch
The Meridien design includes this game room that's plenty big to fit a furniture quality pool table and adjacent stylish home theater.
Some people like to plop down on the sofa and watch the whole game like a couch potato. Others prefer to socialize and have fun with the game as a backdrop. At this new luxury home in Austin, TX, you can have your cake and eat it, too.
Mesa, AZ: Estates at Eastmark Summit Collection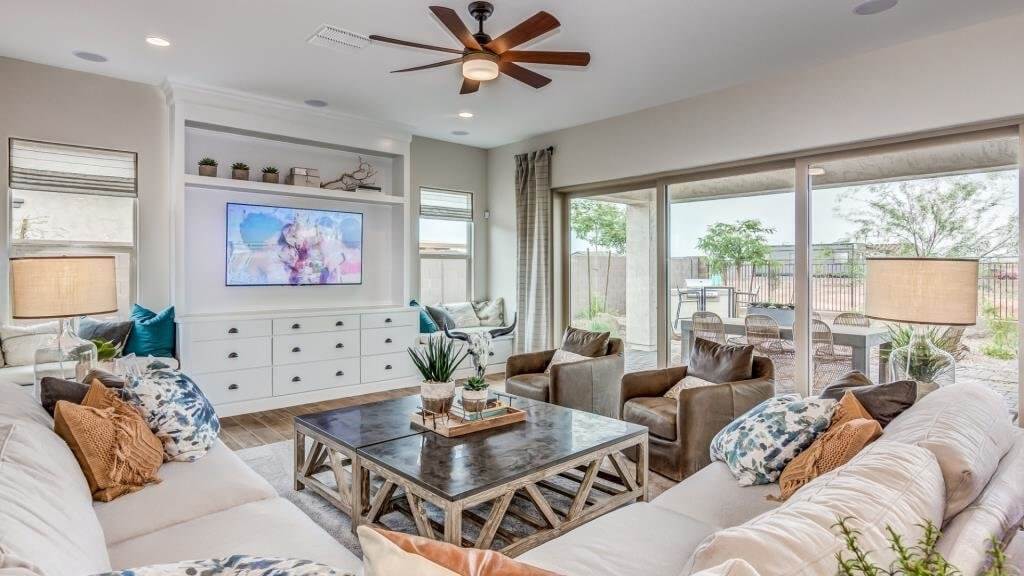 The Crestone floor plan shows us exactly why open-concept planning is the way to go when shopping for a new Phoenix area home. An open great room means plenty of extra space to add in extra seating,  the opportunity to let the entertainment zone spill over into the kitchen, or out through the sliders onto the patio.
Use your spacious kitchen island to set up the main buffet with a cooler filled with ice and cold drinks plus snacks on the deck.
Fort Myers, FL: Farnese Plan at Estero Pointe
When in Florida, do as the Floridians. At this luxurious Fort Myers, FL home, you'll be watching every sack and every interception outdoors under the beautiful Florida sunshine.
And when the clock hits 0:00, change into your swimsuits and swap the Big Game party for a pool party!
Chicago: Sumner Plan at Ashwood Creek
The Monsters of the Midway have got a good shot of making it to the Big Game this year, so if you're in Chicago, you'll want to be prepared for your hometown heroes lifting the trophy in Atlanta.
See how spacious the great room is in this Sumner Virtual Tour. There's more than enough room to move the furniture out of the nook and add more game time seating around the TV. Convert the nook into a snack buffet and set up the drink station at the bar.
Additional Helpful Information
Need more ideas for getting the most of our entertaining spaces in your home?