Own the Home You Really Want with our 2-1 Buydown Offer
Imagine this: after months of searching, touring house after house after house, you've finally found it. The one that makes you breathless, the one you can envision your future in—your dream home.
And not only are you able to purchase the home, you're able to buy a new sofa and chairs for the family room and some patio furniture for cozy evenings gathered around your outdoor fireplace.
And even though you're getting your dream home, that doesn't mean you have to give up on your other dreams, like the adventure in Europe you've been planning for years. You can still afford your exciting social life with dinners out (if you don't want to whip up dinner in your beautiful gourmet kitchen). And you're still able to put money away for your golden years in retirement.
With Taylor Morrison and our 2-1 Temporary Rate Buydown offer, you don't have to imagine it. Simply put: you can have it all.
In fact, with this home buyer program, you'll enjoy a lower mortgage rate for the first two years of your loan on an eligible Taylor Morrison Showcase or Move-in Ready home when you use our affiliated lender, Taylor Morrison Home Funding—which equals a lower payment and hundreds saved every month, giving you the freedom to enter homeownership comfortably and confidently. And if you use these savings wisely over the two years you receive them through careful and thoughtful financial planning, you'll have ample opportunity to set yourself up for success now and in the future while achieving the goals that are most important to you
So, what exactly is a 2-1 buydown?
The 2-1 Buydown in Plain English
A 2-1 buydown is basically like stair-stepping into your new payment—you receive a temporary reduction in payment for the first two years of your mortgage loan. Each number represents a one-year discount to your loan rate as well as the amount of the discount. So, in a 2-1 buydown, you receive two discounted years: a 2% discount on the mortgage rate during the first year of your repayment and a 1% discount for the 2nd year. At the end of the second year, the rate is locked in for the remainder of the loan term.
Here's an Example to Help Break it Down Further:
Rather than diving head first into your new mortgage payments, a 2-1 buydown is like wading from the shallow end of a pool to the deep end. You'll have lower payments that gradually step up from year to year, giving you time to adjust and prepare. That's two extra years of saving, investing, working, and earning promotions and raises.
Behind the Scenes – How the 2-1 Buydown Works
In a temporary 2-1 buydown, a subsidy fund is set up at closing to cover the difference of the discounted rate, so you can enjoy a temporary lower payment on your newly built Taylor Morrison Showcase or Move-in Ready home. Technically speaking, the lender, in this case our affiliated lender, Taylor Morrison Home Funding, still receives the same payment as if you are paying the final loan rate for the entire duration of the loan; it's just that the subsidy fund covers a portion of the mortgage payment, giving you payment relief.
In funding this subsidy, Taylor Morrison is giving home buyers a leg up on their mortgage payments, making it more comfortable to go ahead and move in to your dream home now.
Buydowns covered by Taylor Morrison are no-risk to you. You don't need additional cash on hand at closing to cover the buydown cost and you get to enjoy the extra cash flow in your pocket monthly.
But the best part? You know exactly what to expect over the life of the loan. Unlike an Adjustable Rate Mortgage (ARM), a temporary buydown rate is fixed, meaning your payment adjusts at a pre-determined schedule and rates are locked in at closing—so you won't experience surprise adjustments or payment shock due to market rate fluctuations once you get to your final rate at year three.
With Taylor Morrison taking care of the subsidy, you get to enjoy no risk and all the reward.
Should I consider a 2-1 Buydown?
If getting your dream home and paying a lower monthly payment for a while sounds good to you, the 2-1 buydown is a great loan option. Here are some of the other common reasons:
You want to go all out in your new home with furnishings, enhance landscaping, or get all-new appliances
You expect to graduate from college and earn more income within two years
You expect a promotion or pay raise within two years
You're growing your family and would like to use the extra monthly cash flow to cover temporarily reduced hours and added expenses
You're months away from paying off another loan, such as a car note or student loan
You're an entrepreneur who has started a side business and know income will pick up in the next two years
Even if you can afford the final payment rate now, there's no reason you can't take advantage of this loan option and simply enjoy the unexpected extra cash flow each month. The only hard part is deciding how to put those savings to use!
---
Related: 5 Signs You're Ready to Buy A New Home
---
You Can Use the Savings!
Extra money in your pocket each month gives you a wealth of opportunity. For example, with a loan amount of $380,000, you'll end up with nearly $8,000 back in your pocket that you can devote to your home, yourself, and your future.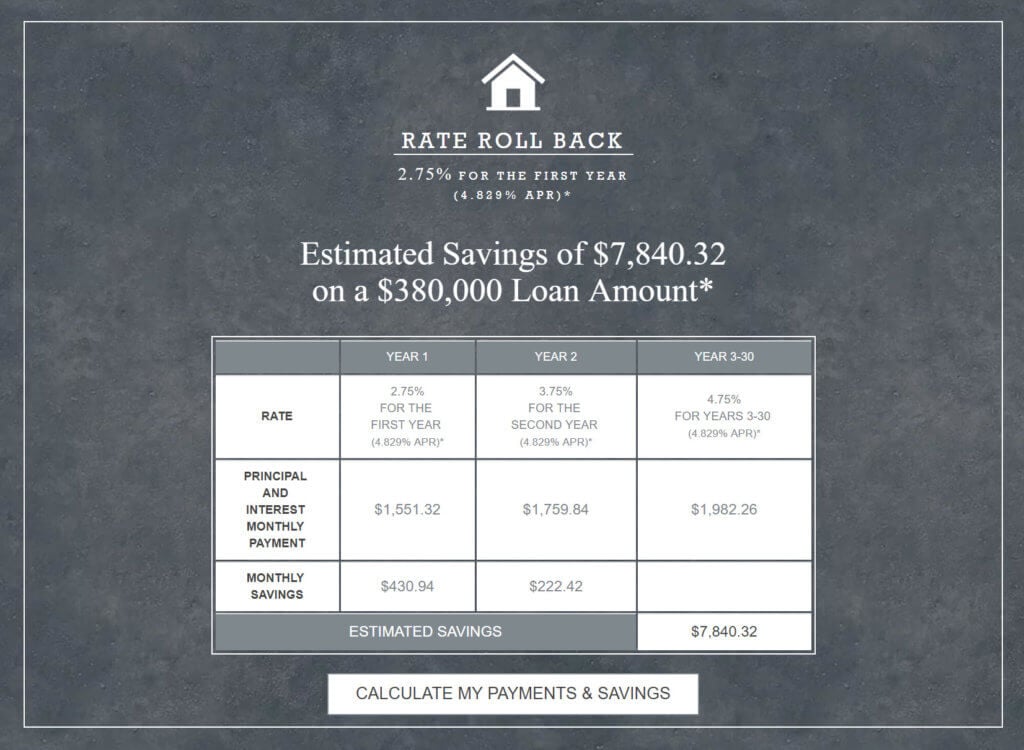 Click here for the full details on how much you can save.
Outfit Your New Home in Style
Buying a home is a big purchase, and if it's your first home and you need all new furnishings or if you'd simply like to upgrade your existing furnishings, it can be a big-ticket expense. With Taylor Morrison saving you hundreds each month, you can really turn the house into your home. Lounge around on a new sofa in the family room, get a restful night's sleep with a new bed, or outfit your windows with new coverings (which look great and result in energy savings—a win-win!).
Go on an Adventure
Life is short. At Taylor Morrison, we're all about helping you live an inspired life. If you've been dreaming of an adventure in Europe or a week of pure relaxation in Tahiti—we say go for it! The savings you receive every month can help take you on the trip of a lifetime.
Grow Your Family
For many couples, growing your family can be a big step financially. Not only do you have to buy a crib and diapers and lots of tiny clothes, but the idea of unpaid time off work for maternity or paternity leave—especially at a time when your costs are going up—coupled with the cost of childcare, can be daunting. The 2-1 buydown offered by Taylor Morrison can not only help you get into a perfect home for your new family size, but help offset some of the added costs that come with a new addition—helping you ease into homeownership and parenthood.
Expand Your Horizon
Maybe you've been putting off your master's degree, doctorate, or professional licenses or training due to your budget. Get the education you deserve and let Taylor Morrison help foot the bill with the savings from your mortgage. Not only will you feel proud of your accomplishment and the knowledge you gained, you'll set yourself up for a promotion, an increased paycheck, and the future success that comes along with it.
Invest in Your Golden Years
Plan for tomorrow with today's savings—it's one of the best ways you can use the extra cash flow from your 2-1 buydown. Invested wisely, a few hundred dollars a month now, even for just two years, can typically make a significant impact on your future, possibly meaning the difference in your quality of life and enjoyment of your golden years. If you're envisioning a retirement playing golf, traveling the world, or pursuing your hobbies, turn today's savings into tomorrow's peace of mind.
Create an Emergency Fund
Another great option is to simply sit on these savings and let them grow, giving you a windfall if an unexpected expense arises. It's recommended to have several months' worth of your income set aside just in case your income suddenly disappears or is drastically reduced so you can cover your normal living expenses, and these savings over two years can be a great start. You could also set the monthly savings aside until year three of your mortgage, when the temporary buydown expires, then meter these funds in increments towards your mortgage payment, giving you additional years of lower payments.
Peace of Mind Today, Security for Tomorrow—Get Started Now
The Rate Roll Back 2-1 Buydown Program is a smart choice for getting into your dream home now so you can make 2019 your new home year. Ready to get started?
Find Your Dream Home | Contact a Loan Consultant
Taylor Morrison Home Funding is here to help make your dream home a reality. We're with you every step of the way with a simple lending experience.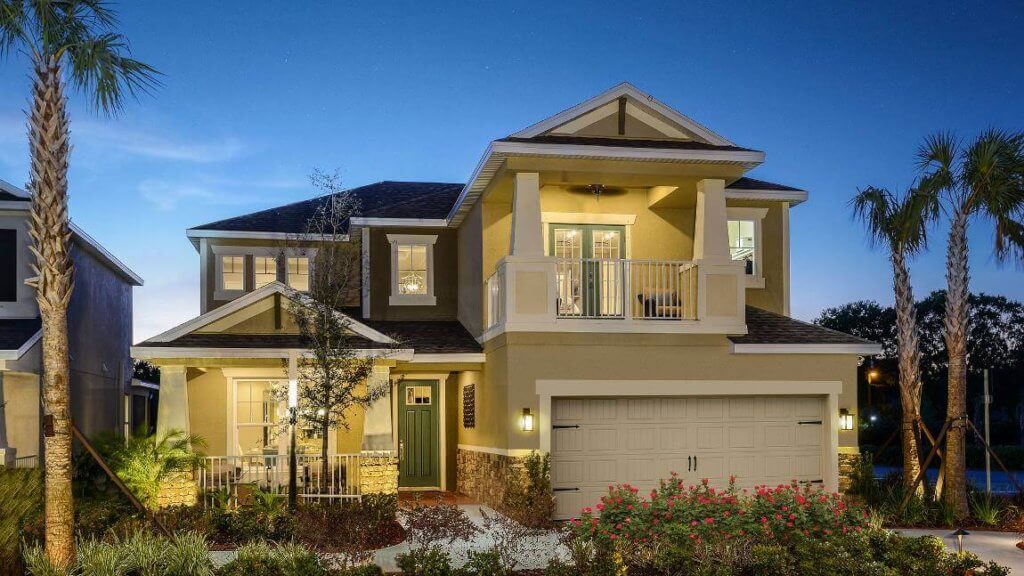 Barbados floor plan, Cypress Chase in Tampa, Florida
Disclaimer:
*2/1 Temporary Buydown Limited Time Incentive (the "Promotion") valid on new home contracts entered into as of 1/4/19 only ("Promotion Period") and applies to all eligible Showcase/Move-in Ready homes that close on or before 4/30/19, if (1) qualified buyer of an Eligible Home chooses Closing Agent selected only by Seller and finances with Seller's affiliated lender, Taylor Morrison Home Funding, LLC, NMLS #149227; ("Affiliated Lender") and (2) satisfies all other closing date and eligibility criteria (each, an "Eligible Home"). Seller to pay up to 2.5% of buyer's loan amount towards temporary buydown promotion and/or closing costs, as reflected on the final Closing Disclosure. Seller paid 2/1 temporary buydown eligible for Conventional and FHA financing for qualified owner-occupied borrowers with a minimum 680 credit score. The advertised example is for general information and based on a Conforming 30 Year Fixed loan, purchase price of $380,000, 20% down payment, median credit score of 740 and a 45-day rate lock term. Interest rates as low as 2.75% for year 1; 3.75% for year 2; no longer discounted at 4.75% / 4.829% APR for years 3-30 or remaining term. (Taxes and insurance not included). HOA dues paid separately based on the HOA's current assessments. Rate lock available after borrower completes loan application with Affiliated Lender. Rates may vary depending on program, market fluctuations, as well as other factors outside of Seller or Affiliated Lender's control. Credit score/LTV/Loan amount adjustments may apply. Rate/Points not locked and subject to market fluctuation daily without notice. Total closing cost contribution subject to Seller's contribution limitations based on mortgage program. Buyer must pre-apply with Affiliated Lender before submitting offer to qualify for the Promotion. Buyer is not required to finance through Affiliated Lender or to use such Title Company selected by Seller to purchase a home; however, Buyer must use both such settlement services to receive the above 2/1 Buydown incentive. All loans are subject to underwriting and loan qualification of the lender. Services not available in all states. Rates, terms and conditions offered are subject to change without notice. Additional licensing or other financing details regarding Affiliated Lender may be found at www.taylormorrison.com/aba. All information (including, but not limited to prices, views, availability, incentives, school assignments and ratings, floor plans, site plans, features, standards and options, assessments and fees, planned amenities, programs, conceptual artists' renderings and community development plans) is not guaranteed and remains subject to change or delay without notice. All homes subject to prior sale. Please see a Taylor Morrison Community Sales Manager or visit www.taylormorrison.com for additional disclaimers or other details (as applicable). Offer void where prohibited or otherwise restricted by all applicable state and federal laws. Taylor Morrison Home Funding NMLS #149227 is licensed in the following states: AZ #0916681; CA: DBO #4131114; CO: #347943; FL: MLD72; GA #45542, IL MB# 6761135; NC: #L-166652-101 and L-166652-102; TX branches located at 2929 Briarpark Dr., Ste. 400A, Houston, TX 77042. Additional license information available at NMLS Consumer Access: www.nmlsconsumeraccess.org. © February 2019, Taylor Morrison, Inc. All rights reserved.