Making the decision to build a new Austin, TX home from the ground up is exciting. No more making compromises based on what's available in the market – it's time to craft your dream home!
But with so many floor plans to choose from, knowing which model is right for your family can cause unwanted stress during what should be a fun experience.
Follow this simple guide and finding the perfect design for your new Austin home will be a breeze.
Set a Realistic Budget
Understanding exactly how much house you can afford is an important step in the selection process. It's easy to do this by getting pre-approved through Taylor Morrison Home Funding.
Pre-approval helps you to avoid disappointment by knowing which plans are in your price range.
Pro Tip: Be sure to leave wiggle room between the base price and the maximum loan amount you can afford. You'll want money in the budget for structural options or upgrades to personalize your space.
How Many Stories?
New construction Austin homes are available in 1- and 2-story designs. For example, at Headwaters in Dripping Springs, TX, you'll find 11 floor plans – two with 1 story and nine with 2 stories.
Most Austin area home buyers know their personal preference – but if you don't, here are a few things to think about:
1-story homes are a smarter choice for households with older people who have trouble going up or down stairs.
Many 2-story plans feature a first-floor owner's suite with all additional bedrooms upstairs for added privacy.
2-story homes typically offer more yard space when situated on the same sized lot.
Sound can carry from the upstairs to the ground floor. 1-story plans tend to be a little quieter.
Sleeping Quarters
Choosing the right number of bedrooms is an important step in the process. Be sure to think about your future plans, too. Maybe your family will grow? Or maybe your children will soon be away to college and you don't want to be empty nesters with a big home to care for.
Don't forget about visitors, either. If you host often, having a dedicated guest room is great. Contemplate alternative ideas for extra bedrooms such a craft room or home office. You can always find a use for an extra bedroom but it's difficult to add one if you're short.
Pro Tip: If you're planning on multi-generational living, consider a plan with dual master bedrooms or optional multi-generational suite like Sapphire.
Choose Function over Form
Ponder the time you spend at home. Think about your hobbies. Your needs. How you will use your home on a daily basis.
If you're a foodie then a well-equipped gourmet kitchen is a must. If you host big gatherings then an extra-large great room sure comes in handy. Love movies? How about a media center!
Maybe you need an extra-large patio for barbecuing or perhaps your favorite pastime is sitting on the front porch with a cold drink. Work from home? You'll need an office or den.
Some families require a formal dining room and others don't. Maybe you'll want a 3-car garage to store tools or sporting goods, maybe you won't.
And on and on.
Be careful to not become enamored with spaces you don't really need. It's your new Austin home and so it should suit your unique lifestyle. Don't look at plans and imagine how you'll use each space. Figure out which spaces you need and then find the plan that matches your vision.
What Options & Upgrades are Available?
Remember that Taylor Morrison's award-winning floor plans offer plenty of opportunity to personalize with Austin Design Studio. Don't just look for plans that are a good fit. Also consider plans that with a little tweaking can be an absolutely perfect fit.
Visit Plenty of Model Homes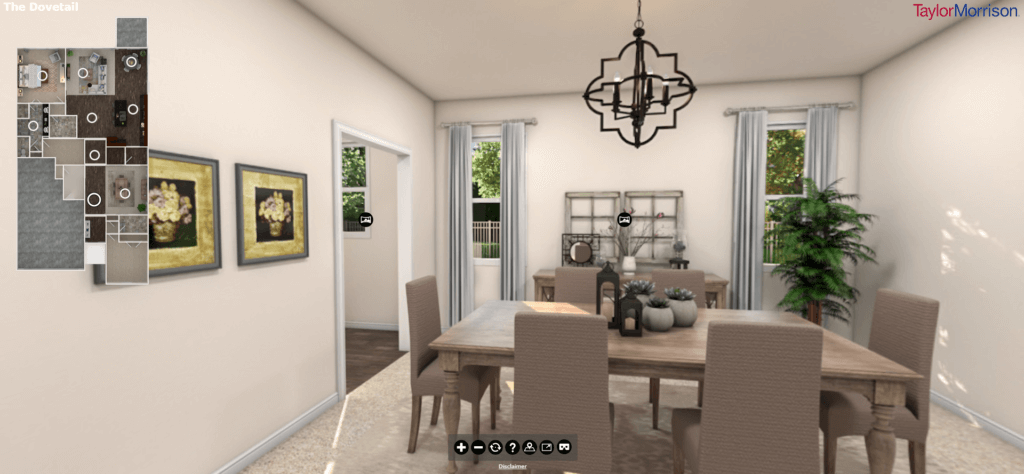 Touring a model home in person is the best way to experience a new Austin house design. If a plan that interests you isn't available as a model home in your preferred Austin new home community, ask a sales association if the design is available to tour in a different community. Often, it is.
Many floor plans offer 3-D virtual tours online, too. At Headwaters, both the Dovetail and Jasmine plans can be visited on your computer, phone or tablet.
Be sure to tour models that aren't in your price range or aren't exactly what you're looking for. You'll still get ideas about which rooms and concept you'd like to see in the final floor plan you choose.