10 Easy Questions Match You to a Spectacular Space
Looking for new homes in Arizona, new townhomes in Atlanta, or new luxury homes in Southern California? Not looking forward to spending hours on the Internet searching? Good news is here! Just answer 10 easy questions about your needs and preferences and we'll serve up a feast of fabulous new houses that fit your lifestyle like your favorite pair of jeans. To show you just how quick and easy your new house journey can be we've included a few screenshots to walk you through the Spectacular Spaces Quiz. Check 'em out, or if you're in a real hurry go ahead and take the quiz now.
One Page Does It All
Simply scroll down to learn what Spectacular Spaces is all about and the features and personalizing options that have earned Taylor Morrison the title of America's Most Trusted® Home Builder four years in a row!
Tell Us What You're Looking For
The more we know, the more "that's me" homes we can show you.
We'll start with location and practical stuff like bedroom and bathroom count Then we'll get into lifestyle questions like what you do for fun and your pet preferences, and wrap it with the all-important question about how soon you want to move.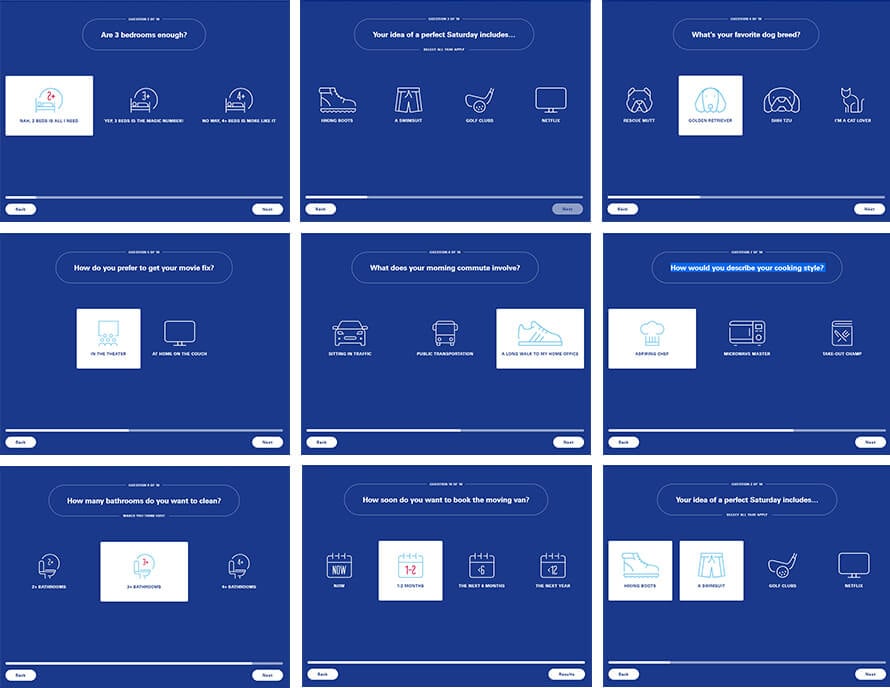 Instant Answers. Instant Gratification.
We won't make you wait weeks, days or even hours. In way less than a minute, we'll analyze your answers and deliver the results. But wait, there's more. Along with our suggestions, you'll get options to refine your results.
Or, Just Cut to the Chase
We're all about choices here at Taylor Morrison. So if you are in a hurry to find a new house in Tampa for instance, just press a button and we'll show you a down-right dazzling selection of homes that are ready for move-in. Toggle and filter the results to fit your needs.
That's the Home for You. Now What?
If you're ready to move right now, then the next step is to schedule a tour, or in many communities, just stop by the sales office. You can get the info you need and driving directions on your community of interest's web pages on the Taylor Morrison website.
Need more information? Those same webpages have links so you can easily send an email requesting information or phone the Internet Home Consultant for that area. If you're not quite ready to move, join the VIP Interest List for your community and we'll send email updates.
Before you visit, take advantage of all the tools at TaylorMorrison.com. For example, the floor plans give you a good overview of the standard configuration for the home you want, along with a tool that lets you toggle the various layout options on and off. Many floor plans also include a space planning tool that lets you virtually arrange furniture. Even better, many plans offer virtual tours—3D walk-throughs of the home. Peek into closets, look around the kitchen and see all the counter and storage space, notice how easily traffic flows through the open areas of the home. Notice, too, how well the space is designed for entertaining, relaxing with your family or retreating to your private quarters.
Make the Home Your Very Own
When we say Taylor Morrison homes are inspired by you, it means every home incorporates features that homeowners like you have told us they want and need. But we also know that every homeowner has a different dream of what a spectacular space is. So once you make the decision to purchase your new home, you'll have plenty of opportunities to create a uniquely-you environment. In addition to the layout options we told you about, you get to visit the Taylor Morrison Design Studio. It's a service offered exclusively for our new homebuyers and not open to the general public. You'll schedule a personal appointment to visit and meet with a professional design consultant. He or she will show you the upgrades and design options available for your plan and budget allowance. Those choices can include everything from flooring to appliances, fixtures and hardware, wall and window treatments and much more. Fear not, you won't be overwhelmed. Your design consultant will help you coordinate it all. Learn more about adding your signature touches here.
---
Related Reading:
---
We're Building More Choices Every Day
Just in case you don't see exactly what you're looking for in your Spectacular Spaces quiz results, or you're not quite ready to move just yet, no worries! Taylor Morrison has been building new communities and new homes for over 100 years, and we don't plan to stop anytime soon. Dozens of new communities and model homes will open in 2019 in Taylor Morrison divisions across the country. Check out the New Models and Communities to Tour in 2019 blog article. You'll see new selections throughout Florida, Georgia, The Carolinas and Illinois. And, hey, that's just Part I. Part II covers Texas, Arizona, Colorado and California! Explore the areas that interest you and join the VIP Interest lists for email updates about community progress, pricing and floor plan releases, special offers and invitations to special events.
Discover the Taylor Morrison Difference
A new home is a big investment and we're not just talking about money. You invest your hopes, dreams and heart into that piece of real estate. You want to be sure you're making a decision that can live up to all those aspirations. Spending a few minutes discovering the Taylor Morrison Difference will put your mind at ease. Find out why we've been voted America's Most Trusted® Home Builder in 2016, 2017, 2018 and 2019 in an independent survey of house hunters and home buyers. Spoiler alert: It's a combination of integrity, dedication to craftsmanship, and knowledgeable service from people who care about helping you find your spectacular space.
Start your search for your new home by taking the Spectacular Spaces quiz now or visit Find Your Home anytime you decide today is the day you're going to make your move. Whenever that is, we'll be here to help.