Guest Contributor: Lee K. Crowder | Design Gallery and Model Home Branding Manager, Taylor Morrison and Darling Homes. Meet her dog, 13. Here they are at Hamilton Park in Carrollton, Texas
—
This topic is close to my heart because the newest member of our household is a wild six-month-old Old English Sheepdog, 13. Just like when you have a human baby, there are lots of things to you have to consider when finishing, furnishing or accessorizing your home. Here are some design tips and products that will make your new home dog-friendly without sacrificing style.
Get Help from the Experts
One of the extra-added advantages of buying a new Taylor Morrison home is the Design Studio. It's your opportunity to personalize your home with options and upgrades, with the help of a professional design consultant. Be sure to let yours know that you have a dog (or cat, bird, reptile, etc.). All our design pros are product-savvy and can help you make pet-appropriate home design choices with tips like these.
13 gives the model home at Hamilton Park in Carrollton, Texas four paws up.
Dog-Friendly Flooring
Flooring is always one of the biggest considerations when pets are involved.
Dark ebony floors show every speck of dirt and dog hair. So unless you own stock in Swiffer, go with a lighter finish.
Flooring that shows the wood's grain and has some texture is always a good choice for pets.
Hardness of the product should come into play, too. The Janka Rating Chart measures the comparative hardness of woods. For instance, Southern Yellow Pine is a 600; Black Walnut 1,010; White Oak 1,360; Maple 1,450; and Hickory/Pecan 1,820.
White tile is the easiest flooring surface to clean, although older dogs sometimes have trouble getting up from the high gloss tiles and can slip on them when walking.
Cabinetry Finishes
Cabinet finishes can take a beating, too, especially on those places where you store pet food and supplies. Painted cabinets have a more durable finish than stained versions.
Build-Out and Built-In Ideas
When you buy one of Taylor Morrison's to-be-built new home and even in some of our quick-move-in new homes, you'll often have your choice of pet-friendly structural options and design upgrades. If you're handy in the DIY department, you can also make some of these simple modifications yourself.
Pet Washing Stations
Tour a dog-friendly model home for more ideas at Bevington Floor Plan at Meridiana – 65' Homesites
This is a popular feature that's being offered in more and more of our new houses. When you visit a Taylor Morrison community, be sure to ask the sales representative to point out which floor plans offer pet baths.
Look for plans that offer a pool bath option and consider repurposing it for a dog wash.
If you want to build one after the fact, a utility room is a good location. Typically, there's already a floor drain. You'll also want fully tiled wall space, a wall-mounted shower head or nearby faucet that can accommodate a hose. If you have a small breed that is easily lifted, all that may be necessary is a to add a utility sink in the laundry room.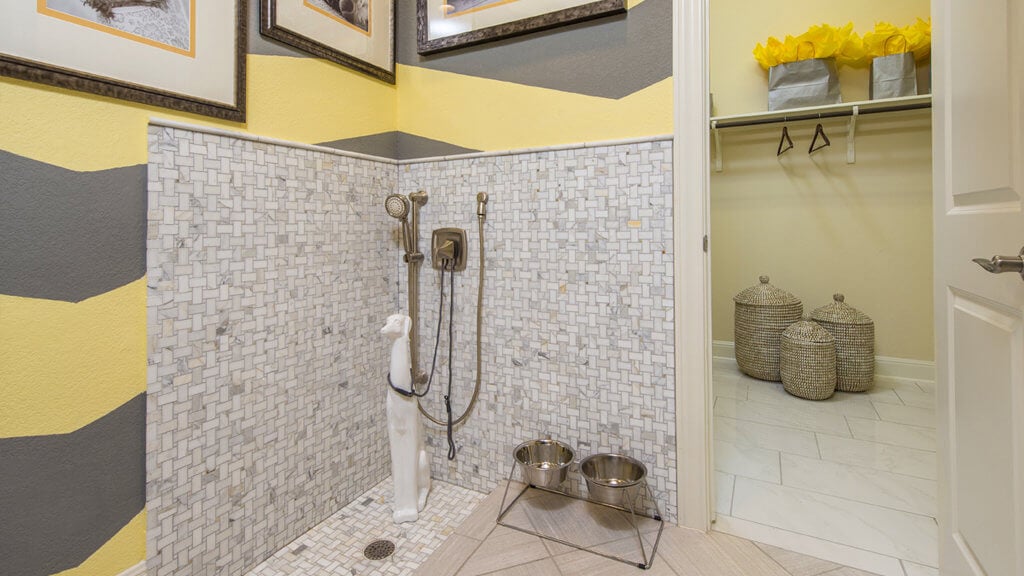 Fowler Floor Plan | Heritage at Vizcaya
Pet Feeding Stations
You can easily remove the doors from a bottom cabinet in the room or area where you plan to feed your pets. Then just have a handyman (or handywoman) cut bowl-sized holes in the bottom shelf. Elevated bowls make eating easier, especially for our old buddies.
Another option is to utilize an existing trash pull-out or install one to store those Big Box-size bags of kibble. While you're at it, consider installing pull-out drawers next to the trash pull-out to store pet food bowls, treats, medicines and other pet supplies.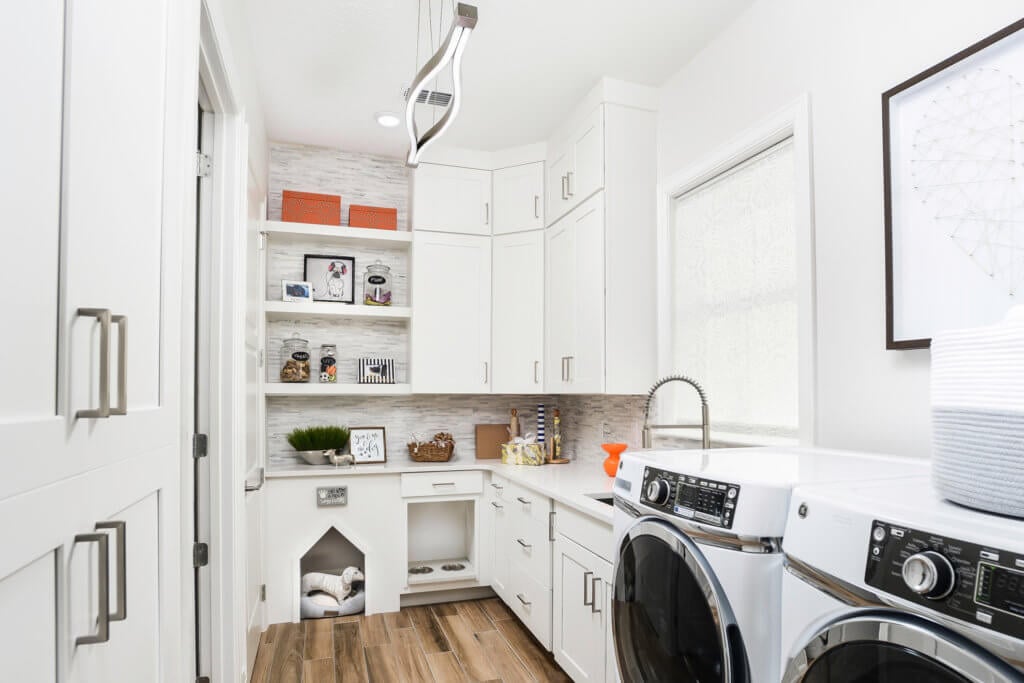 Tour the model home at Esplanade at Highland Ranch in Clermont, FL for more ideas
Doggie Dens
Your dog's ancestors lived in lairs where they felt secure. Your pet feels the same way about his crate. But instead of the big clunky cage, use the closet under your staircase or have your buddy's private retreat designed into the laundry room. Have the space tiled for easy maintenance.
A DIY addition after move-in could be to cut out a section of the closet door at your pup's eye level so he can see what's going on. You can add balusters that match your staircase or trim to prevent unwanted escapes.
If your home is already built-out, make space in the lower cabinets of your laundry room and place their bed in there. Leave one door open for easy access or remove the doors completely.
Fun Stuff for You and Your Dog
Spoiling your pup is a big part of the pleasure of having a dog. And, oh boy, there are so many toys, treats, accessories and essential to pamper a pooch. Here are some of my favorites and a wish-list item.
Sylvester and Co. offers collectable, pet-safe Fiestaware™ dog bowls stamped with their GOOD DOG moniker, made in the US.
The Beast Made enamel dog bowl comes in two sizes, has a rubber ring on the base to keep it in place and the durable enamel cleans with just a rinse. It's made New York by Best Made Co.
Also from the Beast Made for Best Made collection, a premium dog cushion with aesthetic appeal and easy care durable Peruvian cotton cover.
Dry crusty dog noses and sensitive paw pads rejoice! The Natural Dog Company offers US-made 100% vegan remedies including Snout Soother and PawTection.
AKC Smart Dog Collar is available on Amazon and provides GPS tracking and activity monitoring that works with iOS or Android within the US. Definitely on my wish list!
From Espacio Handmade here in Texas, Honest Dog leather collars let you tell the world how you feel about your dog with snap-on/snap-off mix-and-match embossed badges that include Adorable, Doofus, Stinky and Trouble, as well as your custom choices. Too cute.
Our dogs have been eating Muenster Milling all-natural dog food from this family-owned Texas company for years. They sell a variety of formulas for cats, chickens and horses, too.
More Pet-Friendly Ideas
Check out these Second House on the Right blog posts for helpful articles just for pets and their people.
Find a Forever Home for You and Your Pet
Start your search for the new home you and your pet will love.