Guest Contributor: Lee K. Crowder, Design Gallery and Model Home Branding Manager for Taylor Morrison and Darling Homes
If you've ever banged your hip into a sharp countertop corner and then struggled not to drop that pan of steaming hot lasagna while you writhed in pain, this article is for you! It's all about the amazing number of kinder, gentler, and even edgier counter edge profiles available. It's also the first in a new monthly series here at Second House on the Right. With the help of Lee Crowder, our Design Gallery and Model Home Branding Manager, we'll discover how all the little design details available at our Design Studios can combine to make an impressive style statement in your new Taylor Morrison home.
Why It Matters
Choosing the right countertop edge profile is a lot like choosing the right accessories to complete an outfit. The edge can enhance the beauty of your countertop, complement the overall style of the room and add a lot of panache. Clearly, something with that much impact deserves careful consideration. Lee Crowder recommends you select your countertop material first and then select the edge profile. She adds that two of the countertop materials favored by homebuyers today are granite and quartz.
It's important to decide on the countertop material first. The character of the material can make an impact on your edge. A good rule of thumb would be the more movement a countertop material has, the simpler the edge should be.


Lee K. Crowder
Movement refers to the natural patterns and waves that occur in granite.
Function is another important consideration, according to Lee. "The shape you choose can impact everything from cleaning, to daily use and safety." For example, the more curves in a profile, the more surfaces you'll be cleaning.
Be an Edge Expert
Here's a quick overview of some of the more popular edge profiles. You'll find them prominently featured in models home everywhere we build – from the gourmet kitchens of our Austin communities to the luxurious master baths of our new homes in San Clemente.
Full Bullnose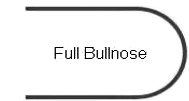 The soft full bullnose profile is rounded from top to bottom. It lends itself to more traditional looks. Because it has no sharp edges, it's a great choice if you have smaller children—fewer worries about owies. That continuous rolled edge can make wiping up crumbs a challenge, though.
Demi Bullnose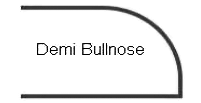 This has the same rounded top as full bullnose, but the bottom curve is squared off to maintain a consistent thickness on the countertop.
Ogee
The ogee edge is a classic, featuring a concave arch that transitions into a convex arch. It enhances the beauty of granite and works well with any formal or traditional style. Just be aware that those multiple arches mean more surfaces to clean and polish.
Bevel
Also known as a chamfered edge, the bevel profile looks like a square with the top edge shaved at a 45-degree slant. The width of the bevel typically ranges from ¼ to ½ inch. It's a sophisticated finish that works equally well in bathrooms and kitchens.
Chiseled

If you're going for a rustic or natural look that reveals the interior character of a stone countertop, chiseled does the job superbly. It's a distinctive design aesthetic, but it's not the most comfortable edge to crash into.
Flat or Square Edge
Featured in the photograph at the start of this article.
This is a top pick for modern or minimalist designs because of its no-frills profile. While it's not actually sharpened, it can be sharp none the less. It's also prone to chipping, which is why many installations include small kerfs (slits or grooves) that can provide a softer look and help minimize chipping.
Eased
An eased profile has the clean lines of the flat edge but with slightly relaxed corner. It retains the clean, simple appeal of the flat edge without the chipping concerns or the ouch factor. It also gives your countertops a thicker appearance.
Waterfall
If you want the ultimate in modern and sleek, this is the edge profile for you. The countertop starts with a flat edge and then extends all the way to the floor (just like a waterfall), creating a seamless look. It works especially well in kitchens.
With so many choices, it can be a bit bewildering. But Lee says you need not worry. "Our Design Studios are staffed by professional design consultants. One of their jobs is to help you navigate all the selections and choose those that work for your style and lifestyle."
Keep It Clean & Bright
Each counter surface (and its complementary edge) has specific care and maintenance requirements. Be sure to read the care instructions came with your new Taylor Morrison or Darling Homes home. However, here are a few commonsense general care tips that apply to any type of surface.
Excessive heat can crack or mar your surface. Never place a hot pan, pot or dish directly on it. Use trivets or hot pads. This is really important if you're using a slow cooker that exposes you counter to heat for long periods of time. Place it on a wooden cutting board.
Speaking of cutting boards, never cut, chop, slice or dice directly on your gorgeous new counter.
Don't climb on the counters. Use a step stool. Not only is it safer, it will prevent the possibility of cracks or chips.
Wipe up all spills as soon as possible to prevent staining, spotting and etching.
Whenever possible, use the product recommended by your manufacture to clean and polish your countertop. In a pinch, a mix of one teaspoon dishwashing liquid to four cups water in a spray bottle will work. A soft microfiber cloth is preferred. Never use anything abrasive, not even a nylon scrub pad.
Read More. Learn More.
Immerse yourself in all there is to know about countertop care and contemporary design trends with a little supplemental reading (or viewing).