St. Patrick's Day is around the corner and that means everyone's got Ireland on their mind. Rolling hills. Plenty of greenery. Endless miles of open space. There's just something about Ireland that's simply magical.
But you don't have to fly across the Atlantic to enjoy enchanting landscapes and scenic vistas. Located 16 miles east of downtown San Francisco, new luxury houses for sale in Orinda, CA at Wilder bring Old World charm to Bay Area real estate.
Read on to discover why Orinda, California is a spectacular place to live. Stay in the know for all things Wilder by signing up for the VIP Interest List.

A Rustic Ambiance for Bay Area Commuters
Blessed with beautiful parks, well-maintained trails and a rugged yet captivating landscape, Orinda has long attracted successful Bay Area naturalists to build a calmer, greener lifestyle just east of Berkeley.
As part of northern California's Chaparral biome, the city offers a Mediterranean-like climate with warm, dry summers and cool but temperate winters.
Hilly and picturesque yet close to the city, the region is an excellent option for Bay Area new home buyers who work hard and play hard. Additionally, the rural setting provides the privacy and spaciousness of large homesites and beauty of open spaces surrounding new home developments in Orinda, CA.
The city of Orinda offers plenty of local interests while keeping San Francisco and Bay Area entertainment within reach.
Explore Tilden Regional Park
The jewel of the East Bay parks system, Tilden Regional Park is accessed at a number of locations. Hiking aficionados can choose from a selection of trails including Meadows Canyon Trail, Nimitz Way, Wildcat Creek & Boulevard Loop and Grizzly Peak Trail. Along with 2,000+ acres to enjoy wildlife, flora and peaceful tranquility, the park offers a botanical garden, educational facilities, nursery and more.
Life in Orinda helps you understand that sometimes all you need is fresh air and a comfy pair of walking shoes.
Showtime in the Making: The Famed Orinda Theater
At the forefront of local arts and entertainment sits the historic and revered Orinda Theatre. Opened in 1941 to much fanfare, the theater has provided Berkeley and the East Bay suburbs an elegant destination for top films and live performances for over 75 years. A community landmark, the current owners celebrated the venue's Diamond Anniversary with 50 cent tickets, just as they were priced for the original opening night gala.
Today, the Orinda Theatre hosts a selection of annual concerts with the option to purchase one of four membership packages with seats to the entire season of events.
In addition, the theater is home to the innovative California Independent Film Festival along with the Rheem Theatre and Castro Theatre. The one-week celebration of film is an annual event inviting visionary artists from around the world to share their work. The festival's mission is to inform, inspire, encourage and educate.
For more live performances in Orinda, discover the renowned California Shakespeare Theater at Bruns Amphitheater. 100 California Shakespeare Theater Way, Orinda, CA.
Stay Fit and Healthy with Farm Fresh Produce
Offering the perfect blend of small-town charm with modern convenience, the Orinda Village is a great place to feed your farm to table palette. A weekly Farmers Market runs from the spring through the fall to provide residents with delicious organic fruit and vegetables and an exquisite selection of fine artisan foods.
Stock your pantry with the best of northern California produce while maintaining a healthy eating culture in your new build Orinda, CA home.
Market Hours: March 31-November 17, Saturdays from 9am to 1pm
Orinda Way near the Rite-Aid and Community Park
Food Truck Feast in Orinda
Take your taste buds on a mini-vacation every Thursday night from 5-9pm. Sponsored by Taste of the World, try a sampling of delicious ethnic cuisines from around the globe. Food Truck Feast is a fun weekly outing and a great way to add new dishes to your repertoire.
Food Truck Thursday, 28 Orinda Way in Orinda, CA
Become Part of a True Community
Orinda residents are proud to be part of a tight-knit community and people are encouraged to join and participate in local organizations. From coaching youth sports to joining CERT to help neighbors prepare for an emergency, there are ample opportunities for getting involved in the community.
Amenities to Build a Lifestyle Around
The resort-inspired pool and recreation complex at Wilder are the perfect complement to the stunning natural landscape surrounding the community. More than just a place to cool off on a hot day, the swimming pool and surroundings look and feel like something out of a holiday brochure. Why wait for your next vacation when you can experience the relaxing bliss every day of the year?
Socialize with like-minded neighbors and plan get togethers with family and friends. Access to a private community clubhouse is just part of master planned luxury living.
Exceptional Schools
Give your students the head start on their future that they deserve. School-aged residents are zoned for high-performing public schools and a selection of acclaimed private institutions are also available.
Ready to Make Your Move?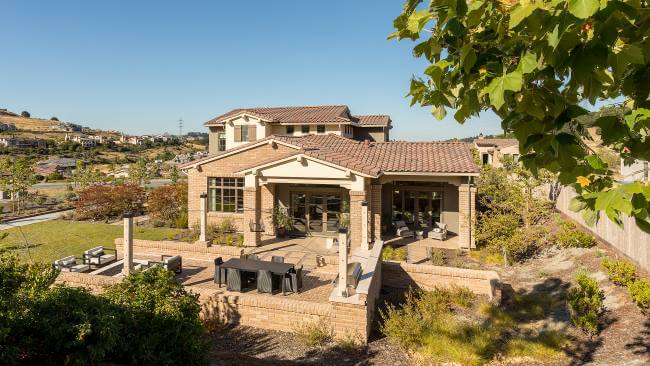 When shopping houses for sale in the Bay Area, it's easy to get lost in the shuffle. With so many options, which luxury homes are truly luxurious, and which are impostors? At Wilder, you can rest assured that Taylor Morrison's homes in Orinda, CA are more than you imagined. It's lush, resort-inspired living in an idyllic East Bay location.
Choose from 5 elegant estate-sized floor plans designed and crafted by America's Most Trusted® Home Builder. 4- and 5-bedroom homes range from 3,331 to 4,360 square feet and feature sophisticated living spaces meant to elevate your lifestyle. From gourmet kitchen appointments that hit the mark to lavish owner's retreats and 5-star quality master bathrooms.
Additional Resources