When shopping for a new 55+ Houston home, it's easy to get too caught up in the square footage, curb appeal, countertops, flooring, storage and so on. While this stuff is important, the real secret for finding the best age-qualified new home community in Houston is to focus not on the physical residence but the lifestyle you can expect to live there.
How will you spend your time? What amenities does the community offer? Do they match your hobbies and interests? What clubs and activities are available?
And perhaps even more importantly, what kind of neighbors will you have? What sort of people does the community attract? Are they like you? Do they aspire for active-living and love to live, laugh and get the most out of life like you do?
In this post, we'd like the share two real-life stories from residents at Taylor Morrison's beautiful active-adult community in Montgomery, TX. You'll see the kind of people who live in the community and love the lifestyle that Bonterra at Woodforest offers.
Would you fit in?
The Bonterra Bluebird
You can tell a lot about a person from the type of car they drive. Are they adventurous? Cautious? Flashy or full of energy?
When Connie Knox rolls into the neighborhood, it's clear at first glance that she's vivacious and loaded with spirit. She's painted her car front to back with colorful birds and a gorgeous flower wreath. The beautiful artwork puts a smile on her face, just as it does for her neighbors at Bonterra, too.
In fact, Connie's so proud of her Bonterra Bluebird that she even entered her car in the 32nd Annual Houston Art Car Parade. Ask how they did the next time you see them parked around town.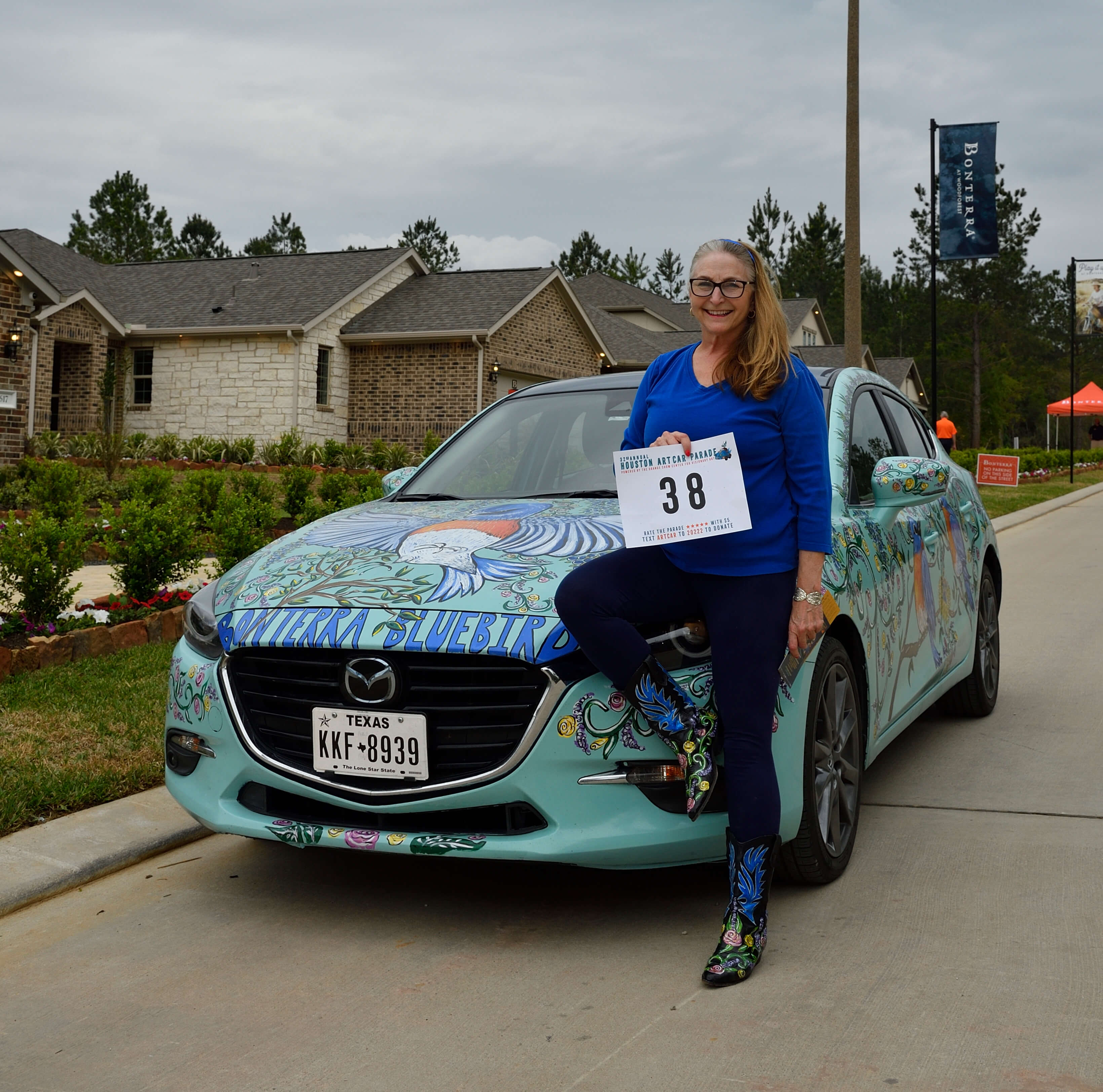 The Bonterra Rough Riders
At Bonterra, life isn't just what happens inside the community. The full-time Lifestyle Director coordinates all sorts of thrilling adventures and excursions and fellow residents do, too. And when the Tour de Houston was set to return, the community cycling club just knew that they had to participate.
The Tour de Houston Presented by Apache is a fundraising bike ride that benefits Houston's Reforestation Program. It's an annual event and a unique way to explore the city on two wheels. The cycle route dips and winds its way through Houston's historic neighborhoods, scenic districts and parks. To make the event more accessible, there are three different length options, ranging between 20 and 60 miles.
At the end of the race, there's a big post-ride party in Hermann Square at City Hall. Riders enjoyed free food and drink with a backdrop of fantastic live music played by local musicians.
Think you could hang with the Rough Riders? Grab your helmet and get peddling. You'll be in shape in plenty of time to take to the road for the Tour de Houston in the spring of 2020!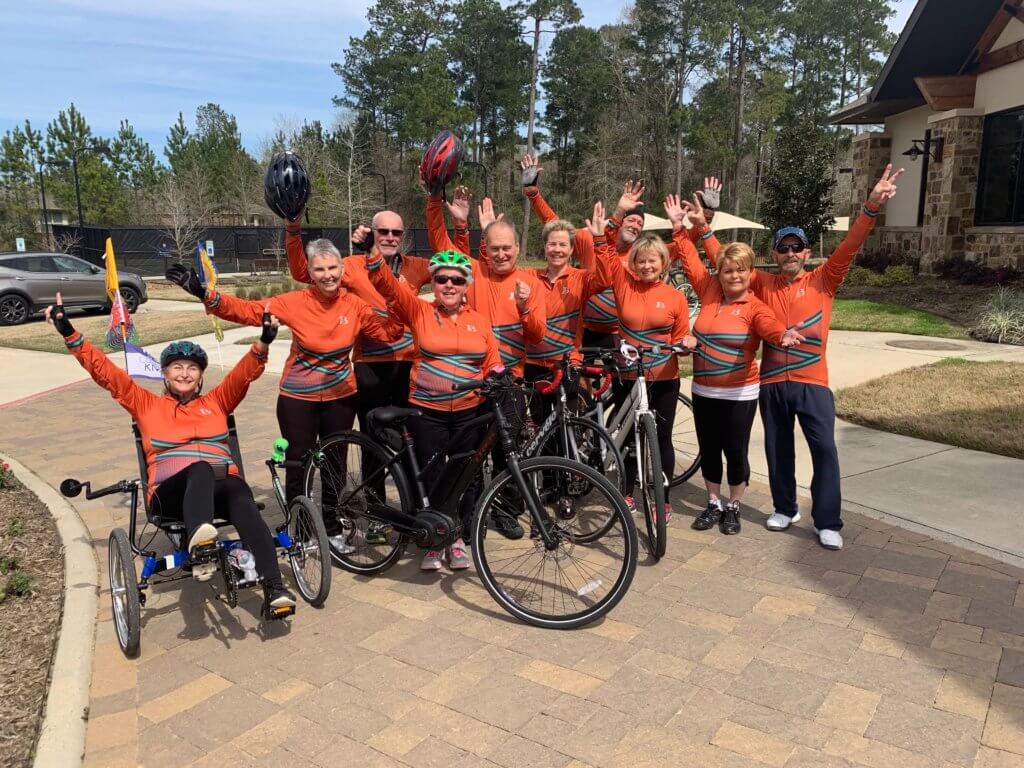 Fellow Adventurers Like You – Who are Excited about the Future
When we say that the Bonterra lifestyle is different, we really mean it. And that's why we invite anyone who's even curious about 55+ living in Houston to stop by and take a tour of the community.
Here are a few more examples of the type of days you can expect to enjoy all year long when you join the Bonterra family:
Grab your swimsuit and your favorite book for a relaxing afternoon at the sparkling blue lagoon-style swimming pool. Soak up the sun in your lounge chair with periodic dips to cool down and refresh.
Stay fit and healthy with a truly state-of-the-art fitness center. Along with all the cardio equipment and free weights you need to work up a sweat, you'll also have access to fun classes including yoga.
After an intense workout session, enjoy a rejuvenating massage treatment at the Spa. Treat yourself to a mani-pedi before heading home.
Lace up your walking shoes or wheel your bike out of the garage, with miles of multi-use trails it's easy to map out a mini-adventure in your own community. Pathways take you through acres of greenery, scenic vistas and fragrant mature pines.
Spend quality time with new friends and old at the spectacular 10,000 square foot clubhouse. You'll find all the facilities you need to plan a lively get together including access to a catering kitchen.
Spend the evening around the fire pit enjoying wine with friends, sharing story and building community.
Compete with neighbors on the bocce or the pickle ball court. Additional outdoor sports facilities are also available.
Sign up for members only events, classes, activities and excursions. From wine tasting to gourmet cooking classes and artisan 'how to' courses, your Lifestyle Director keeps your calendar busy.
How to Get Started
If you think that the people, personalities and lifestyle of Bonterra might be the right fit for you, here are a few links to get you started on the way to your new 55+ home journey.
Call now or schedule your model home tour online.
629 North Dayflower Drive, Montgomery, TX 77316
281-780-4652