Guest Contributor: Lee K. Crowder, Design Gallery and Model Home Branding Manager for Taylor Morrison and Darling Homes shares some bathtub selection ideas.
Immersing in tub full of warm water (bubbles, scented oil and music optional) can be like a mini-vacation away from the cares of the world. No wonder Taylor Morrison homebuyers put a luxurious master bath with a spa-like experience on their "dream home" wish list. And for many of people, a big part of that luxury is a freestanding tub like those we see so often in the pages of upscale magazines. But before you take the plunge, take a couple minutes and read Lee Crowder's words of professional wisdom on the pros and cons of built-in versus freestanding tubs.
Explore the freestanding tub with walk-in shower in the Owners Suite at Home Design 8093. See the model home in person by visiting Bridgeland, Parkland Village – 80′ Homesites. Learn More >
What's the Key Difference?
TM: Assuming any bathtub will get you clean, what are the key differences between freestanding and built-in tubs, Lee?
Lee: The primary difference is installation. Like a kitchen sink, a built-in tub can be either undermounted or drop-in. The biggest of advantage of an undermount tub is that it's better suited for tub/shower combinations in terms of keeping water in the tub and off your floor. If your bathroom has a separate walk-in shower, as many Taylor Morrison master baths do, it's not a major issue.
A built-in tub will be finished on top and unfinished on at least two sides, the sides are installed against walls or within a pre-built tub enclosure. The shape of the finished built-in tub results from the design of the bathroom space it must fit into, usually an alcove or a corner.
By contrast a freestanding tub is a bathtub that's finished on all sides and doesn't need to be attached. It will often look like piece of furniture or even sculpture like the tub shown here from a Darling Home.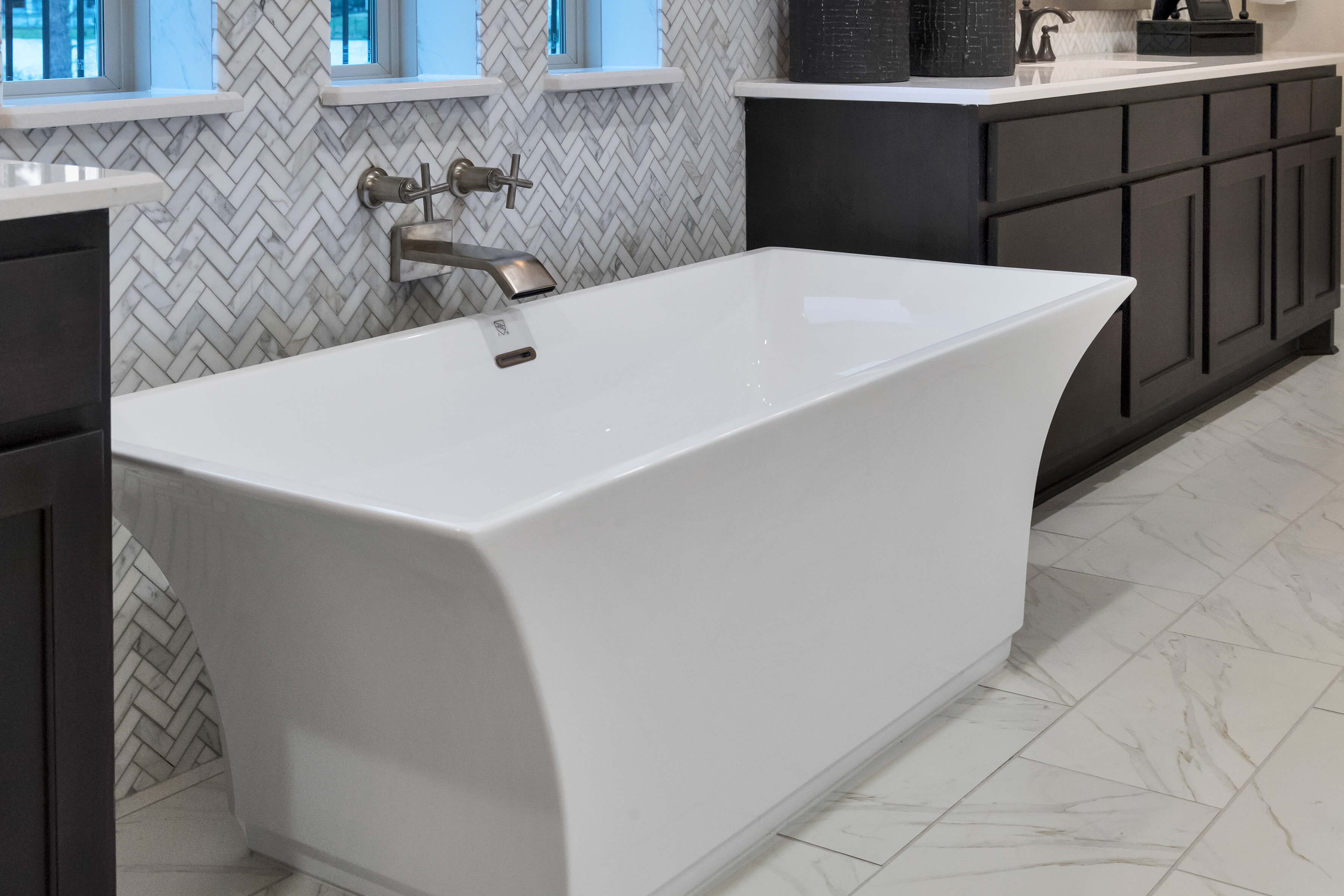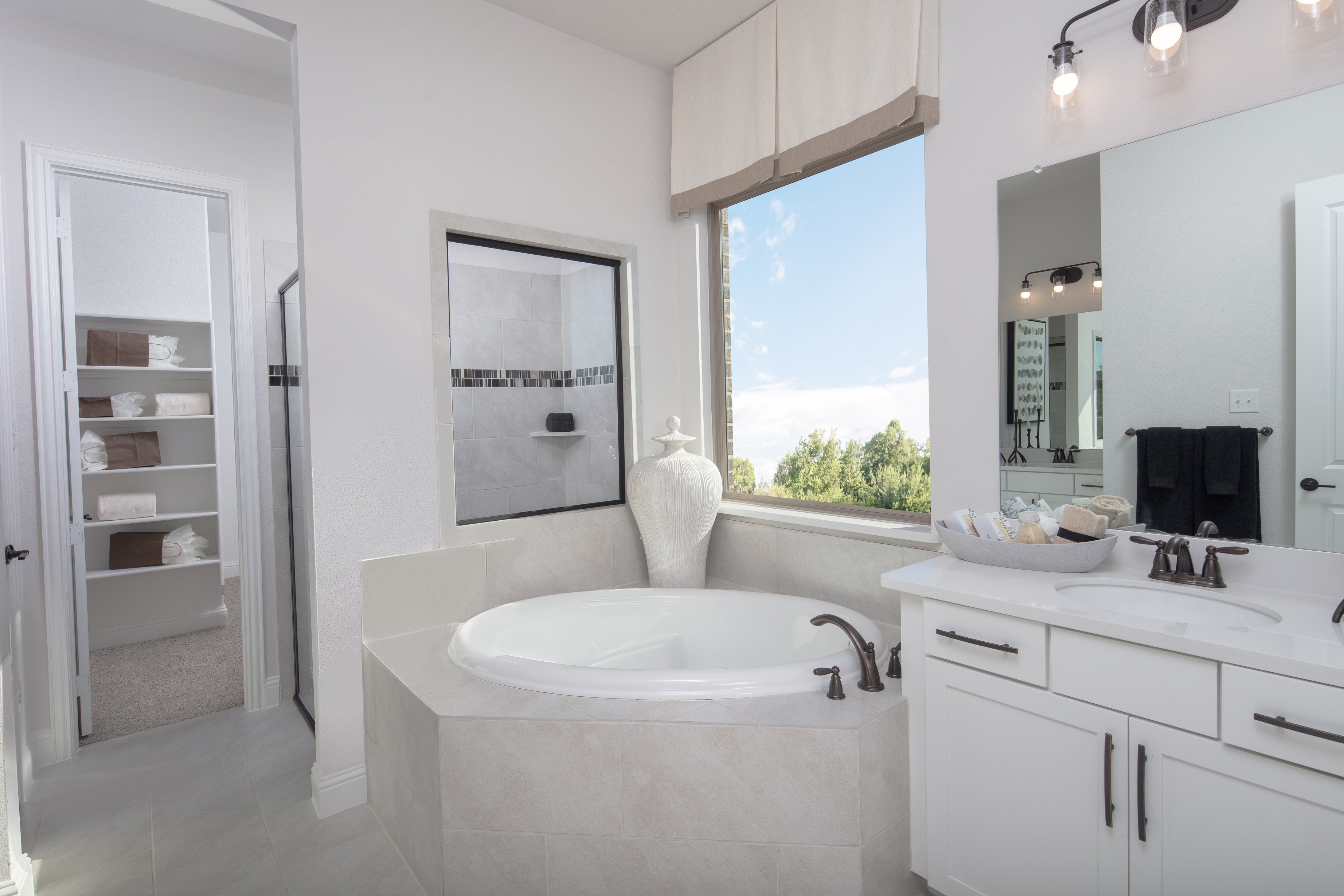 Bathtub Cost
TM: Is there a cost difference between freestanding and built-in bathtubs?
Lee: In the past freestanding tubs came with a big ticket price but lately there are some more affordable options. Besides the actual model there are factors that affect the cost for both freestanding and built-in tubs. With a freestanding tub, for example, whether the plumbing comes from the floor or the wall can result in a costly bottom line. A built-in tub generally has a more standardized plumbing requirement, which can make it more affordable. Finishes can drive up the cost of a built-in tub. You want to make sure to take into account the tile being used of the apron (the front of the tub) and material (either countertop or tile) that makes up the deck of the tub.
---
---
Practical Bathtub Considerations
TM: Are there any other pros and cons homebuyers need to take into consideration?
Lee: If space is an issue, a built-in tub wins hands-down because most bathrooms are designed to accommodate a built-in. A freestanding tub takes up more space because there needs to be sufficient empty space around it to showcase the design. In some cases, you may have to give up something else to fit in a freestanding tub.
Cleaning can be another practical consideration. Dust bunnies can hang out in that empty space behind your freestanding tub, and the shape and material of your freestanding tub may require extra cleaning or even special care. Built-in tubs are easier to clean because they're based on straight lines with hidden places for dirt to collect.
You'll want to give some thought to storage, too. A built-in tub will have a spacious deck for storing bath accessories, toiletries and extra towels. A freestanding tub won't, so you'll probably need to add a decorative towel rack or side table that suits the design aesthetic for your style bathtub.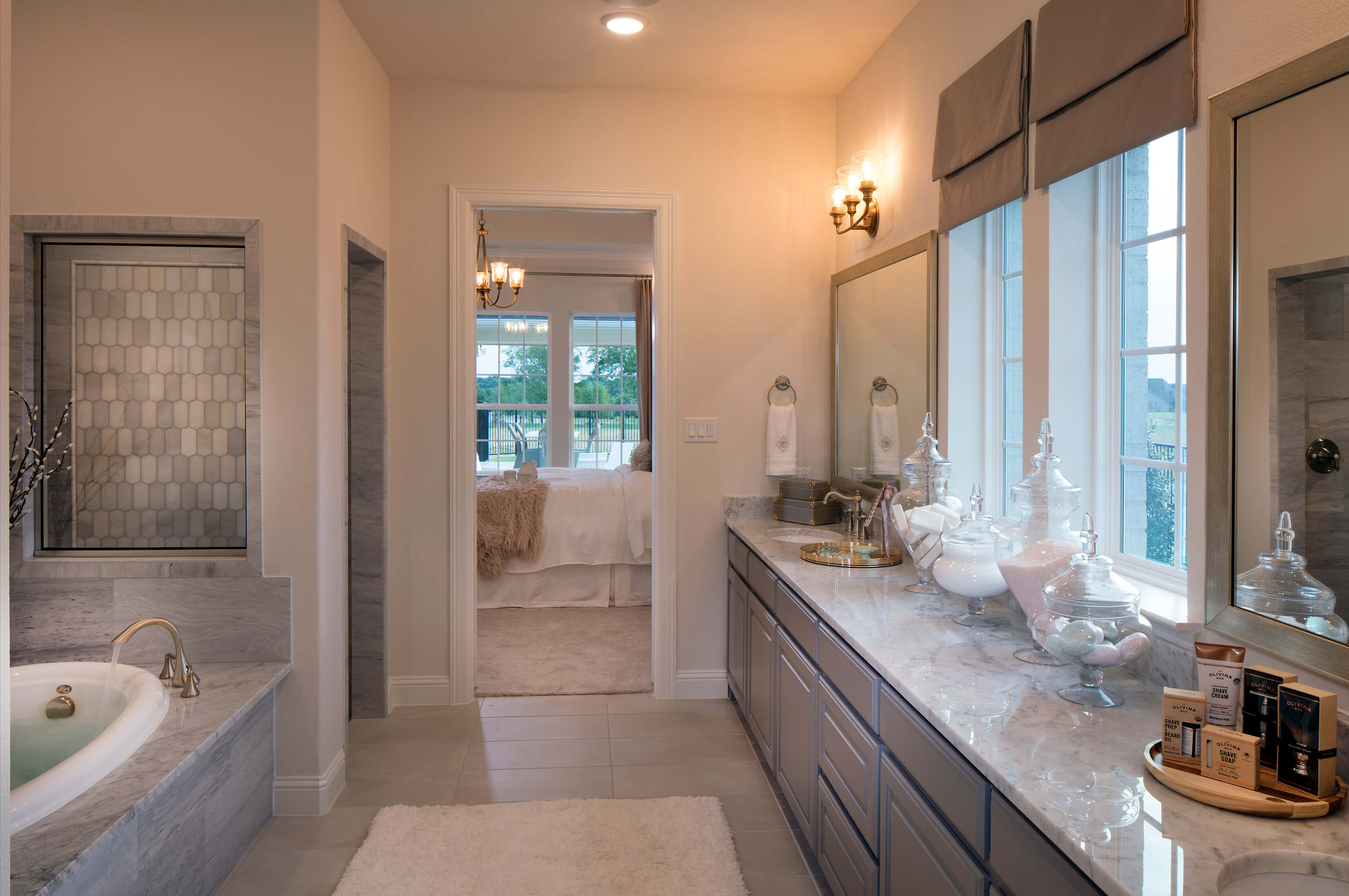 Don't forget comfort and ease of access. Freestanding tubs frequently have more height, which allows for a true deep soaking experience. But that means you have to be confident in your ability to get in and out of the tub. Built-in tubs typically have contoured lines inside the tub, which allows for more comfort, and they're generally easier to climb into and out of.
Aesthetic Issues
TM: Practicalities aside what about aesthetics?
Lee: Built-in tubs can certainly be a dramatic focal point depending on how they're finished or placed. Freestanding tubs are often planned as the centerpiece of a space, so of course they're visually stunning. They also tend to be more modern, sleek and in general less bulky looking.
Finding a Home for Your Perfect Bathtub
Okay, now that Lee has provided all the insider info you need to choose the tub that suits your style of
sybaritic soaking, all you need is a place to put it. The best way to do that is to tour a Taylor Morrison model home near you. If you're in the market for new Dripping Springs real estate or looking for new homes near Austin, take a look at our Dripping Springs homes for sale at Headwaters. You'll find 11 different one- and two-story home designs with two to four bedrooms and three to four full baths. Depending on the plan, you can choose from a variety of optional configurations including a freestanding tub option at the master bath.
Creating a Home Spa Experience
Did you know that every Taylor Morrison home comes with the opportunity to add upgrades and options that express your personal style? The Taylor Morrison Design Studio experience is only available to our new homeowners. With expert guidance from a professional design consultant, you can choose just the right fixtures, colors, tiles and finishes to create the home of your dreams, complete with a bathroom that rivals a world-class spa.