This season, fall in love with a new Sacramento area home and enjoy the perks of your choice of one of the below seasonal offerings from Taylor Morrison. Wherever life takes you next, you deserve a home builder that embraces your moves as much as you do. Whether you're about to start your family or become an empty nester, we've got the perfect home for you—plus your choice of one of the following special offers to make your move even easier.
Make Your Move Offer 1*
A complimentary home theater package so you can enjoy the best parts of the movie theater experience at home with:
1 each Samsung 65" Flat Screen TV
1 each Klipsch Bar 48 Sound Bar
1 each Klipsch Wireless Subwoofer
1 each Flat Screen TV Mount
Make Your Move Offer 2**
Or, if you've purchased a to-be-built home, you can add your personalizing touches and style to make it truly your own with half-off options, up to $10k! See sales manager for details.
Our homes are inspired by those driven to make a change, and that's why we ensure every home is uniquely designed for your style and needs. Browse the Sacramento area communities to find a home you'll fall in love with and a lifestyle that inspires you.
Movie Nights to Move For
Sacramento has a variety of homes that are ready now to be your new address. With your new home theater package, you can skip the lines and go to the movies in the comfort of your pajamas. After all, your move isn't just about your new home, it's about the new chapter of your life that will be written inside. And here, we believe that next chapter will always be the best one yet.
Make the Move to Fiori at Serrano
In the move-in ready Nicklaus-plan home in Fiori at Serrano, you can enjoy the perfect combination of function and style. With 3 bedrooms, 3.5 bathrooms, and a 3-car garage, you'll have plenty of room to live and relax. This model offers a kitchen with an extended working island and walk-in pantry, perfect for hosting parties or making popcorn for movie nights. The sweeping gathering room is the perfect place to kick back, relax, and enjoy a few hours enthralled by the big screen with your new theater system. After a long day, retreat to the spacious owner suite privately located in the back of the home, complete with a split vanity, roomy walk-in closet, separate soaking tub and walk-in shower. You'll love life in Fiori at Serrano, where the community is a harmonious blend of upscale style and relaxing nature—the perfect homage to the Sacramento lifestyle.
Avery Floor Plan
If you're dreaming of snuggling up on the couch to watch your favorite holiday movies, why not curl up in the great room of the ready-now Avery home in Roseville? The Avery model also offers an over-sized kitchen island, large dining nook, and a spacious 2,119 square feet with three bedrooms and two baths. Plus, it's a great fit for homebuyers who need a dedicated in-home office. Stop by the Treo at Solaire community to take a look.
Part of the 400-acre Solaire master plan, which boasts an impressive lineup of amenities and activities of its own, Treo offers a vibrant, active lifestyle convenient to both downtown Sacramento and the majestic Sierra Nevada mountains.
Welcome Home to Woodland, California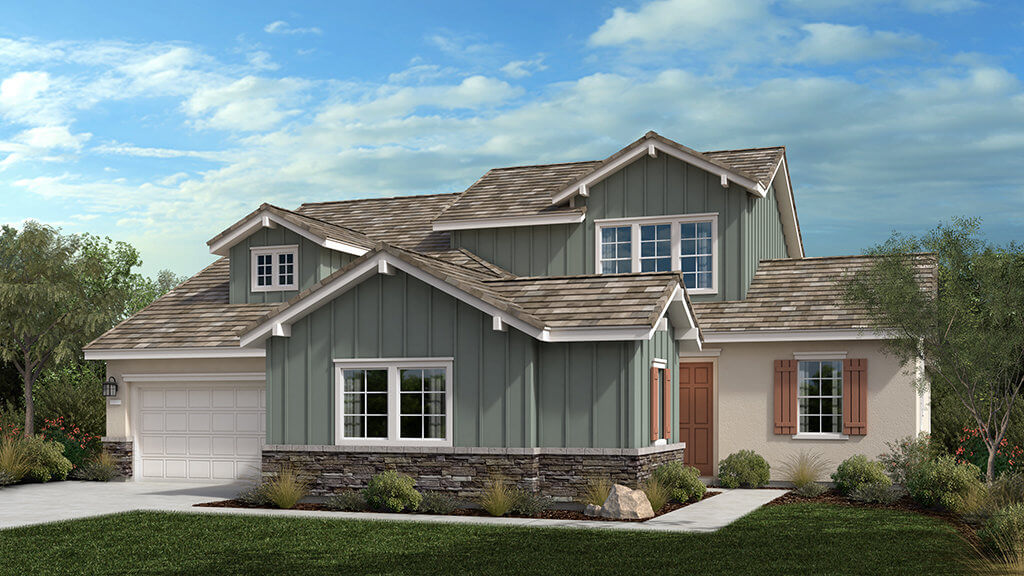 If you're searching for the perfect Woodland home for sale and you're ready to pack up and move, the Yale floor plan home at 1668 Boots Place in Ivy at Spring Lake should go to the top of your list!
Featuring 4 bedrooms, 4 full bathrooms and a 3-car garage, you'll have all the space you need to enjoy life. A spacious kitchen sits at the heart of the home with a large working center island and plenty of counter space, and a roomy dining space and gathering room overlook the backyard. The owner's suite is privately located with its own soaking tub and dual walk-in closet. Whether you have the home theater installed in the gathering room or you turn the fourth bedroom into a movie room, you'll love feeling like you're at the movies right in your own home.
Living in the Ivy community, you'll enjoy getting in tune with nature with a walk in the meandering nature trails, and with its location just on the outskirts of Sacramento and close to the Sierra Nevadas and Sacramento and American Rivers, Ivy is always just around the corner from rich experiences, delicious dining, and outdoor adventure like nowhere else.
---
Additional Helpful Information
---
Design Life Your Way
If you're not quite ready to move or you want more input on the design and finishes of your new home, not to worry—we have an option for you, too! As long as you close by December 31, 2020, you can pick your floorplan and get your home your way with half-off options up to $10K.
Taylor Morrison's design studio offers features that will make your dream home a reality. Add your signature touches with ease and create the perfect new home to match your unique personality and style.
Don't miss out on this incredible opportunity to find your dream Sacramento home with two great buying options and incredible incentives! Visit a Sacramento-area sales center to take the first step toward your next step today. Get ready to fall in love with your new home and make moves in 2019.
Disclaimer:
*Move-In Home Theater Package includes: one (1) each of the following: 65" Samsung TV, Klipsch soundbar, Klipsch wireless subwoofer, TV mount and install in standard location, with an a total approximate retail value of $2,000.00 ("APR") and is valid to all cash or financed buyers on qualified Sacramento-area inventory homes for contracts written on or after October 1, 2019 and which subsequently close on or before December 31, 2019 NO PERIOD NECESSARY HERE. ("Promotion Period"). The model/colors and actual value in of Home Theater Packages vary by Community/Home. No substitutions or cash value; manufacturer's warranty applies. For financed buyers, all lender guidelines apply.
**To receive up to a $15,000 Design Studio credit ("Design Studio Incentive"), on any THE "O" WAS MISSING to-be-built home for contracts written on or after October 1, 2019 and which subsequently close on or before December 31, 2020 ("Promotion Period"). Design Studio Incentive, which will be applied only upon the close of escrow, must be set forth in a Design Studio Incentive Addendum at the time of purchase and may be applied towards Buyer-Selected Options and/or Upgrades only (excludes structural options). Any unused portion of the Design Studio Incentive may not be used towards a reduction in the Purchase Price and will be forfeited. No other substitutions, discounts, incentives, offers, coupons, etc. will apply, except as expressly agreed to in the Purchase Agreement and/or in a fully executed Addendum or Amendment to the Purchase Agreement. If escrow fails to close for any reason or if eligibility criteria is not satisfied, the Design Studio Incentive amount shall not be paid. For financed buyers, the Design Studio Incentive, when combined with any other incentives being offered by Taylor Morrison, may not exceed loan program limitations, if any. Compliance with all state and federal laws apply. Taylor Morrison reserves the right to change, extend or discontinue the Design Studio Incentive at any time or retract the offer should buyer not meet eligibility requirements.
Prices, programs, and availability are subject to change without notice. Photos are for illustration only and do not necessarily represent actual community. Offer void where prohibited or otherwise restricted by law. No Purchase Agreement may be negotiated or signed by a prospective buyer for the purchase of a home until the Community's applicable Conditional or Final Public Report has been issued by the Department of Real Estate (DRE). Please see a Taylor Morrison Community Sales Manager for details and www.taylormorrison.com for additional disclaimers. Taylor Morrison Services, Inc., Corp. DRE # 00968975.© October, 2019, Taylor Morrison of California, LLC. All rights reserved.