What does it mean to live within Las Vegas' premier urban and residential community of Summerlin? When it's in the Affinity neighborhood by Taylor Morrison, it means your fun in the sun lifestyle is in great hands. That's because Colleen Beck has just been recognized by the Southern Nevada Home Builders with the Silver Nugget Award for Lifestyle Director of the Year.
We recently caught up with Colleen over Zoom to talk about the award and got some insight into how she helps make Affinity such a fantastic place to live. We learned a lot about what it takes to be a successful Lifestyle Director and why she's so passionate about what she does for a living.
About the Award
The annual Silver Nugget Awards program is a collaboration between the Southern Nevada Home Builders Association and the Las Vegas Review-Journal, to recognize the best in design and expertise in the local home building industry. It's about honoring those who make southern Nevada a great destination to purchase a new home and a fantastic place to live.
Why Live in a Community with a Lifestyle Director?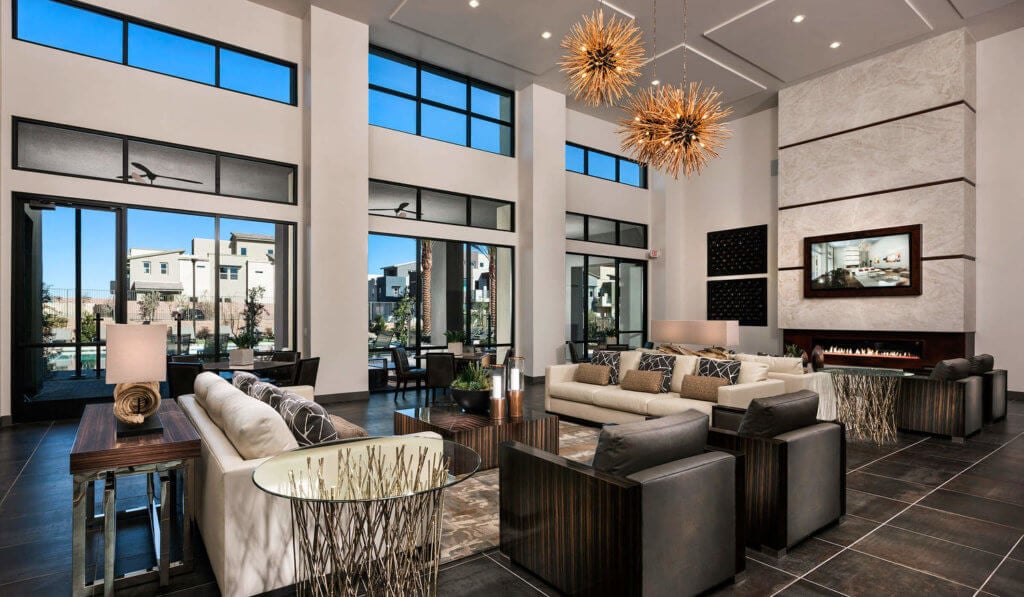 While tons of great events and activities are certainly a huge perk, Colleen said that first and foremost, the residents at Affinity love that she's able to make people feel like there's somebody here that cares. Someone whose sole job is to make Affinity feel like a true community.
She's got a magnetic personality that brings people together. As the Lifestyle Director, she connects people, whether it's matching up tennis players with tennis players, pet sitters with pet owners or cyclists with cyclists, if you're looking for a new friend, talk to Colleen and she'll know exactly who to set you up with.
After all, even though there are hundreds of people who live in the community, she knows every single one of them. When you purchase a new home for sale in Las Vegas, NV at Affinity, Colleen will be right there to meet you when you move in. She welcomes all new residents into the community personally so she can find out exactly what lifestyle they're looking to achieve and then point out the perfect amenities, classes and programs to make it happen.
The Champion of Fun
Some residents like to call Colleen the Champion of Fun and she said many residents are surprised that not only is she available full-time, she also runs the fitness courses herself. Colleen considers herself a lifelong learner when it comes to fitness and helping people get into the mindset for healthy living. She also practices what she preaches, as her favorite activities are hiking and enjoying the great outdoors, hobbies she picked up after living in Alaska for 21 years.
Some of the free classes she runs include:
HIIT: High intensity cardio. 45-second intervals followed by 15-second recoveries. Work at your own pace.
BURN: Body weight exercises you can also do with free weights or resistance bands.
YOGA: Structured for all fitness levels.
In addition, when you can't make a class, WELLBEATS™ virtual classes are also available on demand in the Movement Studio. Choose a class by type, time, equipment, or any combination from the easy to use kiosk system and enjoy fun, easy, or challenging classes for all levels.
Colleen also organizes all sorts of happenings and events throughout the year, from holiday parties to off-site hiking excursions, painting classes, wine and cheese pairing, you name it. Every month she hosts a friendly Coffee Talk where she lets residents know what's coming up on the horizon. You can also sign up to receive her newsletter for more great information about Affinity events and things going on in the area.
On top of all that, she also manages the clubhouse, fitness center and pools.
Now That's Flexibility
Colleen loves her job, and she brings a smile to work every single day. She told us, "Affinity is my second home."
And that means COVID-19 hasn't slowed her down one bit. Sure, for a little while big in-person gatherings and events need to be put on hold to keep everyone safe – but in the meantime, she's been able to go virtual.
And residents are responding. HIIT, Burn and Yoga attendance is up 380% since going virtual!
She said that in some ways the pandemic has helped create a stronger bond with residents as she needs to get out into the community to connect on a one-on-one basis, let people into the fitness center herself personally, and so on. She's had to get creative, like arranging a Popsicle Day, where she canvassed pool area with free popsicles for residents to enjoy under the Las Vegas sunshine. (She said the adults were more excited than the kids!)
And to help residents stay positive during these strange times, she's put together weekly Survival Guides loaded with fun and interesting ways to stay busy, upbeat and healthy at home, including delicious recipes.
The Affinity Lifestyle
Taylor Morrison offers four unique communities of new construction homes within the Affinity Las Vegas master planned community: Moda, Luna, Evoke and Revo. Be sure to check out all four new home collections as some are now selling final opportunity units and almost sold out.
Affinity is located in "The center of it all," right in the heart of Summerlin, Las Vegas' premier urban and residential community back dropped by the stunning Red Rock National Conservation Area. When you live here, you're close to all the dining, shopping and entertainment you can imagine – from Las Vegas Ballpark, the home of the Las Vegas Aviators, to downtown, bike trails, restaurants, bars, the casino and more.
Known as a lock-and-go community, new construction Summerlin homes for sale at Affinity are designed for homeowners who are looking for a low-maintenance lifestyle where you can shut the door and hit the town or hit the road in a flash. Choose from a wide selection of beautiful attached homes inspired by the way you live.
A unique characteristic of Affinity is that the community is open to all ages. Most planned communities with a full-time lifestyle director are for 55 or better but at Affinity, residents of all ages can enjoy the classes, facilities, location and vibrant way of life selling now in Summerlin.
Amenity highlights include:
Two swimming pools & two spas
Fitness center open 24/7
Free fitness classes
Multiple lounges
Multi-purpose room
Kitchen (can be rented out for events)
Outdoor barbecue area
Fire pits
Things to Do in Summerlin
If you think The Strip is home to all the action in Las Vegas, Summerlin would like to have a word. Imagine having all of this right at your fingertips:
Ten golf courses
Nevada Ballet Theatre and the Summerlin Library and Performing Arts Center
Warsaw Ghetto Remembrance Garden
150+ miles of trails carved through the desert oasis
More than two dozen parks
Countless options for food and drink
Ice skating
Plan Your Visit Today
Come see the difference of living in Summerlin, Las Vegas at Affinity by Taylor Morrison. Life's great here – and with Colleen Beck as your full-time Lifestyle Director, it gets even better!