Here at Taylor Morrison we've created a variety of tools that embrace the digital world and make it easier than ever before to buy a home "sight unseen," or as we like to call it, #SiteUnseen (purchasing without ever having toured the property in person). Whether you're unable to visit a sales office, or simply prefer to tour options from the comfort of your couch, we're here to empower you on this unique type of home-buying journey.
Over the last 12 months, Taylor Morrison has averaged a little over one home per day sold 100% virtually, so if you think you're alone in this non-traditional way to buy, you're not! As technology evolves and more and more people migrate out of densely-populated metro areas (with many companies extending remote-work options for their employees), virtual home buying will continue to grow. While it may seem like a daunting experience, we're here to guide you through the process of buying a new Taylor Morrison home "sight unseen" with the following advice.
Know Your Budget, Pre-Apply for a Mortgage, and Map Out Your Wants vs. Needs.
This advice is not limited to buying a home sight unseen. Any house hunter should take this first step, regardless of how they are planning to purchase. Everyone's financial situation is different, but you'll want to figure out how much you can pay each month and then work backwards to find the purchase price that suits you and your family.
Check out our online, state-of-the-art mortgage technology, Dorothy, to help "pre-apply" for a mortgage before you start house hunting. This process includes analyzing your income, assets, and present debt to estimate what you may be able to afford on a home purchase. Pre-application speeds the process once you find the home you want to buy, which is extremely important given the hot market we're currently operating in where time is of the essence! Obtaining mortgage "pre-approval" is another thing entirely, but it's a good idea to take that step as well (as it shows that you're a serious homebuyer who can secure a mortgage, which helps in this highly competitive market). To purchase a Taylor Morrison home, you can either use the lender of your choice or work with our affiliated lender, Taylor Morrison Home Funding. Qualification and market conditions change during construction so working with a lender that understands our construction process keeps everyone working together for a seamless transaction.
After you come to a clear understanding of what you can afford, create a list of what you absolutely must have in your new home. Prioritize what's important to you, whether that's location, number of bedrooms/bathrooms, square footage, or something else. As you work through that priority list, you should start to consider which items are not necessarily deal-breakers for you. Coming to terms with these wants vs. needs will better equip you to narrow down "finalists" as you virtually scope out options.
Get to Browsing.
Head to our website and filter by city, price, and bedroom count to get a preliminary sense of what's available.
Get in Touch with an Internet Home Consultant (IHC).
You may not be physically with someone at a sales office, but you are not alone in this process! Getting in touch with an IHC from the area you are interested in is the best way to ease the stress of this unconventional purchase journey. It's like having a personal concierge for home buying! With inventory flying off the market quicker than anyone can build, it's a great idea to get in touch with an IHC early on, as homes you may be seeing online one week may be unavailable the next. It's a frustrating reality of the market right now, and an IHC is going to be in-the-know of what communities are likely to go fast so you'll have a clearer idea of what to expect by talking with them via phone, chat, or email. Sharing that list of wants vs. needs will help the IHC guide you in your next steps.
Digitally Immerse Yourself With the Communities You're Interested In.
Many of our communities have interactive floor plans and 3D virtual tours, and it's all right there at your fingertips. Watch and rewatch the available tours and envision how you might fill the space if it was to become your home. Explore the 3D space room by room and virtually look around—you can even open "measurement mode" in some of our tours. Take notes on questions you have. If a 3D tour is not available for a community you are interested in, don't fret, your IHC can set you up with a virtual tour from an actual salesperson at the models you're interested in. Even if a 3D tour is available, you can still set up a virtual walkthrough! Our passionate sales team will customize your sight-unseen experience to suit your needs—don't be afraid to ask them for photos and videos that you can "revisit" later on—let them be your eyes on the ground!
If you already know exactly what you want (depending on availability in the the area you're interested in), you can easily reserve a quick-move-in home or even a to-be-built home online, selecting from available homesites and floor plans without ever needing to be in touch with an IHC or a sales-team member beforehand!
Use Outside Resources at Your Disposal.
Don't get us wrong, the IHCs and sales team you'll work with are experienced, reliable resources of information, but it doesn't hurt to add an extra pair of eyes. If you have a trusted family member or friend in the area you are looking to buy in, see if they'd be willing to take a physical visit for you. Buying sight unseen can be nerve-wracking, so it always helps if you have someone you know who can provide additional reassurance. If you have no one in the area, you can still share the virtual assets and info you've been reviewing with someone close to you. Get their input! They might think of a question or concern that you haven't considered. Use other online tools to help make an assessment: poke around Google maps to see what's in the neighborhood or check public school rankings in the area if you have children. We want you to feel as comfortable and confident as possible with this important, life-changing decision.
Remain Patient and be Communicative.
While online tools providing virtual access to shoppers have forever changed the home buying experience, it's still not as simple as a "click to buy now" process. No amount of technology or virtual tools can change the nature of the current market (with extremely high demand and not enough inventory), so you may be met with unforeseen setbacks. For example, in some areas we are taking the Highest and Best Offer approach to selling homes, which is essentially the process the resale market operates in. Home shoppers will be invited to submit their Highest and Best Offer for available homesites, and the most competitive offer will be selected. We empathize with you about how competitive the market is today and how frustrating that may be for some home shoppers. Regardless of these unusual market conditions, we aim to provide an excellent customer experience for every home shopper and buyer. Communicate with your sales agent early and often to make sure you're aware of potential stipulations surrounding a community/homesite you may be interested in.
Embrace the Journey!
Buying your new home #SiteUnseen can be just as exhilarating as buying it in person. We're here to help you every step of the way.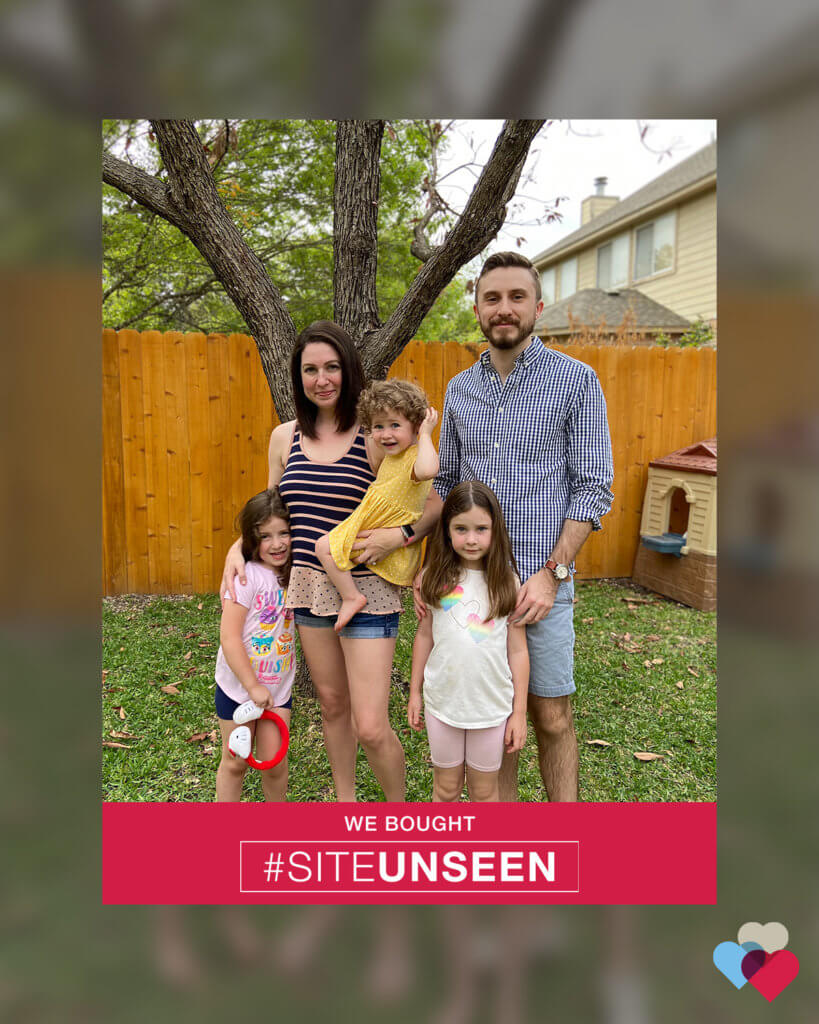 "We were a lot less nervous about buying 'sight unseen' because of the amount of tools and exposure we've had to the home itself. We could tell it's a quality product."

Taylor Morrison Homebuyers Jeremy and Alyssa, Phoenix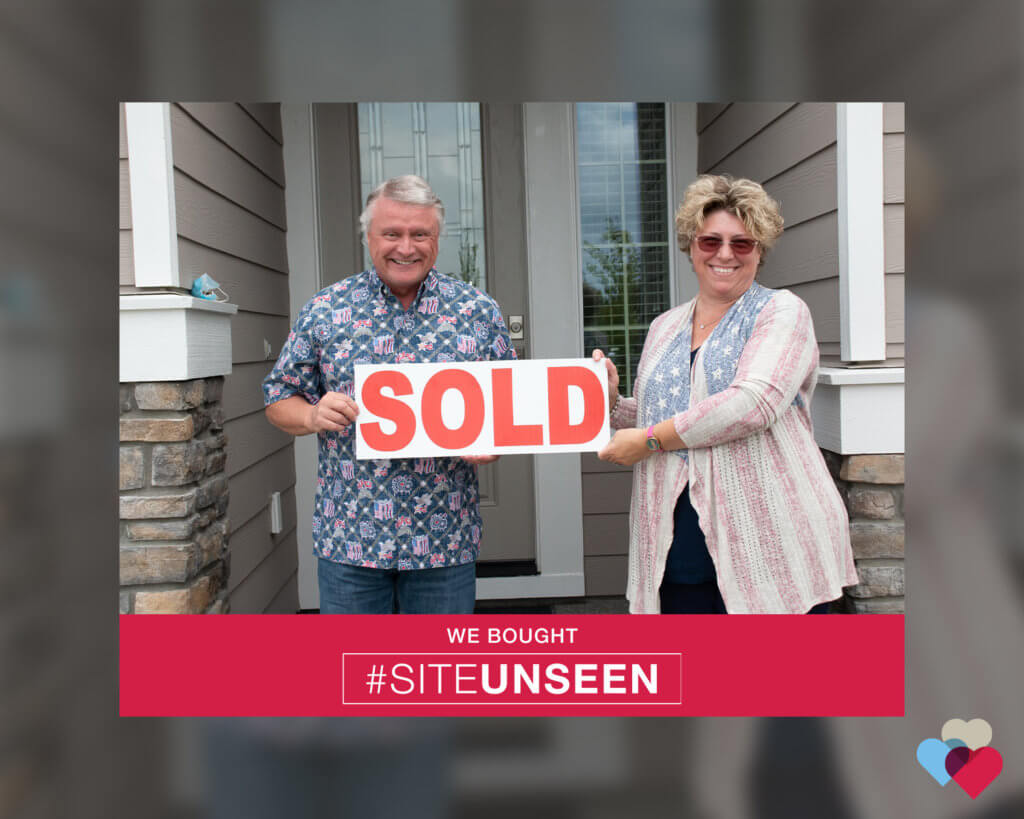 "The best thing about Taylor Morrison's online tools, aside from the fact that they are intuitive, is that we can use them any time of the day. When you're excited about the homebuying process and you want to keep things moving along, this is the way to be able to have instant gratification."

Taylor Morrison Homebuyers Bill and Jennifer, Seattle