Thanksgiving is fast approaching, which means it's time to break out the fall and Thanksgiving decorations, favorite recipes, and best outfits for the living room! Today on the blog, we'll be going over Thanksgiving trends and Thanksgiving decor ideas to keep your home stylish and uniquely yours this November. Let's get decorating!
Consider These Fall Interior Design Trends
Read on for the season's latest and greatest color trends.
Warm Colors
Wave goodbye to cool neutrals and welcome in warm and dark colors this season. A perfect example of this is Sherwin William's color of the year prediction: Redend Point (SW – 9081). This warm, deep blush hue exudes a sense of calm and coziness, perfect for the cooler upcoming months.
You don't have to paint your walls to incorporate Redend Point into your home this Thanksgiving season! Pick up throw pillows, blankets, books, and small knick-knacks in the color to follow the trend.
Wondering what other colors will pair with your new Redend Point accessories? The color complements bone whites, deeper browns, and taupes. Sue Wadden, the director of Color Marketing at Sherwin Williams, shares her perspective on this year's pick.
"Two major themes we wanted the 2023 Color of the Year to represent were warmth and empathy. For warmth, Redend Point reflects what we've been seeing in terms of neutrals warming up and earth tones evolving."
Redend Point isn't your only option this Thanksgiving season. For a timeless and classic look, pair deep brown hues with creamy whites and watch a picturesque space spring to life!
More dreamy fall color combinations include:
Taupe and sage green
Jewel tones that invoke a moody, luxe feeling
Creamy orange and soft white
If you're worried about your home becoming too dark or dreary, stick to adding warm and dark accents versus entire pieces of furniture. The contrast of a light base with dark accents can be quite striking, especially during the exciting holiday season!
Quick and simple ways to incorporate trending colors for fall include:
2022 Thanksgiving Decor Ideas
Let's get into it! Here's 10 Thanksgiving themed interior decor ideas to turn your home into a warm and cozy oasis!
Change out Lampshades and Throw Pillows

Changing out your lampshades and throw pillows for darker colors and fall-inspired prints is a quick and easy way to transform your home. Plus, pillows in classic fall colors can be stored and used year after year. Think oranges, deep purples, maroons, plaids, golds, and reds.

Switch Your Curtains

Save those effortless sheer white curtains for the summer months. To get into the fall spirit, try out darker curtains in heavier fabrics for a cozy feel.

Set Out Fall Plants and Flowers

Add a wreath to your front door and a fresh bouquet of flowers to your entryway table. Some gorgeous dark fall plants include purple fountain grass, pansy, celosia, and magnolia leaves!

Finally—It's Pumpkin Spice Season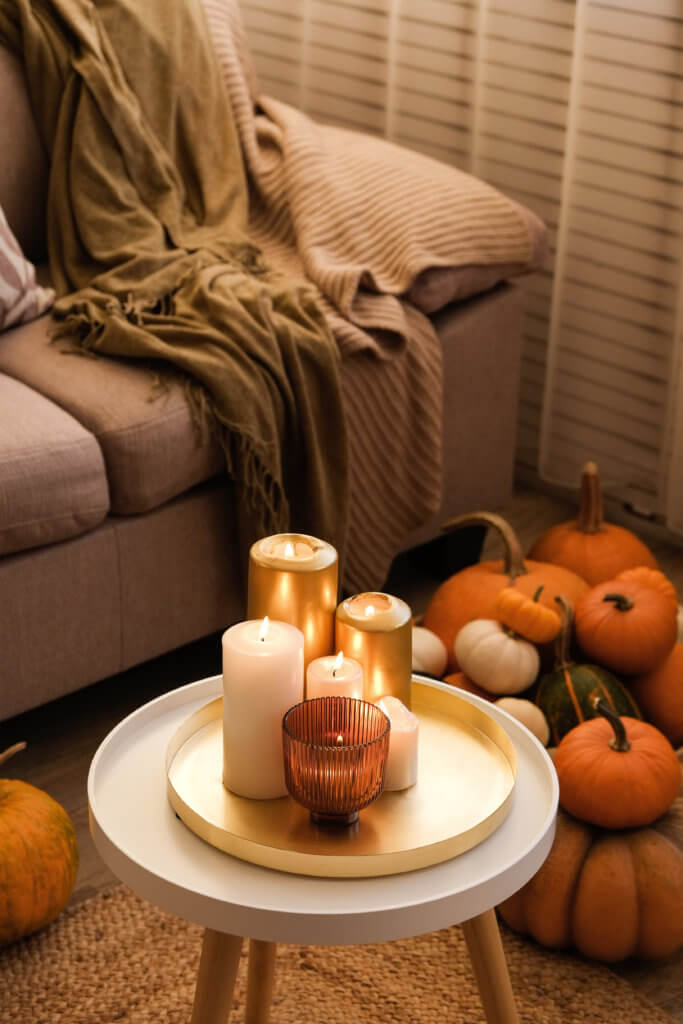 We know you've been waiting for it all year—pumpkin spice is on the menu at your favorite coffee shops! Emulate this fall favorite in your home by placing pumpkins artfully around your space. Then, add some pumpkin candles for the full effect!
Rustic Autumn Decorations
Nothing says "cozy fall oasis" quite like a log cabin does. Invest in some log-inspired furniture or place artful piles of logs around your favorite rooms.
Showcase Seasonal Mugs
This is our favorite tip for all the coffee lovers out there! Put all your seasonal mugs on display. A few creative ways to do this include: 
Hanging them on a wooden board in DIY rustic décor fashion 
Displaying them neatly in a glass cabinet 
Placing them on hooks on your kitchen wall 
Check out more home coffee storage tips and recipes here.
Create a Cozy Reading Corner
Picture this: You're all curled up in your warmest blankets sitting near a rainy window. You're reading your favorite book and candles are blinking sleepily all around you. Make this idyllic scene a reality when you create a cozy reading corner! Pile bean bags, blankets, a cinnamon spiced vanilla candle, and the latest must-read books in your favorite nook.
Put Together a Moody Tablescape
Break out the plates in slate grey and matte black for a modern fall tablescape. Then, add pops of deep color to complete the look.  
Check out more festive tablescape ideas here!
The Key to Thanksgiving Themed Interior Decor: Layer!
Just like a scarf over a jacket, you can layer your rugs, blankets, and other decor for a cozy feel. Layering items of different textures will make walking into your home feel and look warmer.
Curate Your Mantle
Your mantle is truly the perfect place for your Thanksgiving decorations to shine. Thanksgiving is all about the people we love, and there's no better spot to display photos of those who mean the most to us.  
Add wicker accents, dark candles, and fall foliage for a festive touch, and for more mantle inspiration, click here.
Have a Wonderful Thanksgiving
Thanks for reading! We hope you're inspired to transform your space with our top 10 Thanksgiving themed interior decor ideas. In the market for a new place? Browse homes and take advantage of our biggest sale yet. Happy decorating!