This week on the blog, we're shining a spotlight on three Taylor Morrison homeowners and their stories. How did they choose their new homes? What do they love most about where they live? If you're looking for homebuying inspiration, you've come to the right place. Meet Chao, Tommy, and the rest of their family who reside in Houston, Texas, John and Kim, who enjoy the social lifestyle of Esplanade in Florida, and Irick and Ana, new parents starting a new chapter in sunny Austin, Texas.
Chapter 1: The Tran Family's Move Across the Country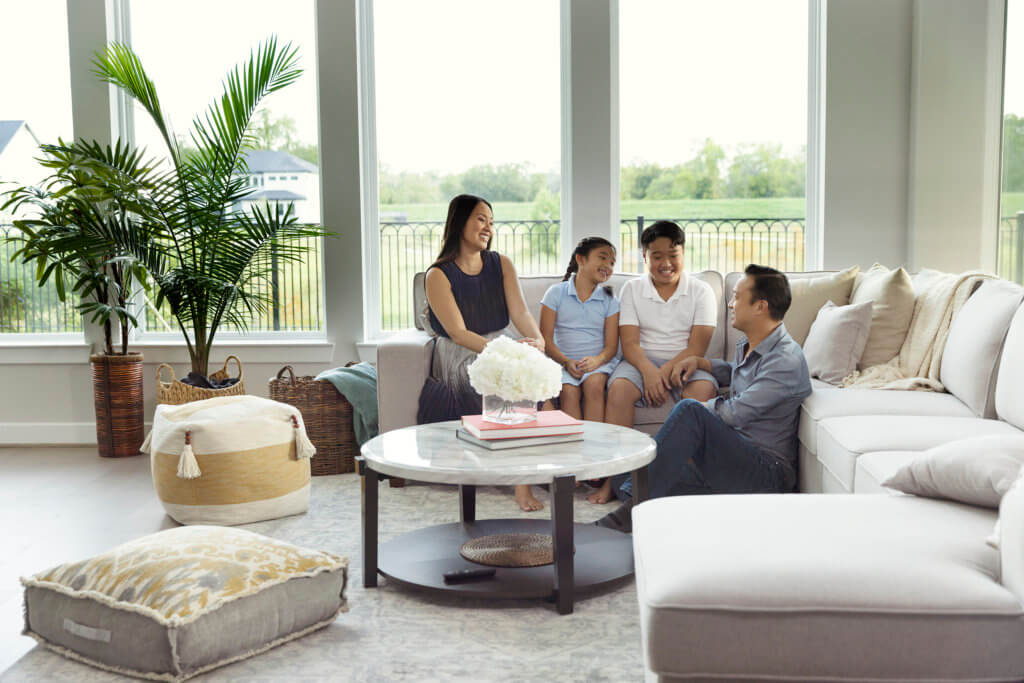 We begin this story with Chao and Tommy Tran's courageous venture across the country, from the garden state of New Jersey to their new life in the spirited Houston, Texas. This move is one for the books; they not only moved their two kids but also both sets of their parents. That's right—they didn't buy one house; they bought three!
The decision to move states is multi-faceted, filled with strong emotions, hard work, and a growing sense of hope and optimism for the future. Chao and Tommy knew if they were going to move, they would take their family along with them, bringing a new, sweeter sentiment to the term "package deal."
After reflecting on their future goals, they chose Houston, Texas, as their new happy place. They have room to grow, a spacious and luxurious home, and enjoy the slower pace and active lifestyle opportunities in their new community. And we're happy to report that their kids, Nova and Hero, absolutely love the quick access to the sparkling pools and waterslides!
Chao spends her weekdays in a work-from-home oasis, with large windows perfect for daily zoom meetings. Their home also features an in-law suite, and the kids have their own bathrooms. Chao and Tommy hope their hard work to get to this point inspires their kids to dream big, work hard, and go after their goals.
"This house represents such a monumental achievement for us." Chao elaborates. "It's taken a lot of hard work for us to get to this point; and I think it serves as a great example to our kids."
It's never easy to know if taking a chance is the right next move. Chao admits that you'll never feel 100% ready when making such a pivotal change in life, but with careful research, planning, and reflecting, they knew it was meant to be.
We couldn't be happier for the Tran family and are so glad they get to share their story with you. Let's flip to the next page, where John and Kim take us through their sunny, resort-style home and community.
Chapter 2: John and Kim's Resort Inspired Lifestyle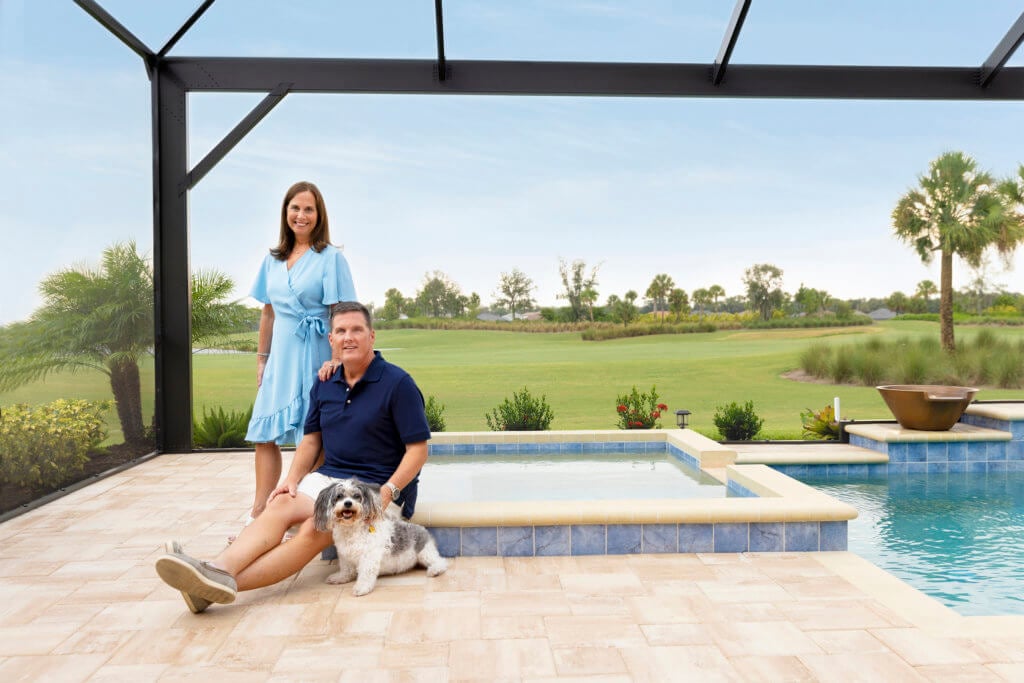 John and Kim Coliton knew they had a unique opportunity when they realized their careers no longer determined where they lived. For the first time, they could truly dive in and discover a place perfect for them: somewhere warm, with things to do, friends and family to socialize with, and a breathtaking home they could design from start to finish. The answer became clear for the couple in no time: Taylor Morrison's Esplanade was the ultimate place to be; they had found their paradise.
Esplanade is a resort-style community with signature planned amenities and wellness programs to invigorate the mind, body and spirit. In short, every day at Esplanade is a vacation, minus the packing, flying, and driving!
For John and Kim, the social aspect was key in choosing their new place. They love hosting friends and family in their open-concept home, which seamlessly transitions from the backyard to the gathering room. When they're not whipping up culinary creations in the kitchen, you can find them chatting with friends at the culinary center, helping run the golf league, or embracing their competitive spirits at bunco nights.
"What drew us here to Esplanade was simply the lifestyle." John explains. Kim continues. "We have all kinds of wonderful things that are planned by our lifestyle director. There's a tremendous sense of community living here. Everybody wants to get to know each other."
John and Kim found their happy place, where they live each day to the fullest in their new home and vibrant community. Ready for more happy homeowner stories? Turn the page; it's time for chapter 3!
Chapter 3: Irick and Ana's New Beginning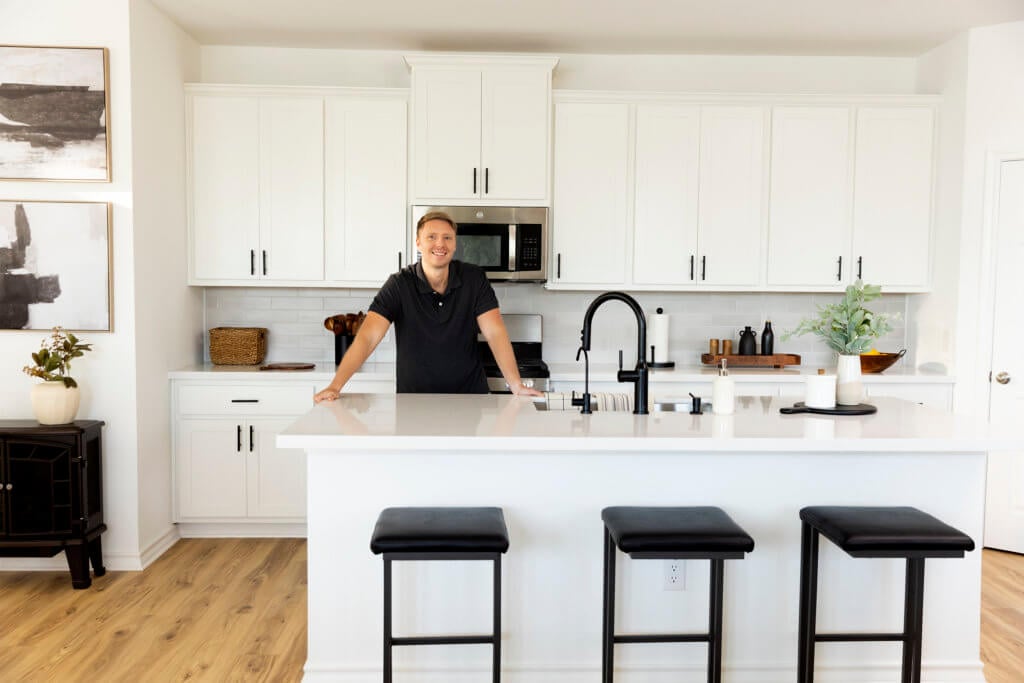 While it's the last chapter in this blog, Irick and Ana's story is just beginning—a huge congratulations to the happy couple! As new parents to their beautiful baby girl, Sofia, Irick and Ana knew it was time to plant some roots in a home and community their whole family would love for years to come. So, they settled down in sunny Austin, TX, but had a few non-negotiables when choosing their new home.
Irick is an inspirational content creator, who shares his delicious keto recipes with the world, as well as his personal journey to living a healthy lifestyle. For Irick, a large and bright kitchen with all the bells and whistles was a necessity. Since he spends so much time in the kitchen, the open-concept floor plan is the perfect way for him to chat with his fiancé and Sofia while he cooks up his culinary creations.
As new parents, they needed to be sure that their new home was the right place for their daughter to grow, live, and play. Sofia can walk to school in a few years, and the parks, open spaces, and backyard are any kid's paradise!
"We had our first baby, Sofia, and the whole neighborhood is perfect for starting a family." Irick says happily. "We've got a school minutes down the road. I'm just so excited to start this new chapter in our life."
Irick was unsure about homeownership; he had always rented beforehand. But Ana convinced him to look into buying a home for their new family, and with the help of Taylor Morrison, they secured a home of their own. What an exciting next step!
Thanks for reading! We hope these stories made your day a little bit brighter and your goals a little closer. If you're ready to own a home, we're ready to help! Take advantage of our Biggest. Sale. Yet. when you buy an eligible home now through November 30 with Taylor Morrison. Until next time!